Site Features
Getting Started in the Hobby
Model Categories
Original Kit:
SnapFast Slammers "Street Fury"
Made By:
AMT/Ertl (kit #30007)
Scale:
1/25

Other Street Rod & Custom Models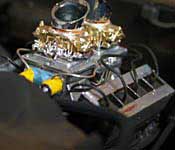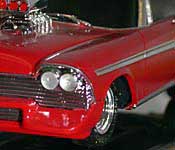 Hot for Teacher '32 Ford
Street Fury
'48 Cadillac "CadZZilla"
'69 GTO "Supergoat"
Dream Truck (Review)
Deuce of Spades '32 Ford
Super Coupe
'06 Mustang (Review)
'70 Barracuda (Review)
Viper
American Graffiti '32 Ford
'71 G-Force 'Cuda (Review)
'06 Corvette (Review)
'70 Challenger (Review)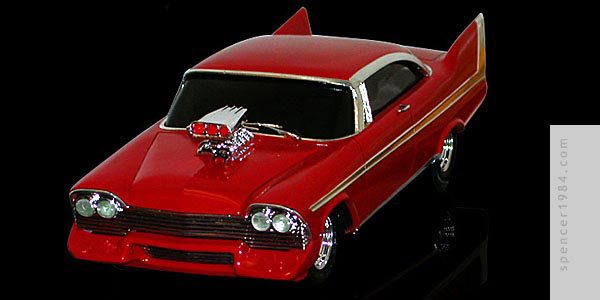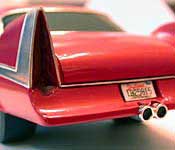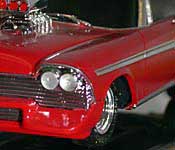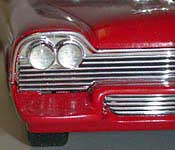 Cool Fact
Only 5,303 Fury Sport Coupes were produced in 1958, and were only available in one color (Buckskin Beige). Standard equipment included an 8-barrel carburetion system, dual exhausts, heavy-duty "Torsion-Aire" suspension, and a 150 MPH speedometer. Buyers could choose either the 290HP "Dual Fury" 318 or the 305HP "Golden Commando" 350 V8.
I was looking forward to the release of this one, especially after the excellent impressions I got from Road Block and Black Force. I was not disappointed.
Like the rest of the Snapfast Slammer series, this one is a lot better in person than it is on the box art. Not one to leave it alone, though, I decided to convert my Fury Slammer into a more aggressive Street Machine. I started by repainting the entire car, trying out a new technique of color layering. After it was primered, the body received three coats of navy blue, followed immediately by three coats of red (all PlastiKote paints). The result is a deeper red, with realistic seams around the doors, hood, and trunk.
Once painted, the car was re-chromed using Bare Metal Foil for the roof/pillars, side trim, and rockers. The headlights were drilled out and replaced with a set of quad lenses from Monogram's 1959 Chevy Impala kit, and door handles and windshield wipers came from the '59 Cadillac kit from Monogram. I was not happy with the fit of the tail light inserts, so I made my own tail lights by filling in the backs of the fins and painting the concave surface Stop Light Red. For the finishing touch, I raised the stance of the Street Fury back to stock height, and replaced the lowrider wheels with a set of chrome dish caps and rear slicks.
Have a question, comment, or criticism about this model?
Send me an e-mail
with your thoughts!