Original Kit:
Pria
Made By:
Black Veil Models
Scale:
75mm

Other 2010s Movie Models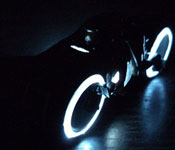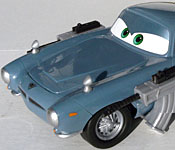 Furious 7 '70 Road Runner (Review)
Tron Legacy Clu's Light Cycle
Deadpool Taxi
Batman v Superman Batmobile
Furious 7 Off-Road '70 Charger
Ford v Ferrari 330 P
Furious 7 Maximus Charger (Review)
Furious 6 '69 Charger Daytona
Safe Crown Victoria
Planes Dusty Crophopper (Review)
Jack Reacher '70 Chevelle
LEGO Batman Ultimate Batmobile
Piranha 3D Crown Victoria
Cars 2 Finn McMissile (Review)
Born 2 Race Subaru Impreza WRX STi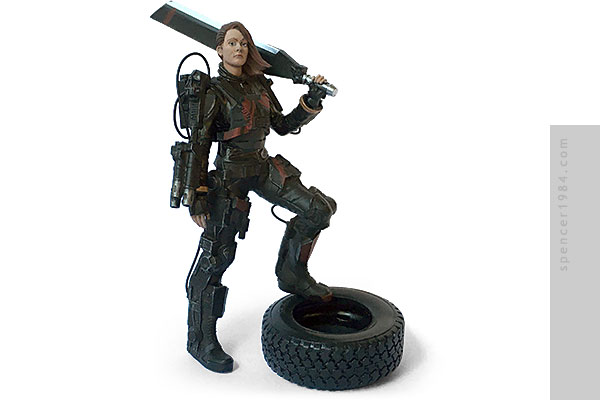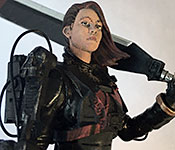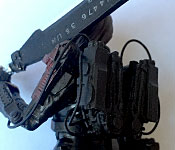 I genuinely regret missing Edge of Tomorrow when it was in theaters, because it's one of those movies that lives up to and surpasses the hype. I liked it so much, in fact, that when I saw Black Veil had a model of Rita Vrataski (a.k.a. "The Angel of Verdun," a.k.a. "The Full Metal Bitch") that would fit in with my TV/movie collection, I ordered it immediately. This kit was one of the ones to finally push me into figure painting.
The kit itself was fantastic. Cast in smooth gray resin, there were no air bubbles and only a ghost of mold lines. Her arms, backpack, and left hand/sword are separate pieces, as is the included (but discarded) base. There was a very slight warp to the sword, but that was easily fixed and after that it needed only a quick wash and the most cursory of sandings to get prepped. There were two small errors I noted when compared to the movie: the tip of the sword is angled wrong (an easy fix) and the extra barrels should be on her left arm (not so easy, so I left it on her right).
I assembled everything but the left hand/sword, and then painted it all flat back primer. I then went back and added texture with several other shades of black, including Apple Barrel, Tamiya, and Testors paints. I then painted the red stripes, using a combination of brushing and stippling to get the correct worn spray paint effect. Some edge wear was added to the metal exoskeleton by dry brushing Testors Steel, brown was used for her pistol grip, and Tamiya weathering effects were used to give it a little more wear and depth. The suit's hydraulic lines were made from fine wire. I drilled the holes according to photos of the prop, then ran the lines. Finally, the sword was edged with a strip of Bare Metal Foil and detailed with dry transfer numbers from Archer Fine Transfers. Some Testors silver for the hilt and a light weathering, and it was good to go.
Agruably the most important part is still where I need the most practice. Her face and hands were painted with Vallejo flesh tones, and her hair was done with Vallejo and Tamiya paints. I'm generally happy with the colors and shading, and even the eyes and mouth came out OK, but there's a bit more texture than there should be. This is something I'm going to try to correct with both tools and technique going forward, fortunately the rough finish doesn't hurt Sgt Vrataski that much.
As a final note: the base Black Veil included is a small mound of rubble, with the remains of another exo suit poking out. It's as well done as the rest of the figure, but I like the versatility of putting her in multiple settings. Even posed as she is, sticking any prop under her left foot (such as the tire in the above photo) allows her to stand easily.