Site Features
Getting Started in the Hobby
Model Categories
Original Kit:
2011 Dodge Charger Pursuit Police Slick Top
Made By:
Motor Max
Scale:
1/24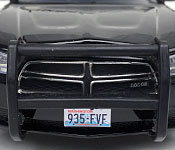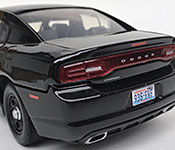 This was a very simple modification to Motormax's 7th-gen Charger: remove some of the most egregious parting seams from the push bar, replace the license plates, and give it an overall cleaning. If not for the extra work needed on the rear bumper, I'd be hard pressed to call it much more than a diecast purchase.
But it did in fact need a little extra love. Whoever was in charge of the rear bumper was asleep the day this was assembled, as it was partially unpainted and installed with the left side tucked inside the body and the screw barely holding on. I partially disassembled the car, redid the missing paint, and was able to get it back together straighter and more securely.