Site Features
Getting Started in the Hobby
Model Categories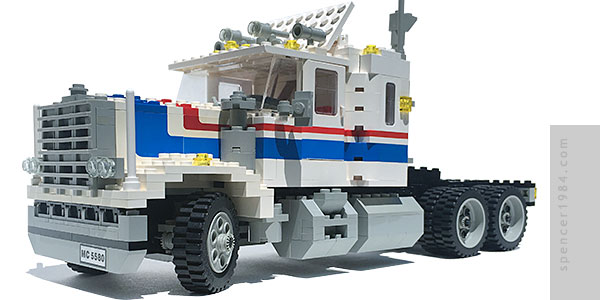 This was probably the first scale project I really got involved with. It started when I got LEGO's Model Team #5580 Highway Rig for Christmas one year, and I just started adding to it.
The model started with only the basic tractor; after it was built, though, it looked like it was still missing something. The first things I added were the grill guard, mud flaps, and hood deflector. More details were added as time went on, and for a while the truck was even converted into a tow truck! The current mods to the truck include:
Aerials
Air Conditioner
Brake System
Engine
- Detailed Block
- Detailed Drivetrain
- Exhaust System
- Turbocharger
Extended Stacks
Grab Rails
Grill Guard
Deflector

Interior
- Instruments
- Radios
- Storage Box
- Living Area
Mud Guards
Running Lights
Side Air Deflectors
Striped Spoiler
Trailer Hook-up
Winch
Work Lights
After the tractor was finished, I built a trailer for it, complete with a turbine powered high-performance test vehicle and rolling diagnostics lab/communications center. Then a second trailer was built, with a recovery/repair truck and a sports car chase vehicle. In the end, the original 14" truck grew to a 4' long, 20-pound monster that unfolds into a complete test center for a land-speed record vehicle. I still have this set up as my very first project vehicle.
Have a question, comment, or criticism about this model?
Send me an e-mail
with your thoughts!