Original Kit:
Type AG 1910 Paris Taxi
Made By:
ICM (kit #24030)
Scale:
1/24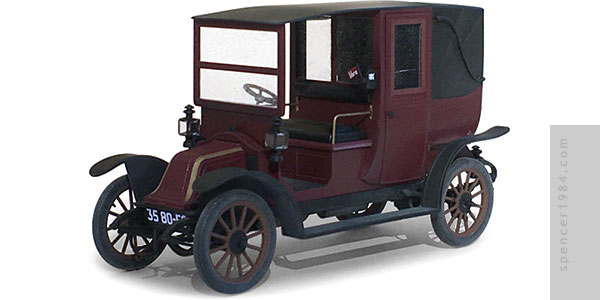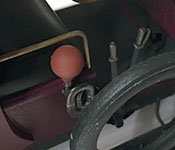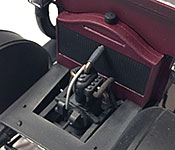 This project came about a bit backwards from how I usually work. Typically, I'll watch a movie, see a vehicle I like, then try to find a model or diecast to use as a starting point for a replica of said vehicle. This time, I was pondering the idea of remakes and adaptations, and was curious what the very first Oscar winner for Best Adapted Screenplay was. That movie was 7th Heaven, a silent film from 1927 starring Janet Gaynor and Charles Farrell based on the 1922 play of the same name. It also starred a Renault Type AG (nicknamed "Eloise"), most famously known as the Taxi de la Marne that shuttled French soldiers to the First Battle of the Marne in WWI. Neat car, unusual subject, and an excuse to finally try out an ICM kit? I was sold.
Overall I was very pleased with the quality of ICM's kit. There was little-to-no flash, parting seams and ejector pin marks were practically nonexistent, and the fit and finish were almost scary tight. This was actually something I had to be careful of in a few places: like Moebius' Tumbler, the tolerances were so close in some places that a single layer of paint was enough to throw off the assembly. The biggest place I noticed this was the wheel-to-axle fit, which needed to be bare plastic-to-bare plastic or the wheels simply would not fit the hubs.
One other thing I found, it was easier to build like assemblies and then put those modules together, rather than follow the assembly order in the instructions. Nothing was actually wrong with the instructions (unlike some other kits), but by building the entire chassis, then the entire body, then putting the two together, I could make sure everything was square and any gaps were filled in. This meant I had to make some slight adjustments to some locators, but it was worth the trouble.
I wasn't able to build this straight out of the box, as the movie car had a windshield and rigid roof. I scratch built these from styrene stock, trying as best I could to match reference photos of other AGs. I also replaced the seat rungs since I accidentally broke one trying to clean it up, and added an ignition loom to the engine. these items were all made from floral wire.
Since 7th Heaven was a black and white film, the colors of the taxi are open to interpretation. It didn't look like the tones were bright enough to be the famous red and yellow shown on ICM's box art...it almost looked like the whole car was black or dark gray. A little research turned up photos of some AGs painted maroon with black chassis, which felt like a good match to Eloise. Since this particular car showed signs of a long career, I skipped gloss paints and went with Duplicolor black primer and Tamiya TS-11 Maroon with a shot of Dullcote for the main colors. Other colors were kept to the same dull/used end of the spectrum, then the car was heavily weathered using paints, pastels, clak, and Tamiya weathering effects. A set of custom plates finished it off.