Made By:
K'NEX (set #43066)
Type:
Building Set
MSRP:
$19.99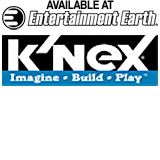 Other Building Toy Reviews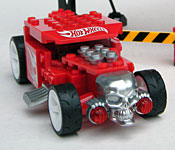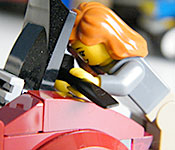 Luke's Toy Factory Fire Truck
Mega Bloks Super Stunt Test Facility
LEGO Cement Mixer
LEGO Batman: Riddler Chase
Slotto Puzzle
LEGO Delivery Van
LEGO Fuel Tanker
LaQ Frog
LEGO Fuel Pumper
Mega Bloks Super Blitzen
LEGO 4-Wheelin' Truck
K'NEX Ferris Wheel
K'NEX Greenhouse
LEGO Flatbed Truck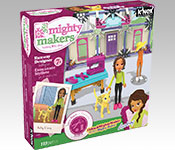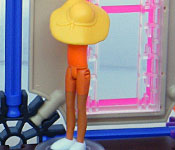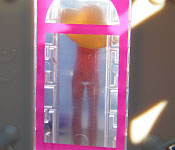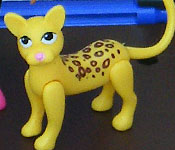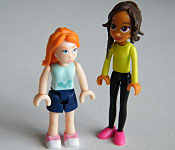 After a successful launch in 2015, K'NEX expanded their line of "Mighty Makers" construction sets for 2016. The sets include a variety of different occupations and hobbies, including the "Runway Designer" set featuring Audrey and her cat Lacey.
The 119-piece set comes with all the parts needed to build a design studio, runway, or curved ruler. All of the parts are bagged, with Audrey, Lacey, and the mannequin each packed separately in their own bags. The instructions are printed on a nice, heavy paper and include extra illustrations and callouts, a kit inventory, suggestions for other sets in the series, and URLs to visit for alternative builds (the instructions only cover the design studio) and printable accessories (saved as PDF documents). These accessories include an in-scale dress pattern, four awning options, and four panel label options. Standard paper, card stock, and label stock would be the ideal materials to print them on, respectively, and they are saved as vector art so there is no quality loss. Finally, a postcard is included that explain the function of a curved ruler and repeats the URL where you can download the instructions to build the K'NEX version.
As usual the instructions are very straightforward and the parts are all color coded, making build time a quick 15 minutes. The studio is actually just a floor and two walls, but they're a decent enough play stage with plenty of room for the figures and accessories and enough "character" to look interesting. The accessories include a table, sewing machine, French curve (not the basic curved ruler mentioned elsewhere, but the more elaborately-shaped drafting tool), scissors, hat, and mannequin. Though the hat is shown draped over the mannequin's neck post, it really isn't designed to fit there thanks to the post meant to plug into a figure's head.
After noting problems with previous figures, I was pleasantly surprised to see that K'NEX has done a complete redesign for this series. These figures are taller and thinner, and feature a totally different hip design that doesn't fall apart like previous figures. In addition, the feet now have more solid connections to the legs. The shoulders and neck are still ball joints, but are smaller than the earlier figures so you won't be able to swap these parts. The torso joint is the same size and shape, though. Finally, the hands have been redesigned to not only have sculpted fingers, but are a thinner and cleaner design so they can hold tools and accessories much better. The only thing that it not as good as the previous figures is the shoulders, which have lost their side-to-side motion in favor of a narrower/cleaner look. Still, this is a vast improvement over what was the weak point of the earlier Mighty Makers sets.
The mannequin is essentially Audrey with a different paint job, plus you get a spare purple torso with bare arms and extra hands, so there are several options for those who may want to mix up Audrey's outfit...an appropriate touch for a fashion designer. Audrey can also wear the hat accessory, though it doesn't fit her much better than the mannequin unless you remove her hair piece. Lacey has the same newer ball joints as Audrey, so the shoulders, hips, tail, and head are all very secure while maintaining a good range of motion.
This is a surprisingly good set. Like the Home Builder, the box art doesn't really do the set justice. Add in the improved figure and multiple options for her, and this is a really good starter to see if your builders may be interested in the line.
Our thanks to K'NEX for providing this review sample. Have a question, comment,
or criticism about this review?
Send us an e-mail
!