Made By:
K'NEX (set #43551)
Type:
Building Set
MSRP:
$19.99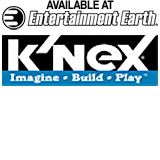 Other Building Toy Reviews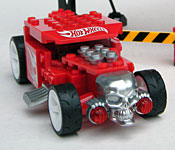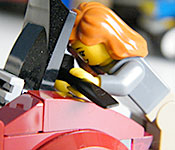 LaQ Frog
LEGO 4-Wheelin' Truck
LEGO Cement Mixer
Luke's Toy Factory Fire Truck
LEGO Batman: Riddler Chase
LEGO Fuel Tanker
LEGO Flatbed Truck
LEGO Delivery Van
K'NEX Ferris Wheel
K'NEX Greenhouse
Mega Bloks Super Stunt Test Facility
LEGO Fuel Pumper
Mega Bloks Super Blitzen
Slotto Puzzle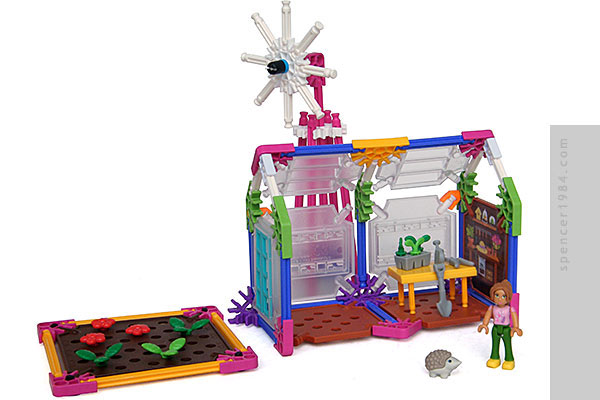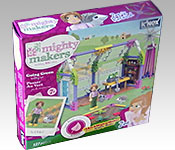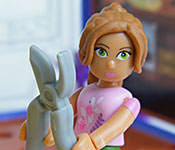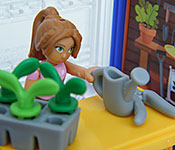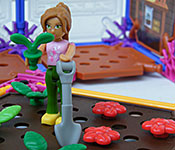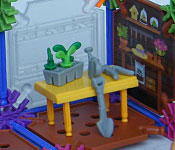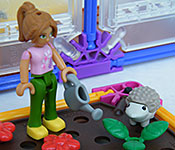 Construction sets that encourage girls to start building have become incredibly popular, and in the summer of 2015 K'NEX introduced a series of construction sets featuring female characters under the line "Mighty Makers." The sets include a variety of different occupations and hobbies, including the "Going Green" set featuring Zoe and her hedgehog Roland.
The 127-piece set lets you build a greenhouse, stand-alone garden, and windmill. All of the parts are bagged, with Zoe and Roland each packed separately in their own bags. Construction is simple, with easy-to-follow instructions and color-coded parts that let you go from sealed box to finished playset in under 20 minutes. The instructions are printed on a nice, heavy paper and include extra illustrations and callouts, a kit inventory, and suggestions for alternate builds and other sets in the series. There is also the sticker for the inside of the greenhouse and a large postcard included that shows alternate models based on three different types of leaves: reniform (kidney shaped), linear (long & narrow), and palmate (hand shaped).
For the most part, the quality of the set is excellent. Parts snap together firmly and hold their shape with no sign of stress marks or sagging. There are also some very clever bits, like the use of a "staircase" piece cast in clear to represent the open vents of the greenhouse roof. The double doors are hinged, and the table fits nicely in several places. The garden is simple but very effective, with orange beams for edging ties and the K'NEX holes in the base working as holes for current and future plants (4 extra short black rods were included to build the leaves...these could easily be dropped into empty holes in the garden to represent recent plantings). The instructions for the windmill tell you to use only two of the three included bushings, but I found it to work better with all three. Accessories include a watering can, shovel, pruning shears, a table, and a six-cell plug tray with three seedlings.
The only weak point in the entire set is, unfortunately, Zoe herself. Her hips do not want to stay plugged in, and have to be regularly pushed back in to keep her legs from coming off. Also, her hands simply will not grip anything right out of the box. This seems to be a combination of short fingers (her hands are more "U"-shaped than "C"-shaped), non-round tool handles, and rough seams in her palms. Cleaning out this last with a hobby knife got her to hold the watering can and shears, but the shovel can only be held by the shaft. The packaging notes that the figures and accessories were made in China while the rest of the set was made in the USA...given the quality difference between them, it might be smart for K'NEX to move all of their production to one location. As a character Zoe works well, with an "outdoors" tan, plant-themed shirt, and yellow gardening shoes. She moves at the head, shoulders, wrists, waist, hips, and ankles. Her head and shoulders are ball joints, giving her a fair amount of personality.
Overall, this is a cool little set. It's a unique idea, has some nice suggestions for real-world hobbies, and generally looks good. While the problems with Zoe's hands and hips are unfortunate, they by no means break the set. Add in how nicely this fits with similar sets from other companies, and Going Green is definitely worth picking up.
Our thanks to K'NEX for providing this review sample. Have a question, comment,
or criticism about this review?
Send me an e-mail
!