Site Features
Getting Started in the Hobby
Model Categories
Made By:
LEGO (set #6696)
Type:
Building Blocks
MSRP:
N/A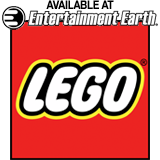 Other Building Toy Reviews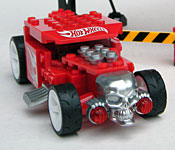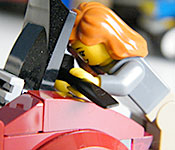 K'NEX Ferris Wheel
Mega Bloks Super Blitzen
LEGO Flatbed Truck
Mega Bloks Super Stunt Test Facility
LEGO Batman: Riddler Chase
LEGO Fuel Tanker
LaQ Frog
Slotto Puzzle
K'NEX Greenhouse
LEGO Delivery Van
LEGO Cement Mixer
LEGO Fuel Pumper
Luke's Toy Factory Fire Truck
LEGO 4-Wheelin' Truck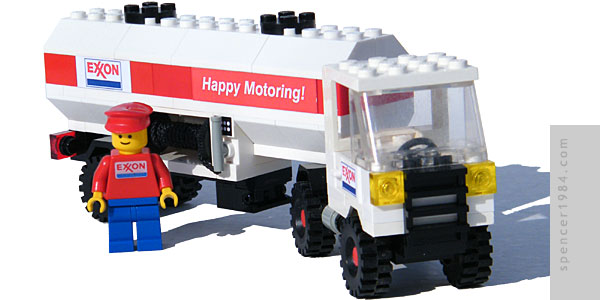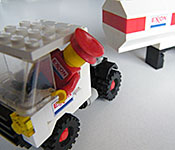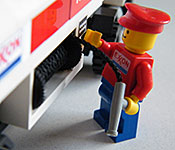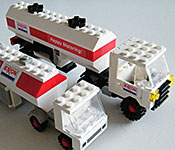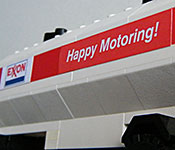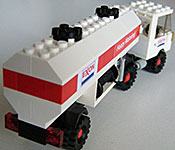 Tanker trucks have been a part of LEGO since the 1970s, but the exact livery you saw in the early days depended on which side of the Atlantic you were on: Shell logos and colors were exclusive to Europe until 1986, while American trucks carried the Exxon designation. Several sets received dual releases, including this Fuel Tanker. Released in 1984, it had 106 pieces, one minifigure, and a sticker sheet (its twin, the #6695 Tanker Truck had been released the previous year).
The minifig has a red Police-style cap, standard yellow smiley head, red torso with "Exxon" logo, and blue legs.
There are a lot of things going on here. The main truck was articulated, and the trailer could be easily removed and parked using the fold-down stand on the bottom. The cab has opening doors, and the trailer had a spool on the right side that held a hose with a nozzle. Although it doesn't sound like much by modern standards, the only Town vehicle that had more going on in 1983 was the Tractor Trailer, which also included a tilting cab. The colors are great, and the way the red stripe is done here is much better than the way it was done on the #554 Fuel Pumper. The stickers are generally very good, with only the control panel being a potential problem as it spans two plates. The rest fit nicely and the overall piece looks very good for a classic LEGO set.
Nostalgia plays a big part in liking this set to be certain: the 4-stud wide design makes this a tiny truck, especially compared to more recent offerings. Plus, the octagonal tank body looks a bit clumsy by current standards. But the overt "LEGO-ness" of the build is not without its charm, and if you can find one that isn't badly yellowed it still makes for a good looking toy.