Made By:
LEGO (set #76012)
Type:
Building Blocks
MSRP:
$29.99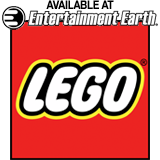 Other Building Toy Reviews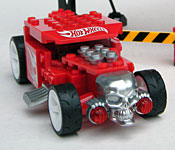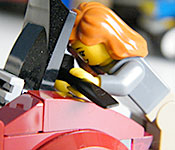 Mega Bloks Super Blitzen
K'NEX Ferris Wheel
LEGO Flatbed Truck
LEGO Fuel Tanker
Luke's Toy Factory Fire Truck
LEGO Delivery Van
Mega Bloks Super Stunt Test Facility
Slotto Puzzle
LEGO Cement Mixer
LEGO 4-Wheelin' Truck
LaQ Frog
LEGO Batman: Riddler Chase
K'NEX Greenhouse
LEGO Fuel Pumper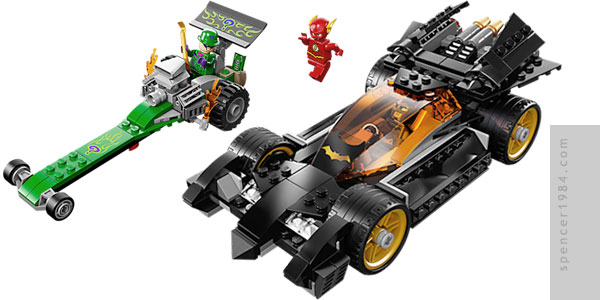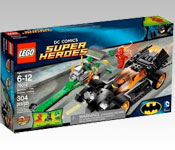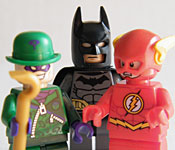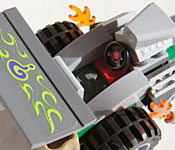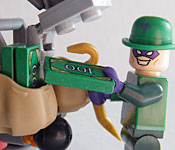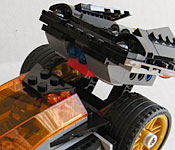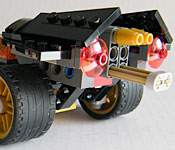 LEGO and DC Comics first partnered for 2008's LEGO Batman, which included the first official Minifig-scaled Batmobile in set #7781, "Two-Face's Escape." That was followed by set #6864, another set that pitted the Batmobile against a modified rig driven by Two-Face and his henchmen. The folks at LEGO decided to switch things up for their latest release, and have Batman facing The Riddler in a high-powered dragster for their third Minifig Batmobile set.
The Batmobile for this set appears to have been loosely based on the Batmobile used in Beware the Batman, with a three-pronged nose, flattened fins, and twin dorsal engines. It has a very clever construction, starting with a standard Minifig car chassis but using it in a unique way so that the final car is not held to that standard chassis' dimensions. I also like the way that a pair of 4x1 mudguards and a pair of tooth plates were combined to create a pair of partially recessed turbine intakes. A single sticker is used to dress up and logo-ize the leading edge of the canopy.
It's a very solid design, and feels more substantial than the previous Batmobiles. It also features one of the best action features to date: the rear half of the car is mounted on a hinge, and can be raised to fire a pair of friction missiles. Both missiles are activated simultaneously by a plunger that sticks out the back of the car. They don't travel very far or fast, but the way they're so perfectly integrated into the car makes up for any shortcomings.
The canopy lifts off to access the cockpit, which is probably the weakest part of the design. Batman fits in easily enough (and even better without his cape on), but the way he is reclined and the tall hinged steering wheel look strange. It may have simply been a trade-off needed to keep the exterior looking good, and if so they made the right call. This is my favorite design of all the Minifig Batmobiles to date, and I'm willing to overlook a wonky interior for such a cool exterior.
The Riddler's dragster is an odd choice. Most of the previous Minifig-scaled vehicles had some historic precedence...Two Face's trucks were appropriate for the heavy duty heists he was committing, and he has been shown with half-and-half paint jobs in comics and film. Other past LEGO vehicles, like Joker's weird monster trucks of Catwoman's motorcycle, were also similar to things from the comics. But I don't remember Riddler ever using a rail dragster as a getaway vehicle.
The dragster's design is good, with a massive engine just ahead of the seat, two bags for money on the back, and a single break away bomb under the rear spoiler. This pops off when you press the dragster into a wheelie, and works better than I expected. The spoiler is not well thought out, though, and spins too freely around it's mount. Stickers are used for the neck and rear spoiler, and provide the only Riddler-themed components beyond the basic color scheme.
Three minifigures are included: Batman (wearing a new suit design), The Riddler in his bowler hat and two-tone suit, and The Flash in his standard red suit with the yellow helmet wings. Batman and Flash both have optional faces on the backs of their heads (hidden when their helmets are in place): one closed mouth and one teeth gritted. The Riddler also comes with four $100 notes, a banana (to trip up Flash), and his trademark question mark cane. This last item is actually a standard LEGO crowbar cast in gold, but it makes a passable question mark from the right angles.
In addition to the bricks and figures, this set comes with two booklets: a 36-page that has the set intro, set inventory, customer service info, co-sells, and instructions for building Riddler's dragster. The second is a 76-page that is entirely devoted to building the Batmobile. They're very clear, easy to follow, and leave little room for error. In fact, they are a bit ponderous at times, and a few steps could have been combined, but better too much information than too little. Finally, the set comes with a 12-page comic book that follows a stolen gem through the hands of Gotham's underworld and features all of the current DC Comics Super Heroes sets produced by LEGO. In keeping with the LEGO video games, there are a few sound effects but no dialogue.
There are a few fun items with this set, but the real star—and likely "make or break" factor—is the Batmobile. Happily, this is a great one. It has a great look, solid design, and unobtrusive action feature. Riddler, his dragster, and Flash are all just bonus material. Highly recommended.