Made By:
1 Badd Ride
Scale:
1/24
MSRP:
US$11.99
Overview:
Packaging (Design):
9/10
Packaging (Durability):
8/10
Casting (Body):
9/10
Casting (Interior):
9/10
Casting (Chassis):
7/10
Casting (Engine):
7/10
Paint (Exterior):
10/10
Paint (Interior):
8/10
Paint (Trim/Graphics):
10/10
Overall Panel Fit:
10/10
Total Score:
8.7/10

Other Corvette Models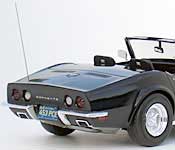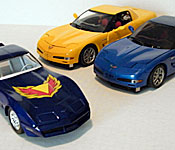 Corvette Fighter Craft
Real Drift Corvette Z06
Never Too Young to Die Corvette
'98 Corvette
'64 GS
Agents of SHIELD 1962 Corvette
The Junkman 1981 Corvette
'05 Indy Pace Car (Review)
Matchbox '83 Corvette
'06 Corvette 1 (Review)
'06 Corvette 2 (Review)
'72 Comic Book Batmobile
'06 Indy Pace Car (Review)
Judge Parker Corvette
Mako Shark Show Car
Chuck Norris Karate Kommandos Corvette
Transformers Vector
The Dead Pool R/C Corvette
Transformers 5 Crosshairs (Review)
Transformers G1 Tracks
Other Street Rod & Custom Models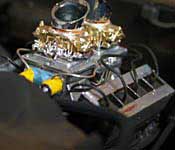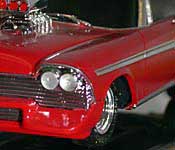 Street Fury
'71 G-Force 'Cuda (Review)
'70 Challenger (Review)
Hot for Teacher '32 Ford
'06 Mustang (Review)
Dream Truck (Review)
'06 Corvette (Review)
'70 Barracuda (Review)
American Graffiti '32 Ford
Super Coupe
'48 Cadillac "CadZZilla"
Viper
'69 GTO "Supergoat"
Deuce of Spades '32 Ford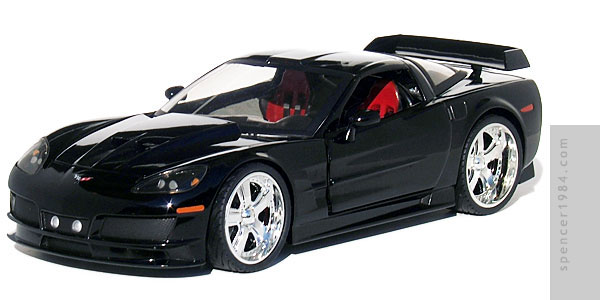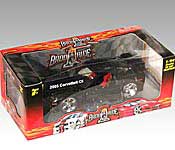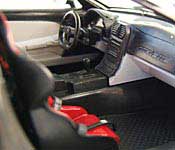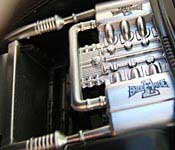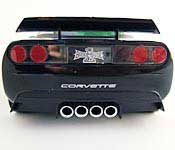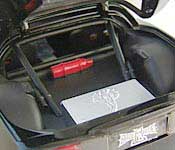 Packaging
The Corvette is packaged in a fire-themed window box with clear panels at both ends and a large clear panel for the front/top of the box. The 1BR logo in the bottom center is flanked by drawings of their Corvette and Mustang, with more logos and drawings of their Corvette and Shelby GR-1 on the ends. The back of the box features the specifics about the car, including both performance and aesthetic modifications and an engine speed/torque/horsepower graph (the statistics claim a top end of 800rwhp and 780lb-ft@~5200rpm). A large drawing of the Corvette in black is set to the right of the statistics block. The bottom of the box includes information about the current and upcoming waves, as well as the 1BR contact info and legal info. Inside, the car is posed with the hood and drivers' door open. It is held in place with two screws and a number of plastic stretch bands.
Casting/Paint
If 1 Badd Ride's Mustang was very good, their Corvette is excellent. The parts fit seems a little tighter, the panels nest a little smoother, and the overall car looks more professional. There was one small tab of flash left on the rear edge of the spoiler, but it's not really obvious. The paint looked only OK at first, but a quick buffing with a soft cloth brought out a nice, deep shine and glass-smooth surface. The paint applications are limited to the corner markers, driving lights, and grilles, so there aren't many places to make mistakes. Fortunately, everything is painted exactly, with no slop or bleed anywhere. The front and rear logos are tampo printed, and also look nice & sharp. The paint inside is not quite as sharply defined, but the colors all work well and there's nothing that looks truly bad. There are also a couple of very nice details in here, including the textured floor and separately cast seat belts. Typical for 1BR, the car rides on large chrome wheels with "rubber band" tires over detailed brakes, though these look fairly realistic and seem appropriate for the car.
Features/Accessories
The doors, hood, and hatchback open, and the front wheels can be posed (though they are not tied to the steering wheel). The hinges are smooth operating and the panels shut tightly. The hinges all the way around are fairly delicate for a diecast car, with only the door hinges looking a bit oversized.
Accuracy
The box art notes that body modifications included the fender flares, roof scoop, rockers, front fascia, rear fascia, hood, and spoiler. Interior modifications include the roll cage, racing seats, racing fuel tank, and fire extinguisher. What's really nice about this particular replica is that it looks good from every angle; from the open intakes of the hood scoop to the four exhaust tips poking out the back, nothing looks out of proportion or forced. The C6 is immediately recognizable, just with some extra muscle added. Scaling is pretty good overall. It's a little shorter than the stock C6, but the custom front and rear fascias make up that difference. Everything else - wheelbase, width, & height - are a dead-on 1/24. The wheels are still a bit bigger than the claimed 20" diameters (more like 24"), and the performace stats seem a little fanciful, but overall nothing really wrong.
Overall
There have been a few models of the C6 Corvette released, but none of them are modified quite like this one. 1 Badd Ride did an excellent job of enhancing the look of the car without making it goofy or overdone. If you plan to buy only one of the cars from 1BR, this should be the one. Highly recommended.
Have a question, comment, or criticism about this review?
Send me an e-mail
with your thoughts!