Made By:
1 Badd Ride
Scale:
1/24
MSRP:
US$11.99
Overview:
Packaging (Design):
9/10
Packaging (Durability):
8/10
Casting (Body):
9/10
Casting (Interior):
9/10
Casting (Chassis):
7/10
Casting (Engine):
7/10
Paint (Exterior):
9/10
Paint (Interior):
6/10
Paint (Trim/Graphics):
8/10
Overall Panel Fit:
9/10
Total Score:
8.1/10

Other Mustang Models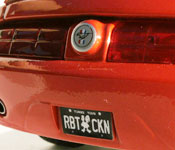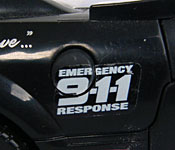 Diamonds are Forever '71 Mustang
Need for Speed Mustang GT (Review)
Gunsmith Cats Shelby GT500
Need for Speed 2015 Mustang GT
'06 Mustang 2 (Review)
Gone in 60 Seconds (1974) Eleanor
"Boss Hoss" Mustang (Review)
GT Coupe Concept (Review)
Transformers Barricade
GT Convertible Concept (Review)
'06 Mustang 1 (Review)
Bullitt '68 Mustang
Robot Chicken Turbo Teen
Need for Speed 2014 Mustang (Review)
I Am Legend Shelby GT-500
'06 Mustang 3 (Review)
Gone in 60 Seconds (2000) Eleanor
'96 Boss Shindoa
Other Street Rod & Custom Models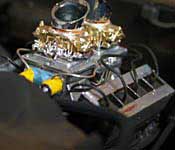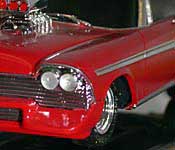 Street Fury
'06 Corvette (Review)
'48 Cadillac "CadZZilla"
'69 GTO "Supergoat"
Dream Truck (Review)
Super Coupe
'06 Mustang (Review)
Deuce of Spades '32 Ford
American Graffiti '32 Ford
Viper
'70 Challenger (Review)
'71 G-Force 'Cuda (Review)
'70 Barracuda (Review)
Hot for Teacher '32 Ford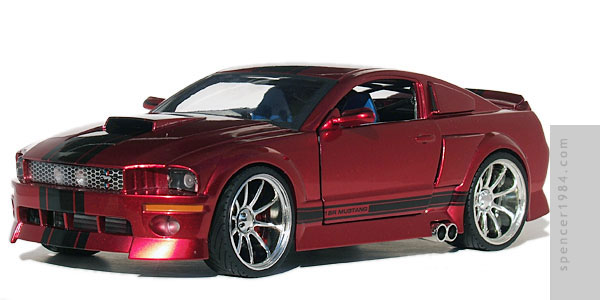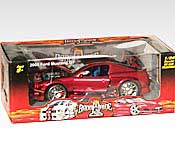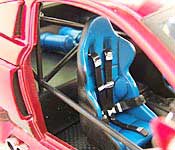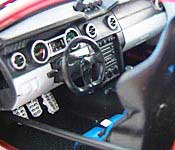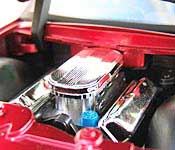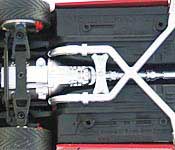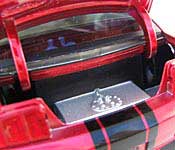 Packaging
The Mustang is packaged in a fire-themed window box with clear panels at both ends and a large clear panel for the front/top of the box. The 1BR logo in the bottom center is flanked by drawings of their Corvette and Mustang, with more logos and drawings of their Corvette and Shelby GR-1 on the ends. The back of the box features the specifics about the car, including both performance and aesthetic modifications and an engine speed/torque/horsepower graph (the statistics claim a top end of 750rwhp and 700lb-ft@~4700rpm). A large drawing of the Mustang seen on the front of the box is repeated to the right of the statistics block. The bottom of the box includes information about the current and upcoming waves, as well as the 1BR contact info and legal info. Inside, the car is posed with the hood, trunk, and drivers' door open. It is held in place with two screws and a number of plastic stretch bands.
Casting/Paint
1 Badd Ride is a relatively new company, and the early releases of any company can be expected to have rough castings, fit problems, or any of a dozen other issues. Fortunately, none of those seem to be an issue here. The metal and plastic pieces are all clean, the paint is nice & smooth, and the details are painted very well. Being a modern Mustang, there aren't a ton of details on the body, but what is there looks good. The stripes flow around the curves well, with only a small gap on he trunk lid below the spoiler. The grille is particularly clever, using silver printing on clear plastic to create an open mesh. The look is somewhat spoiled if light reflects off of the plastic, but it is still a nice touch. The big chrome wheels show off a set of nicely painted disc brakes, though the tires lack any sidewall detail. Inside, the two-tone dash is cleanly painted, and the detail looks appropriate for a modern performance car. The only thing that stands out here is the blue seats, which look completely out of place in the red car.
Features/Accessories
The doors, hood, and trunk open, and the front wheels can be posed (though they are not tied to the steering wheel). The hinges are smooth operating and the panels shut tightly. Although they have thee same oversized hinges common to diecast cars, 1BR tried to make them as discreet as possible, going as far as to paint the hood hinges black to help make them disappear.
Accuracy
As a custom, there is a lot of "wiggle room" available here. The box art notes that body modifications included the fender flares, side vents, roof pillar scoops, front fascia, rear fascia, hood, and spoiler. Interior modifications include the roll cage, racing seats, dash details, racing fuel tank, and nitrous oxide system. There is no doubt that the car is the new retro-Mustang, and overall the styling all looks like it fits together fairly well. Scaling is a bit strange in some places...the 20" wheels mentioned on the box are more like 27" diameter, but the overall car works out to be an accurate 1/24. It's debatable as to whether a naturally-aspirated 427 could pull the numbers mentioned on the box art, but that doesn't really effect the model itself.
Overall
Ford's redesigned Mustang has been a popular subject for diecast and model manufacturers, and so far 1BR has released four variations of this car. The over-saturation of this particular subject may cause hesitation with some collectors, but 1 Badd Ride did a nice job of providing something that was more than a stock Mustang without being cartoonish or unbelievable. Recommended to fans of the new style Mustang, though the overall piece doesn't seem as strong as some other offerings from 1BR.
Have a question, comment, or criticism about this review?
Send me an e-mail
with your thoughts!