Made By:
Air Hogs
Scale:
1/24
MSRP:
US$24.99
Overview:
Packaging (Design):
8/10
Packaging (Durability):
9/10
Casting (Body):
9/10
Casting (Interior):
N/A
Casting (Chassis):
N/A
Casting (Engine):
N/A
Paint (Exterior):
8/10
Paint (Interior):
N/A
Paint (Trim/Graphics):
8/10
Overall Panel Fit:
N/A
Total Score:
8.4/10

Other Pixar Models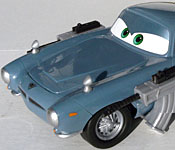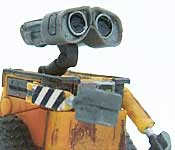 Cars 2 Finn McMissile (Review)
Incredibles Incredibile (Review)
Cars Lightning McQueen (Review)
Cars 2 Lightning McQueen (Review)
Cars 2 Shu Todoroki (Review)
Cars Lightning McQueen
Cars Mack (Review)
Cars Doc Hudson (Review)
Cars 2 Francesco Bernoulli (Review)
Cars 3 Lightning McQueen (Review)
Cars 2 Raoul ÇaRoule (Review)
WALL·E
Cars 3 Jackson Storm (Review)
Cars 3 Cruz Ramirez
Other Cartoon & Anime Models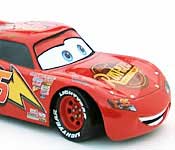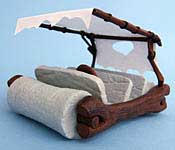 Jimmy Neutron Rocket
Planes 2 Firefighter Dusty (Review)
Roadster Racers Goofy (Review)
Cars Lightning McQueen
Who Framed Roger... Benny (Review)
Tekkonkinkreet Colt Galant
Tiger & Bunny Double Chaser (Review)
Big Hero 6 Baymax (Review)
Evangelion Renault Alpine A310
Ben 10 Alien Force Kevin's Car (Review)
Freedom Project Tricycle (Review)
Ghost in the Shell Motoko Kusanagi
Jetsons Spaceship
M.A.S.K. Thunderhawk
WALL·E
Lupin III Mercedes-Benz SSK (Review)
Cars Mack (Review)
Paprika Aston Martin DB7
The Real Ghostbusters Ecto-1
MOSPEADA/Robotech VR-052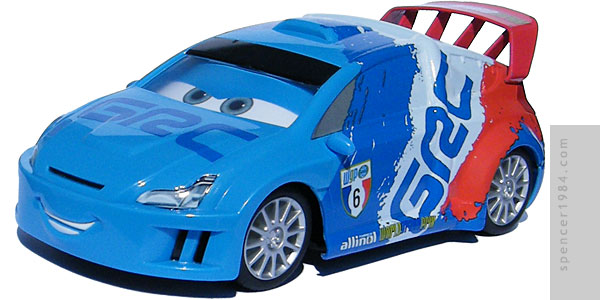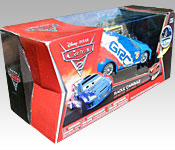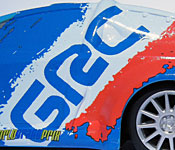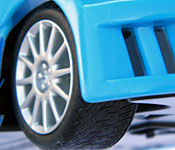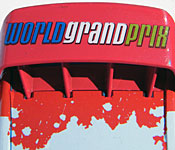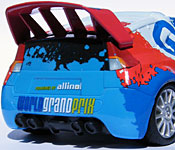 Background
Following the critical and commercial success of Cars, Cars 2 was only the second sequel created by Pixar (after Toy Story 2). Director John Lasseter claimed that the idea for the movie was sparked by his travels around the world, and his imagination of what Mater might do in certain situations outside of Radiator Springs. The reason for Mater's traveling was a series of international races, run by some of the greatest racers from around the world. ÇaRoule was one of those racers, a French rally car inspired by Sébastien Loeb and the Citroën C4 WRC Loeb drove to victory from 2007 - 2010 (part of Loeb's record-setting nine consecutive world championships).
Packaging
Air Hogs tends to use irregular shaped packaging for their R/C vehicles, and the Cars 2 line is no exception. The front left side has a sideways "V" cutout that goes about halfway back, while the front right corner is truncated at a 45° angle. The window extends from the front of the box across the top to the back, with no parallel lines framing it. The front panel has a drawing of Raoul, the Cars 2 and Air Hogs logos, character name, and feature callouts. The age restrictions and other warnings/tech notes are spread across the bottom of the front panel and up the small panel made by the 45° cut. This end of the box is darker than the rest of the box (separated from the bright red section by a "V" that mirrors the cutout at the other end of the box), and has the Cars 2 logo centered on the end flap. The interior tray has an image of Porto Corsa, and Raoul is held down with four screws. The remote is held to the tray with a wire twist tie, and the batteries and instructions are packed under the tray.
Casting/Paint
The body is mostly a single plastic shell with separate mirrors and a separate rear wing. While the shape appears simple at first, there are some nice details like the rear window clips, character lines behind the front wheels, and rear diffuser that help add interest. The windshield is clear plastic, and the tires are soft vinyl over plastic 12-spoke wheels. Although there is no sidewall detail, Raoul does have treaded tires - a first for the Air Hogs Cars 2 line, and appropriate for the only dedicated rally car in the pack. His complex paint scheme is captured well but not perfectly, with everything on the rear shifted a bit to the right (most noticeable with the right taillight and "Powered by Allinol" sticker). There are also two brighter stripes on the roof where the side and top decals overlap, but they are fairly thin and easy to overlook. The chassis is little more than a plate to keep the innards together, with a screw-down battery cover and alignment adjustment tab.
Features/Accessories
Raoul is a full-function R/C car, and zips along smooth surfaces pretty well. The remote unit is identical to the other Cars 2 line, but has a sticker unique to Raoul so that you know who it belongs to. Air Hogs also included a neat feature on this series, where the eyes are tied to the steering mechanism. So when you turn left, Raoul looks left.
Accuracy
Shape-wise, this is nearly perfect. The only errors I see are that the sideview mirrors should be on longer posts, and the wheels should be further out...but these are likely both necessary compromises for an R/C car. There are a couple of paint issues as well. The first (and largest) is that his dark blue splatter should continue on his front fenders and hood. Also, all of the official images of Raoul show him with white wheels but here they are silver. Scaling matches the others in the 1/24 Cars 2 series.
Overall
The unfinished paint is somewhat disappointing, but negated when you consider how cool the rest of this looks. It's great to see a tertiary character like this done so well, and should make a fun addition to any Cars collection. Recommended.
Have a question, comment, or criticism about this review?
Send me an e-mail
with your thoughts!