Made By:
Aquamarine
Scale:
1/24
MSRP:
¥19,800
Overview:
Packaging (Design):
9/10
Packaging (Durability):
9/10
Casting (Body):
9/10
Casting (Interior):
9/10
Casting (Chassis):
8/10
Casting (Engine):
10/10
Paint (Exterior):
9/10
Paint (Interior):
9/10
Paint (Trim/Graphics):
9/10
Overall Panel Fit:
9/10
Total Score:
9.0/10

Other Cartoon & Anime Models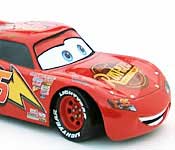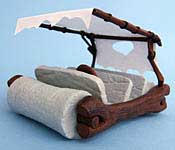 Max Steel Jet Racer (Review)
The Simpsons Family Sedan
Cyber Formula SIN Ogre AN-21 (Review)
Vifam Twinklehead
Roadster Racers Goofy (Review)
Rick and Morty Space Cruiser
Spiral Zone Monocycle
Cyber Formula Super Asurada (Review)
Thundercats Thundertank (Review)
Urashiman Magna Beetle
Lupin III Fiat 500
M.A.S.K. Manta
Gunsmith Cats Shelby GT500
WALL·E
Batman:TAS Batmobile (Review)
F&F: Spy Racers Thresher (Review)
Planes 2 Firefighter Dusty (Review)
Roadster Racers Donald (Review)
1992 Batman:TAS Batmobile
Transformers Optimus Prime
Other Volkswagen Models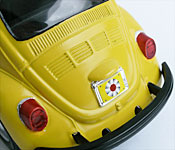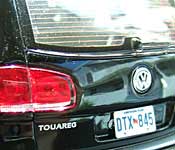 The Love Bug Herbie
Jada Toys 1959 Beetle (Review)
Ninja Cheerleaders Beetle Cabriolet
'98 VW Golf
Jada Toys 1962 Bus (Review)
Little Miss Sunshine 1978 Bus (Review)
Interstellar Pig Cabriolet
Alone in the Dark VW Touareg
Herbie Rides Again Herbie
Transformers G1 Ladybug
'98 VW Beetle
Transformers G1 Bumblebee
Field of Dreams 1973 Type 2 (Review)
Gremlins Beetle
Lost 1971 Bus (Review)
Urashiman Magna Beetle
Gremlins Beetle (Review)
Chevron Cars Rudy Ragtop (Review)
The Cars that Ate Paris Beetle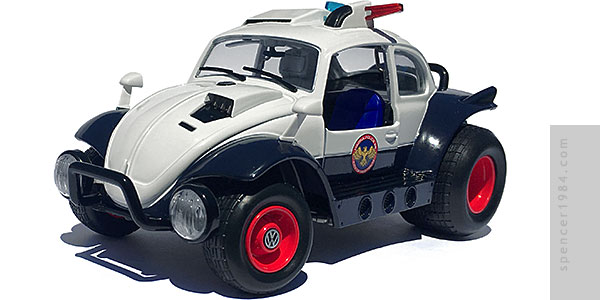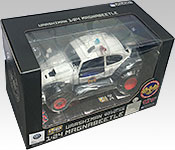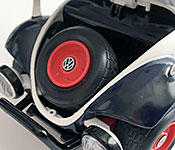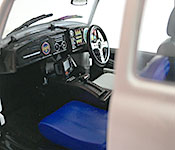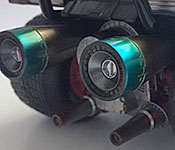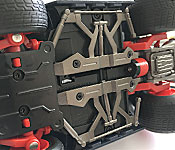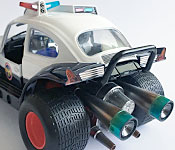 Background
Mirai Keisatsu Urashiman (Future Policeman Urashiman) follows the adventures of Ryū Urashima, a man who drove through a space-time anomaly from his home in 1983 to the far-flung future of 2050 where he joins the police force in its fight against the top criminal organization Necrime. Having no memories of his earlier life, Ryū's only ties to the past are his cat Maya and his classic VW Beetle. The latter gets a substantial rebuild early in the series, becoming the Magna Beetle - Ryū's personal police vehicle.
Packaging
The Magna Beetle is packed in a relatively small (8" x 4½" x 5"/20.5cm x 11.5cm x 13cm) matte black window box. The front panel has the Magna Police Division #38 shield in full color cutting into the lower right corner of the window, just above the red and blue series title and blue Aquamarine logo. Directly under the window is a Hyper Spec logo, product info, and two separate notations of this being an officially licensed Volkswagen product: once printed, and once as a holo sticker. The top panel simply has "Urashiman 1:24 Magnabeetle" in chrome text and a repeat of the Aquamarine logo. Each end flap has a large chrome outline version of Division #38's shield above the vehicle name. The bottom has all of the legal and sales info, while the back has various product shots with feature callouts and a small note celebrating the 55th anniversary of Tatsunoko Production. Inside, a folded cardboard tray acts as both a plinth and a backdrop, showing a night scene of Neo Tokyo. The Magnabeetle is captured between two molded plastic trays, with soft plastic sheathing to protect it from getting scuffed in transit. A four-panel "booklet" is under the car. The front has the Division #38 shield and various logos on the front, product photos and action feature callouts on the back, and the inside is a spread of over a dozen drawings detailing features like the engine, suspension, seats, and chassis. Like the box, it's a simple but classy looking piece with high quality printing and good material. I've previously noted how minimalist packaging can look great when done right, and this is another example.
Casting/Paint
The main body of the Magna Beetle is diecast metal, including the hood and doors. Details like the hood and roof scoops, mirrors, fuel cap, and hood latch handle are done in plastic, but painted the same white as the body to integrate nicely. Other plastic details include the bumpers, headlight buckets, VW emblem, and wipers. The headlight lenses, windshield, side windows, and rear window are colorless transparent plastic. There are two sets of lights on the roof: the V-shaped light bar and smaller rectangular rear-facing lights on the back side of the roof scoop. Each set has the lenses done in transparent red and transparent blue. The light bar also has a dark gunmetal gray insert that is visible from the rear and created a dark smoke effect for the dome on the front of the bar housing. The taillights are two-tone red and orange. In addition to the obvious white, dark blue, and black, there are subtler colors used throughout the car like a bright silver for the window trim and a darker metallic gray for the front and rear vents. Both casting and paint across the body are very, very good. They're not perfect, though, and at this price it seems like they ought to be a little closer to that ideal. The door panels have just a little too much play; there's just a little bit of ghosting in a couple spots between the blue and white; the wipers don't quite touch the windshield. None of these are particularly large problems...but they are things that another company in this price range, like Danbury Mint, would have addressed.
Inside, there's a ton of excellent work including a sharply cast dashboard with full-color gauges and controls, unique driver and passenger seats with printed markings, grab handles inside the B pillars, a center console with separate gear selector and onboard computer, and even headliner details like access panels, sun visors, and a rear view mirror. Colors are nicely defined and registered, and the text is clear and easy to read.
The chassis is nicely detailed with skid plates, (nonfunctioning) hydraulic cylinders, and working suspension and steering components. Colors are a mix of black, gunmetal, and bright red, with actual metal parts for the steering linkage and springs. Wheels are wrapped in vinyl tires with nicely printed center hubs and included detailed valve stems. The engine is a dark metallic gray with burnt metal paint effects on the exhaust tips, a very nice touch.
Features/Accessories
Aquamarine loaded the Manga Buggy with as many working features as they could: the hood opens and closes with a catch to hold it at the top of its swing; the steering works and is tied to the steering wheel; each front wheel is on an independent spring that can be locked in the "up" position for dynamic posing; both doors open; the rear end/engine is on a hinged pivot to allow for different ride heights and compliment the front end's posing feature; each rear wheel is also on a separate spring. Most of these work very well, though the door and hood hinges could stand be a little tighter.
Accuracy
This is an excellent reproduction of the Magna Buggy, from the bobbed fenders to the light bar. Many smaller details changed from scene to scene as was common for animated vehicles, but overall Aquamarine did a great job capturing everything overt and subtle alike. They even got some nice details like the upside-down text on the headrest, which would fold over (and thus be right side up) when acting as Ryū's battle armor. As a licensed VW item, the classic Beetle components are pretty much spot-on, and scaling looks to be a good 1/24.
Overall
As far as I can tell, this was Aquamarine's first foray into diecast vehicles, with most of their products falling under the figure/statue category. While that means that some features like the working panels and hard paint edges could use a little further refinement, it also means that small paint detail and more natural effects like the exhaust pipes are far beyond the ability of most other manufacturers. It's not quite as flawless as you may hope for something in this price range, but that doesn't mean it's not very, very good.
Have a question, comment, or criticism about this review?
Send me an e-mail
with your thoughts!