Made By:
Chevron
Scale:
N/A
MSRP:
US$7.99
Overview:
Packaging (Design):
8/10
Packaging (Durability):
9/10
Casting (Body):
9/10
Casting (Interior):
9/10
Casting (Chassis):
N/A
Casting (Engine):
N/A
Paint (Exterior):
N/A
Paint (Interior):
N/A
Paint (Trim/Graphics):
9/10
Overall Panel Fit:
10/10
Total Score:
9.0/10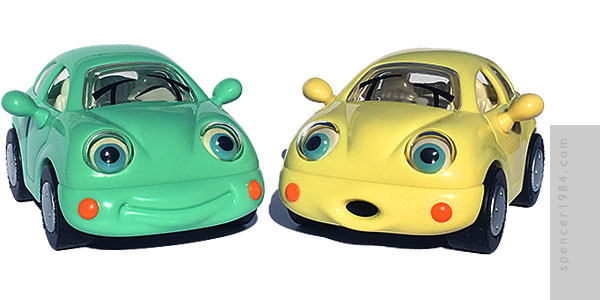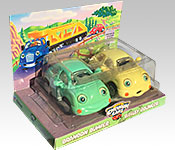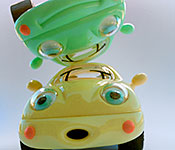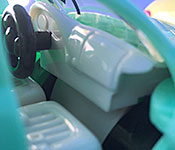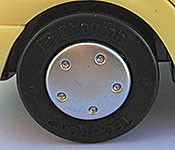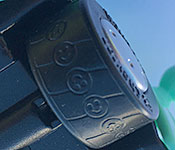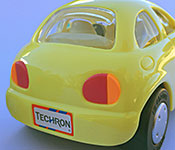 Background
As the '90s were coming to a close and the Cars were reaching the midpoint of the numbered run, Chevron released the first of three "Young Cars" two packs: Brandon Bumper/Bailey Bouncer, and Zachary Zoomer/Skyler Scamper. The Young Cars were featured in the two Cary Carrier ads, riding on (and sneaking off of) Cary's trailer.
Packaging
Bailey Bouncer & Brandon Bumper are sitting on a base approximately 8" (205mm) x 5" (130mm), with a printed cracked asphalt surface. This base is approximately ¾" (18mm) thick with a light green edge. The Chevron logo/name and "Keep your Neighborhood Clean ♻" are printed on both ends, while the cars' names and the Chevron Cars logo are on the front edge. Behind them is a printed panel with an image of Cary and a red young car driving along a curving country road. "Safety tested and recommended for children age 3 and over" is printed on a sign posted on the side of the road. The back panel has a similar winding country road, with Brandon and Bailey in the foreground and Skyler, Zachary, and Charlie in the background heading towards a Chevron station. A wooden sign by the side of the road lists the toys' features. The bottom of the package has a photo of Brandon and Bailey with callouts for their google eyes, opening doors, reflective mirrors, and wheels/tires, along with the typical marketing paragraph: "Brandon Bumper and Bailey Bouncer are a couple of cars on the move. Brandon's always bumping into friends to play with and Bailey Bouncer is always up for a good time. Best of all, Brandon and Bailey come together. Brandon and Bailey are 2 fun!" A separate "Owner's Manual" for each car is packed inside the blister under them, and a smaller blister holds the the two in place so they don't bump doors.
Casting/Paint
Brandon is cast in a pastel green ABS, while Bailey is pastel yellow. They share most of the same castings, with the only difference being the front bumper/mouths. As Chevron has previously demonstrated, there is an inverse relationship between complexity and quality. Thanks to the extremely simple nature of these, the actual quality is some of their best work: tight panel fit, perfect alignment, few casting marks, and very tidy paint applications. These include bright (almost fluorescent) orange for the four corner lights and dark magenta for the tail lights. Bailey also has a spot of black for her open mouth, but no teeth. Each car has the usual reflective silver mirror glass and a Techron sticker centered on the rear bumper. Tires are "happy face"-treaded vinyl with Chevron/Techron cast on the sidewalls over silver painted hubcaps. Their eyes are light blue behind clear domes. Their interiors are identical in casting but not color, with Bailey having a slightly warmer beige compared to Brandon's gray. Despite the limited space, detailing is still good with seatbelts, gauge faces, dash controls, a glove box, and a separate black steering wheel in each car. The chassis has the usual name and series logo plate.
Features/Accessories
Both cars have opening doors and moving eyes. The hinges work nicely and the panels snap securely into their "closed" positions. They have simple wiggle eyes rather than the more involved mechanical eyes of their larger kin, so the default expression is "starting straight ahead" unless you tip the car.
Accuracy
Like Cary, the Young Cars had two looks: the earlier "Techron is Here" ad and the later "Guide you Car to True Happiness" after the Cars' designs were more established. The toys are very much based on the latter, with the distinctive hoods, wheels, and mirrors that appeared in that ad. They're generally captured that look here, with the only change being that the license plate was moved from the rear fascia to the bumper. Each car measures approximately 4¼" (110mm) long, 2½" (65mm) wide, and 2½" (65mm) tall.
Overall
A silly but fun addition to the Cars lineup, and if you assume that these are supposed to be roughly the size of a Smart ForTwo they're even in scale with the rest of the series. By no means the "ones to get" if you're no trying to collect them all, so let's call these mildly recommended.
Have a question, comment, or criticism about this review?
Send me an e-mail
with your thoughts!