Made By:
Chevron
Scale:
N/A
MSRP:
US$6.99
Overview:
Packaging (Design):
8/10
Packaging (Durability):
9/10
Casting (Body):
9/10
Casting (Interior):
9/10
Casting (Chassis):
N/A
Casting (Engine):
8/10
Paint (Exterior):
N/A
Paint (Interior):
N/A
Paint (Trim/Graphics):
9/10
Overall Panel Fit:
8/10
Total Score:
8.6/10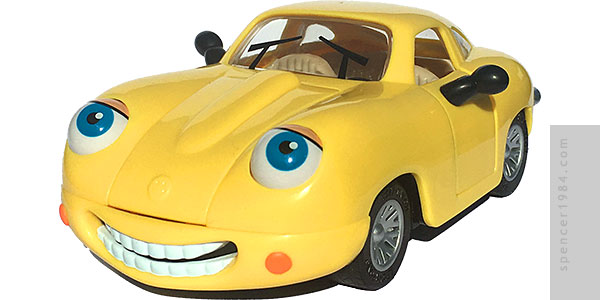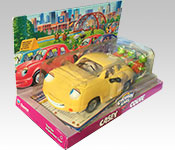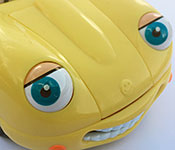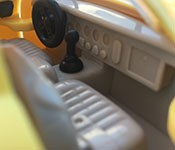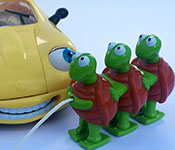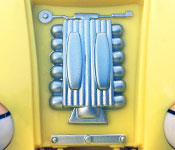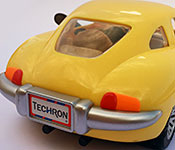 Background
Continuing the idea set forth by Horace 'N Trailer and Holly Hatchback, Casey Coupe came with some animal friends to add some extra play value.
Packaging
Casey Coupe is sitting on a base approximately 9" (230mm) x 4½" (115mm), with a printed cracked asphalt surface. This base is approximately ¾" (18mm) thick with a dark magenta edge. The Chevron logo/name and "Keep your Neighborhood Clean ♻" are printed on both ends, while Casey's name and the Chevron Cars logo are on the front edge. Behind her is a printed panel with an image of a long line of traffic backed up across a bridge in the distance. "Safety tested and recommended for children age 3 and over" is printed on the topper of a car in the far lane. The back panel has moved the traffic ahead somewhat, though the bridge they all crossed over is still visible in the background. Casey is in the foreground waiting for a conga line of turtles to cross the road, and a billboard behind her lists this toy's features. The bottom of the package has a photo of Casey with callouts for her moving eyes, opening doors/hood, reflective mirrors, and turtles, along with the typical marketing paragraph: "Casey Coupe loves sitting in traffic. Sure, most cars think it's a drag, but they just need to lighten up! Casey Coupe uses the time to chat...to make a new friend! Wherever she is, Casey knows how to make it happy. So let's go for a ride. And if there's traffic, we'll just turn it into a tail-gate party!" The customer feedback card, "Owner's Manual," and order form are packed inside the blister under Casey, and a smaller blister holds the turtles in place.
Casting/Paint
Casey is cast in bright yellow ABS with black mirrors and—thanks to the way the chassis is molded—a pair of black exhaust tips sticking out the back. Most of the casting is Chevron's usual excellent quality, though the gap where the hood meets the front bumper is a little wider than what we typically see. Paint apps are limited to the rear bumper (silver), taillights (red & orange), parking lights (orange), and mouth (black & white). A Techron sticker is mounted as the rear license plate, and the mirror glass is represented by reflective silver stickers. The tires are treaded vinyl with Chevron/Techron cast on the sidewalls over silver painted 16-spoke cross spoke wheels similar to BBS' RG. Her eyes are blue with peach eyelids. Casey's interior is very pale tan with detailed front and rear seat belts, some basic dash details, and a separate shift lever and steering wheel. Under her hood is a generic upper engine with exhaust headers indicating a V-12 engine. The chassis has the usual name and series logo plate.
Features/Accessories
Casey has opening doors, an opening hood, and moving eyes. The hinges all work nicely and the panels snap securely into their "closed" positions. The eyes are activated by pushing down on her hood and rolling her forward, moving right to left. The set also includes a set of three turtles in a conga line. They form a ramp walking toy with moving rocker feet, and the first turtle is holding a 7¼" (185mm) long string attached to a plastic fob with a Chevron sticker. By either placing the turtles on an incline, draping the fob over the edge of a table, or pulling (gently) on the string, the turtles will march forward. They only have basic paint apps on their eyes and shells, but the work is clean and they look good.
Accuracy
Casey was only shown head-on in her commercial, so little beyond her color was really established. She does have a hood bulge here that was not part of the original animation, which serves as a handle to open her hood. It also works with some other details like her fastback roofline and rear bumper/taillight arrangement to suggest she was at least partially based on the Jaguar E-Type. Her V12 engine is more typical of Ferrari, though, while her sides and fender openings are reminiscent of the Porsche 356...all in all, a good amalgam of some of Europe's most famous vintage sports cars. She measures approximately 6¼" (160mm) long, 3¼" (80mm) wide, and 2¼" (60mm) tall.
Overall
While not as screen-accurate as many of the other Chevron Cars, I like what the designers did here. The turtles are a silly but fun addition, but if you don't care for them they're easy to ignore. Recommended.
Have a question, comment, or criticism about this review?
Send me an e-mail
with your thoughts!