Made By:
Chevron
Scale:
N/A
MSRP:
US$6.99
Overview:
Packaging (Design):
8/10
Packaging (Durability):
9/10
Casting (Body):
8/10
Casting (Interior):
9/10
Casting (Chassis):
N/A
Casting (Engine):
N/A
Paint (Exterior):
N/A
Paint (Interior):
N/A
Paint (Trim/Graphics):
8/10
Overall Panel Fit:
10/10
Total Score:
8.7/10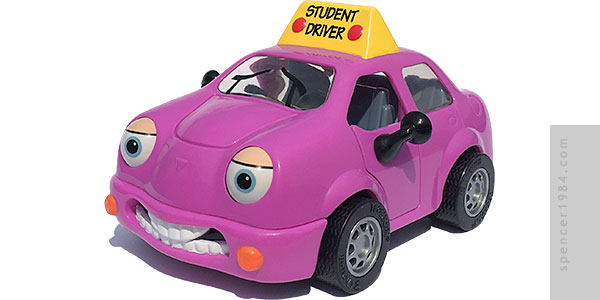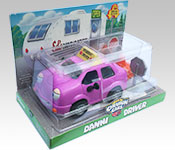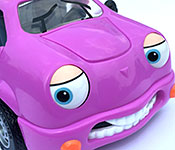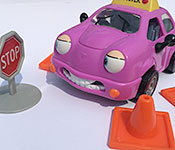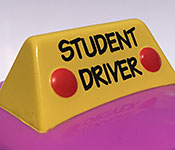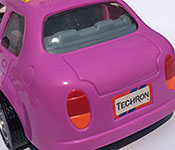 Background
Danni Driver was the first recolor in the Chevron Cars line, if only as a technicality. A week before Danni's release in June 1998, Davey Driver was a green version of her produced as Chevron's first Limited Edition Car. As the first "LE," Davey is generally not counted as part of the main series.
Packaging
Danni Driver is sitting on a base approximately 8¼" (210mm) x 4½" (115mm), with a printed generic asphalt surface. This base is approximately ¾" (18mm) thick with a green edge. The Chevron logo/name and "Keep your Neighborhood Clean ♻" are printed on both ends, while Danni's name and the Chevron Cars logo are on the front edge. Behind her is a printed panel with an image of the main office/trailer for Ed's Driving School, parked in a lot with a large post sign and surrounded by chain link fence. "Safety tested and recommended for children age 3 and over" is printed near the lower left corner of the panel. The back panel has moved the view to across the lot, with the trailer in the background, Danni in the foreground, and off to the right Davey has just backed into the Ed's Driving School sign. A smaller traffic control sign next to Danni lists this toy's features. The bottom of the package has a photo of Danni with callouts for her moving eyes, second steering wheel, stop sign, opening doors, reflective mirrors, and three traffic cones, along with the usual marketing paragraph: "Danni Driver has what it takes to teach students how to be safe and how to have fun. That's why she's the most popular teacher at the driving school." The customer feedback card and "Owner's Manual" are packed inside the blister under Danni.
Casting/Paint
Danni has the usual well-cast ABS body, this time in lavender with black mirrors. Reflective silver stickers are used for the mirror glass, and a Techron sticker is mounted as the license plate under the trunk lid. The tires are treaded vinyl with Chevron/Techron cast on the sidewalls over silver 8-hole wheels. Her parking lights and lower rear lights are orange, remaining taillights are red, her roof topper is yellow with black text and red lights, and her mouth is black with white teeth. There is a bit of a rough edge where the topper meets the roof, but otherwise the extra paint apps are nicely applied. Her eyes are blue with peach eyelids. Danni's interior is a very pale blue with detailed front and rear seat belts and the advertised dual steering wheels. In a nice attention to detail, the dashboard is asymmetrical: there's a raised section over the left wheel as if that's where the instrument cluster would be, while the right wheel is mounted near a flat section of dash as if that's where the glove box should be. It's a totally unnecessary detail that shows how the designers were actually trying to make this "accurate." The chassis is the usual name and series logo plate.
Features/Accessories
Danni has opening doors and moving eyes. The hinges work nicely and the doors snap securely into their "closed" positions. The eyes are activated by pushing down on her hood and rolling her forward, which makes her eyes move left to right. She also comes with some school supplies: three traffic cones and a stop sign. The cones are soft orange plastic, while the sign is a more rigid silver plastic with the sign face made from a sticker.
Accuracy
This is pretty much spot-on to her ad appearance, from the colors to the extra "student Driver" equipment. The hood ornament is left unpainted, and the topper is tapered a little more than it was in the ad, but those are some very minor nitpicks on an otherwise well-done replica. She measures approximately 5½" (140mm) long, 3½" (90mm) wide, and 3" (75mm) tall.
Overall
Danni was very much the stronger car in the wave she shared with Leslie LX: better colors, more interesting design, and the extra cones and sign are great additions. Highly recommended
Have a question, comment, or criticism about this review?
Send me an e-mail
with your thoughts!