Made By:
Chevron
Scale:
N/A
MSRP:
US$7.99
Overview:
Packaging (Design):
8/10
Packaging (Durability):
9/10
Casting (Body):
8/10
Casting (Interior):
8/10
Casting (Chassis):
8/10
Casting (Engine):
N/A
Paint (Exterior):
N/A
Paint (Interior):
N/A
Paint (Trim/Graphics):
9/10
Overall Panel Fit:
9/10
Total Score:
8.4/10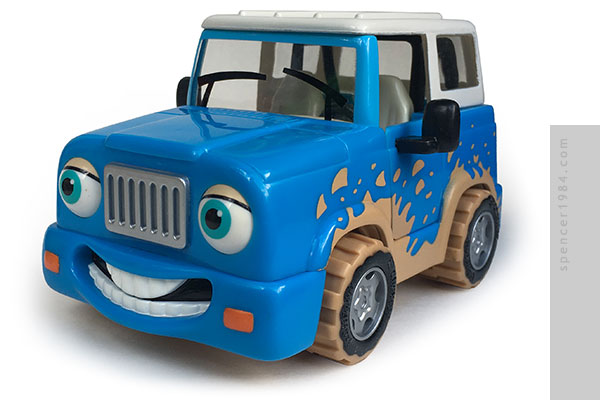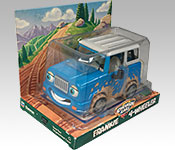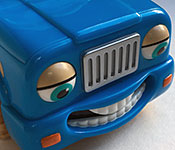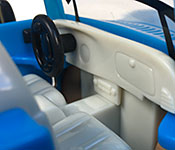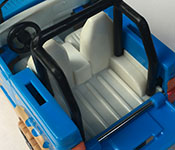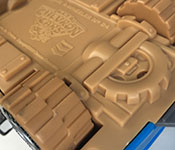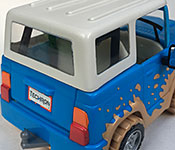 Background
Frankie first appeared in Freddy 4-Wheeler's ad as the mud-splashing SUV catching air and giving Freddy a hearty "yuuup" before diving into a massive puddle.
Packaging
Frankie 4-Wheeler's base is approximately 7½" (185mm) x 4½" (115mm), with a rutted dirt trail printed on the "road" and a green edge. The Chevron logo/name and "Keep your Neighborhood Clean ♻" is printed on both ends, and his name and the Chevron Cars logo are on the front edge. The muddy trail blends into the back panel, which has the trail going up and over a hill behind some rocks and wildlife. "Safety tested and recommended for children age 3 and over" is printed on a rock near the bottom right corner of the panel. The back panel has Frankie in mid-jump at hthe top of the hill, with Freddy in the background. The toy's features are listed on a signpost by the side of the trail, along with a "Next Gas 9 Miles" arrow. The bottom of the package has a photo of Frankie with callouts for his moving eyes, opening doors, reflective mirrors, roll bar, removable top, opening tail gate, and trailer hitch, plus the usual marketing paragraph: "Y-y-y-y-y-ep! Frankie 4-Wheeler is one fun 4x4! When Frankie gets off the beaten path, there's no beatin' all the fun he has! So hop in, buckle up and get ready to make a big splash!" The customer feedback card, Owner's Manual, and order form are packed inside the blister.
Casting/Paint
Frankie has the usual construction - blue ABS body, clear windows, black mirrors with chrome stickers for glass - but has a lot more paint than most of the Cars. Some of it is the usual Chevron detailing, including the black mouth with white teeth, silver grille, orange parking lights, blue eyes with peach eyelids, and red and orange taillights. Then there's the mud splashes like we saw with Freddy, albeit rearranged to fit the new body. But then we get to the greenhouse, where everything is cast in clear plastic and then painted either blue or white. The blue is an excellent match for the cast body, and the white hardtop is clean and bright. The interior is a milky off-white with a black steering wheel and roll bar, plus a nice amount of detailing. Gauges, a radio face, seat belts, a ribbed cargo floor, and even dual cup holders are all nicely defined. The chassis has the usual name and series logo plate, but in a first for Chevron also has a spare tire, exhaust tip, and floorboards cast as part of it. It and the tires are cast in brown to blend in with the mud splatters, with the sidewalls painted black to appear as clean parts of the tires.
Features/Accessories
Frankie has opening doors, an opening tailgate, a removable top, and moving eyes. The hinges all work nicely and the panels snap securely into place. The eyes are activated by pushing down on his front and rolling him forward to make his eyes move up and down. He also has a trailer hitch so that he can pull Horace 'N Trailer or C.C. Boat 'N Trailer.
Accuracy
In the commercial, Frankie was a larger 4-door SUV in solid blue. Here he appears as a compact SUV, more like a Suzuki Jimny than a Range Rover. He still has the classic boxy styling and vertical grille, so maybe we should just assume his time outdoors got him to lose a little weight.
Overall
Like Cary and Nando, Frankie deviates from his animation model more than the rest of the Cars. But also like them, the changes were smart and well done, creating a fun character that looks great as part of the larger collection.
Have a question, comment, or criticism about this review?
Send me an e-mail
with your thoughts!