Made By:
Chevron
Scale:
N/A
MSRP:
US$6.99
Overview:
Packaging (Design):
8/10
Packaging (Durability):
9/10
Casting (Body):
8/10
Casting (Interior):
8/10
Casting (Chassis):
N/A
Casting (Engine):
N/A
Paint (Exterior):
9/10
Paint (Interior):
N/A
Paint (Trim/Graphics):
9/10
Overall Panel Fit:
10/10
Total Score:
8.7/10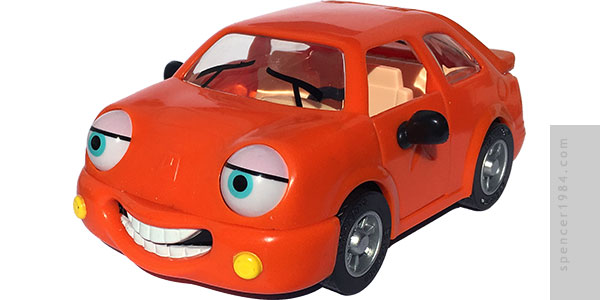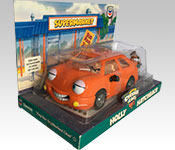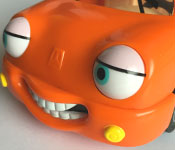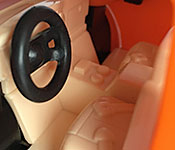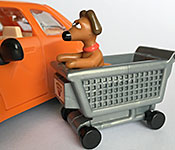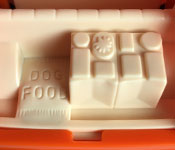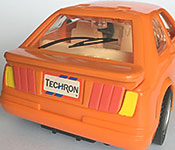 Background
The fourth wave of Chevron Cars all included animal companions: Pete and Horace were farm-themed with hay bales and chickens and such, while Holly Hatchback had a distinctly more suburban setting. Her companion is a dog riding in the dreaded shopping lot cart, bane of all un-dented panels.
Packaging
Holly Hatchback is sitting on a base approximately 8¼" (210mm) x 4½" (115mm), with a printed generic asphalt surface. This base is approximately ¾" (18mm) thick with a turquoise edge. The Chevron logo/name and "Keep your Neighborhood Clean ♻" are printed on both ends, while Holly's name and the Chevron Cars logo are on the front edge. The shopping cart accessory is crosswise against Holly's rear bumper. and behind them is a printed panel with an image of a supermarket having a 2-for-1 sale on dog food. "Safety tested and recommended for children age 3 and over" is printed on a sign near the store's entrance. The back panel has the reverse view of the market with the dog/cart making a run at Holly's door. A sign on the side of the building lists this toy's features. The bottom of the package has a photo of Holly and the cart with callouts for her moving eyes, opening doors/hatchback, dented door, reflective mirrors, and magnetic cart, along with the typical marketing paragraph: "Holly Hatchback is an experienced shopper. She knows all the angles of getting in and out of a parking lot. That dent in her door from a shopping cart proves it. No matter what, Holly's always ready for a fun-filled adventure." The customer feedback card and "Owner's Manual" are packed inside the blister under Holly, and a smaller blister over the cart holds it in place.
Casting/Paint
Holly has the usual ABS body, though unlike most others she also has some paint here. Rather than make her rear window a separate insert, the entire hatchback is a single piece of clear plastic that's been painted orange. It's an excellent match to the molded color, so much so that I didn't notice the change until after I opened the hatch. The rest of the casting is the same smooth clean work we've come to expect, with the exception of the dent in Holly's left door. Black plastic and reflective silver stickers are used for the mirrors, and a Techron sticker is mounted as the license plate between the taillights. The tires are treaded vinyl with Chevron/Techron cast on the sidewalls over silver painted 8-spoke wheels. Her parking lights and outer rear lights are orange, her inner rear lights are red, and her mouth is painted black with white teeth. Edges are generally sharp, so even in the few cases where they miss their marks they still look pretty good. Her eyes are blue with pink eyelids. Holly's interior is pale beige with detailed front and rear seat belts, a center console with cup holders, and some basic dash details behind the black steering wheel. The cargo area in the back has two sacks of groceries and a bag of dog food. The chassis is the usual name and series logo plate.
Features/Accessories
Holly has opening doors, an opening hatchback, and moving eyes. The hinges all work nicely and the panels snap securely into their "closed" positions. The eyes are activated by pushing down on her hood and rolling her forward, moving right to left. The shopping cart is cast in silver plastic with black rolling wheels and a Chevron Cars sticker on the front ad plate. This ad plate also hides the magnet that attracts the cart to Holly's door, which includes a metal slug hidden behind the panel. The magnet is weak enough that the cart needs to be fairly close to work (likely a safety precaution so fingers don't get pinched), but it does work. A Gromit-esque canine rides in the cart, with its front feet up on the cart's leading edge. Detail on both the cart and the dog are basic but sufficient. The dog is brown with darker ears, a red collar, black nose, and black and white eyes.
Accuracy
Holly is a bit shorter than her advertisement version, with proportions closer to those of an actual car. Also, unlike Wendy, she gets no separate eyelashes and it effects her appearance more than you'd expect. She's still quite recognizable, though, being one of the few early Chevron Cars that seem to have a real-world counterpart (in Holly's case, the bustleback hatch suggests a Ford, possibly Escort or Mustang). She measures approximately 5¼" (135mm) long, 3" (75mm) wide, and 2¼" (60mm) tall.
Overall
A fun accessory and really nice work on that hatchback, recommended.
Have a question, comment, or criticism about this review?
Send me an e-mail
with your thoughts!