Made By:
Chevron
Scale:
N/A
MSRP:
US$7.99
Overview:
Packaging (Design):
8/10
Packaging (Durability):
9/10
Casting (Body):
8/10
Casting (Interior):
8/10
Casting (Chassis):
N/A
Casting (Engine):
8/10
Paint (Exterior):
N/A
Paint (Interior):
N/A
Paint (Trim/Graphics):
9/10
Overall Panel Fit:
8/10
Total Score:
8.3/10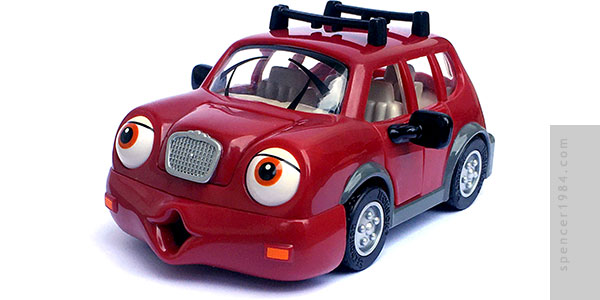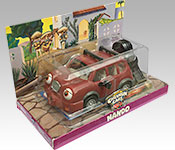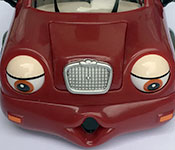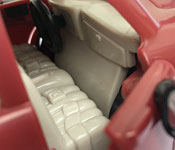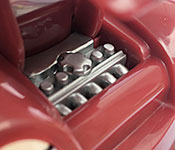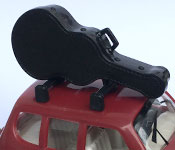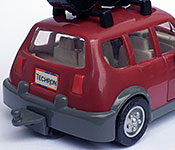 Background
Chevron's "Mariachi" commercial (featuring Nando) marked the first time that a gas & oil company used bilingual advertising in a general-market television campaign. The spot first aired in the Los Angeles area during the summer of 1999, with further rollouts in San Diego, Houston, San Antonio and Miami later that year. Almost exactly one year after the ad first aired, Nando joined the Chevron Cars toys as the first post-Y2K release.
Packaging
Nando's base is approximately 9" (227mm) x 4½" (115mm), with a printed cobblestone surface and a violet edge. The Chevron logo/name and "Keep your Neighborhood Clean ♻" is printed on one end as usual, while the other has the same text in Spanish (Mantenga limpio su vecindario). Nando's name and the Chevron Cars logo are on the front edge. The cobblestone surface blends into the back panel, which features three Mariachi performers and a lizard in amongst a classical hacienda. "Sometido a pruebas de seguridad. No apto para niños menores de 3 años./Safety tested and recommended for children age 3 and over" is printed on the wall directly behind Nando. The back panel is a different drawing of the same scene, now with Nando's serenade scaring the lizard and no performers in sight. The toy's features are listed in both Spanish and English on the wall below the lizard. The bottom of the package has a photo of Nando with callouts for his moving eyes, opening hood and doors, reflective mirrors, and guitar case (packed in the blister by Nando's tailgate). The usual marketing paragraph is bilingual as well: "Aun si Nando no puede llevar el ritmo, ¡sí puede llevar a los mariachis! Dondequiera que vaya con Nando, no hay solamente diversión, ¡hay una fiesta!/Even if Nando can't carry a tune, he can carry the Mariachis! Wherever you go with nano, it isn't just fun, it's a fiesta!" The customer feedback card, two "Owner's Manuals" (one Spanish, one English), and order form are packed inside the blister under Nando.
Casting/Paint
Nando shares much of his casting with Wendy Wagon. The main body, interior, and engine are identical, with new parts for the front bumper, hood, eyes, mirrors, roof rack, and wheels. It's a surprisingly effective transformation, to the point that I may not have even noticed if not for the unique inline 5-cylinder engine. The body is maroon ABS with gloss gray paint on the fender flares, rockers, and rear bumper. His mouth has been painted black, his parking lights orange, his grille silver, his taillights red, and his eyes brown with peach eyelids. A black stripe has been painted across the top of the windshield, ostensibly to replicate the visor he sported in the commercial but looking more like a sun strip in the glass. The mirrors and roof rack are black plastic and his windows are clear. Reflective silver stickers are used for the mirrors, and a Techron sticker is mounted as the license plate in the rear. The tires are treaded vinyl over 5-lug wheels. The interior is off-white with a black steering wheel. The chassis is the usual name and series logo plate, but has also been modified to include a trailer hitch cast in gray plastic that does a pretty good job matching the painted bumper.
Features/Accessories
Nando has opening doors, an opening hood, and moving eyes. The hinges all work nicely and the panels snap securely into place, and the eyes are activated by pushing down on his front and rolling him forward to make his eyes move up and down (the same motion as Wendy had). A black guitar case snaps securely into the roof rack, and could be oriented with the neck either direction but looks better facing forward. His trailer hitch means that he can be used to pull either Horace 'N Trailer or C.C. Boat 'N Trailer.
Accuracy
In his commercial appearance, Nando was clearly supposed to be an SUV. While the mold reuse means he lacks the height of someone like Freddy 4-Wheeler, Wendy's station wagon actually works pretty well. It's the right overall shape, has the right number of doors, and the new parts help sell the character.
Overall
This was a clever release, and proof that smart parts reuse isn't just good for action figures. The guitar accessory and interactivity thanks to the trailer hitch just make Nando that much better.
Have a question, comment, or criticism about this review?
Send me an e-mail
with your thoughts!