Made By:
Chevron
Scale:
N/A
MSRP:
US$6.99
Overview:
Packaging (Design):
8/10
Packaging (Durability):
9/10
Casting (Body):
8/10
Casting (Interior):
8/10
Casting (Chassis):
N/A
Casting (Engine):
N/A
Paint (Exterior):
N/A
Paint (Interior):
N/A
Paint (Trim/Graphics):
8/10
Overall Panel Fit:
10/10
Total Score:
8.5/10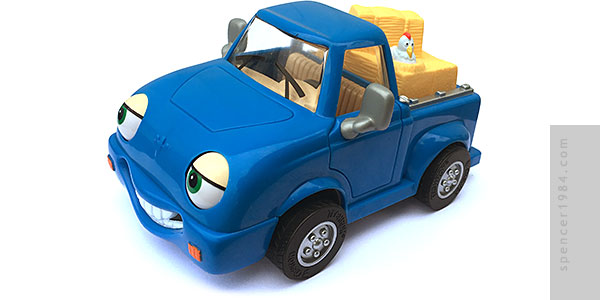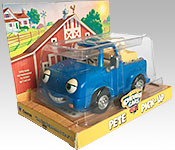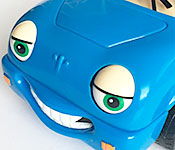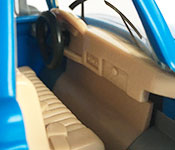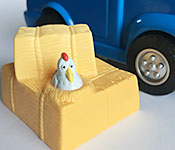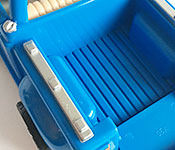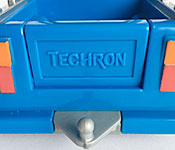 Background
While Chevron's first few vehicles were simple stand-alone characters, they started changing things up in late November 1997 with the release of Pete Pick-Up and Horace 'N Trailer. Each was sold separately, but were featured together in the same commercial and their box art could be put together to form a larger overall scene. These two also included the first non-mechanical characters, and Horace's trailer could also be hitched to the previously-released Freddy 4-Wheeler.
Packaging
Pete Pick-Up is sitting on a base approximately 7¼" (185mm) x 4½" (115mm), with a printed dirt road surface. This base is approximately ¾" (18mm) thick with a yellow edge. The Chevron logo/name and "Keep your Neighborhood Clean ♻" are printed on both ends, while Pete's name and the Chevron Cars logo are on the front edge. Behind Pete is a printed panel with an image of the Ten Gallon Ranch's farmhouse, barn, and part of the surrounding fields. "Safety tested and recommended for children age 3 and over" is printed on the side of the barn. The back panel has the reverse view of the barn and fields with Pete is in the foreground next to a sign listing his toy's features. The bottom of the package has a photo of Pete with callouts for his moving eyes, opening doors/tailgate, removable hay bale, reflective mirrors, and trailer hitch, along with the typical marketing paragraph: "Pete likes to have fun, but he's built to take are of the work around the 10 Gallon Ranch. He's always looking for chores that need to be done. So open the doors and hop in for a truckload of fun." The feedback card is packed inside the blister between Pete and the road surface. Mine did not come with an owner's manual, but since Horace did I'm assuming Pete should have.
Casting/Paint
The main truck is cast in medium blue plastic, with sideview mirrors cast in light gray plastic and reflective silver stickers acting as mirror glass. Tires are treaded vinyl with Chevron/Techron cast on the sidewalls over silver painted 5-lug wheels. The glass is clear plastic with black printed wipers on the windshield. His parking lights and upper rear lights are orange, his lower rear lights are red, his fuel cap and bed rails are painted silver, and his mouth is painted black with white teeth. There is a little bit of a rough edge along the top of the left parking light and around the fuel fill, otherwise all the paint apps look nice and clean. His eyes are green with beige eyelids, also very cleanly printed. Pete's interior is a light brown with detailed seat belts, radio face, glove box door, and the suggestion of an instrument cluster behind the black steering wheel. The tailgate has an embossed Techron logo, and opens to allow access to the truck bed. The bed itself has inner fenders and a ribbed floor, giving it an unexpected level of detail. The chassis is also a little more detailed than usual, with axles, a tailpipe, and the suggestion of a lower engine in addition to the usual name and series logo plate. The trailer hitch is also part of the chassis, so that it provides a little extra contrast by being the same light gray as the mirrors.
Features/Accessories
Pete has opening doors, an opening tailgate, and moving eyes. The hinges all work nicely and the panels snap securely into their "closed" positions. The eyes are activated by pushing down on his hood and rolling him forward, moving diagonally from up & right to left & down. He also includes a removable load of cargo, officially described as a "bale of hay" but more accurately called three bales and a chicken nest. They're cast as a single piece of pale yellow plastic, so the sides of the bales are tapered and the top bale is smaller than the lower two. The chicken is nicely painted white with a yellow beak, red comb, and black pupils, all sharp and correctly placed. A flat piece of the same pale yellow plastic is inserted into the bottom of the pile to prevent it from looking hollow, a nice but wholly unnecessary touch.
Accuracy
Pete is a very close match to his commercial model, with the only obvious difference being the hood ornament. The toy has a simple cactus-shaped emblem rather than the more elaborate emblem-in-a-circle from the original. He measures approximately 6" (150mm) long, 3¼" (83mm) wide, and 3" (75mm) tall.
Overall
Another good entry to the series, and a nice change of pace including the unique accessories. Recommended.
Have a question, comment, or criticism about this review?
Send me an e-mail
with your thoughts!