Made By:
Chevron
Scale:
N/A
MSRP:
US$6.99
Overview:
Packaging (Design):
8/10
Packaging (Durability):
9/10
Casting (Body):
9/10
Casting (Interior):
9/10
Casting (Chassis):
N/A
Casting (Engine):
8/10
Paint (Exterior):
N/A
Paint (Interior):
N/A
Paint (Trim/Graphics):
9/10
Overall Panel Fit:
10/10
Total Score:
8.9/10

Other Advertisement Models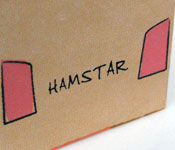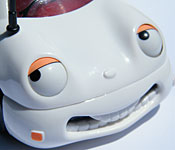 Chevron Cars Freddy 4-Wheeler
Chevron Cars Patty Patrol
Chevron Cars Sam Sedan (Review)
Walmart Sam Walton's Truck
Chevron Cars Tyler Taxi
Kia Hamstar Box
Chevron Cars Wendy Wagon (Review)
Dukes of Hazzard (AutoTrader) Viper
Chevron Cars Tony Turbo (Review)
Other Volkswagen Models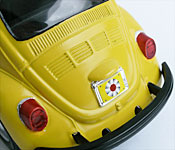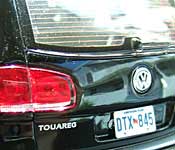 The Love Bug Herbie
Urashiman Magna Beetle
Field of Dreams 1973 Type 2 (Review)
Gremlins Beetle
Chevron Cars Rudy Ragtop (Review)
Ninja Cheerleaders Beetle Cabriolet
Transformers G1 Bumblebee
Jada Toys 1962 Bus (Review)
Gremlins Beetle (Review)
The Cars that Ate Paris Beetle
Lost 1971 Bus (Review)
'98 VW Golf
Herbie Rides Again Herbie
'98 VW Beetle
Interstellar Pig Cabriolet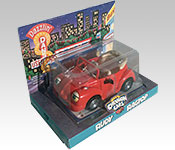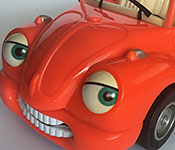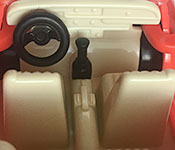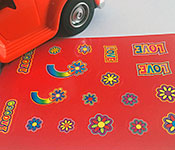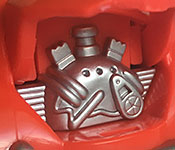 Background
Chevron having animated cars with faces and personalities goes back before Aardman Studio's involvement. In the mid/late 1970s, Kurtz & Friends Animation created a series of ads including at least one that could easily be considered a forerunner of the later claymation ads.
Packaging
Rudy Ragtop is sitting on a base approximately 7½" (190mm) x 4½" (115mm), with a printed cracked asphalt surface. This base is approximately ¾" (18mm) thick with a light teal edge. The Chevron logo/name and "Keep your Neighborhood Clean ♻" are printed on both ends, while Rudy's name and the Chevron Cars logo are on the front edge. Behind him is a printed panel with an image of Dazzlin' Dan's Used Cars ("Dan does deals by the dozen!"). "Safety tested and recommended for children age 3 and over" is printed near the lower left corner of the panel. The back panel has moved the frame tighter to Dazzlin' Dan's showroom, with Rudy parked in the lot amongst a dozen other cars. Lettering on the showroom's window lists this toy's features. The bottom of the package has a photo of Rudy with callouts for his moving eyes, opening doors/rear engine door, reflective mirrors, and lack of roof ("convertible top stays down for lots of fun in the sun") along with the typical marketing paragraph: "Rudy Ragtop's not super fancy or extra sporty - he's just a lot of fun! Yep, Rudy's an oldie but a goodie. So, he doesn't mind a little ice cream on the mats or sand on the seats, as long as everyone's having a good time. So come as you are - Rudy's okay with that." The customer feedback card, "Owner's Manual," order form, and sticker sheet are packed inside the blister under Rudy.
Casting/Paint
Rudy is cast in a medium red ABS with black mirrors. His windshield is cast in clear plastic, with the frame painted a red that nicely matches the plastic used on the body. Reflective silver stickers are used for the mirrors, and a Techron sticker is mounted as the license plate on the engine cover. The tires are treaded vinyl with Chevron/Techron cast on the sidewalls over silver painted wheels that nicely approximate stock VW steelies with hubcaps. In a first for Chevron's Cars, Rudy's parking lights aren't mounted on either side of his mouth but are instead up on top of his front fenders. They're painted silver with orange lenses, the taillights are orange (top) and pink (bottom), his rear bumper is silver, and his mouth is painted black with white teeth. Edges are nice and sharp, especially around the windshield frame. His eyes are teal with beige eyelids. Rudy's interior is a light beige with detailed front and rear seat belts, handbrake, separate shift lever and steering wheel, and nicely detailed dash with glove box, radio, and a single gauge face. Under the rear lid is the same generic air-cooled engine we saw with Kelly Kompact. The chassis is the usual name and series logo plate.
Features/Accessories
Rudy has opening doors, an opening engine cover, and moving eyes. The hinges all work nicely and the panels snap securely into place. The engine cover snaps so securely into place that it actually requires more force than expected to open it, but is a nice sturdy piece so it doesn't feel like it's going to break anytime soon. The eyes are activated by pushing down on his front and rolling him forward, which makes his eyes move left to right. Finally, a sheet of 18 hippie stickers are included, with graphics including flowers, rainbows, and text blocks reading "groovy" and "love."
Accuracy
Rudy is the first in the Chevron Cars series to be overtly patterned after a real car, and in addition to the overall shape there are a surprising number of features that were accurately captured here. The trunk latch, door handles, side contours, running boards, license plate light, and rear vents are all nicely captured - maybe not 100% accurate, but close enough to recognize. Similarly, despite being easy to identify, his proportions are nowhere near those of an actual Beetle: he measures approximately 5¼" (135mm) long, 2¾" (70mm) wide, and 2½" (65mm) tall.
Overall
Another fun addition to the Chevron Cars line, with the added bonus of being a classic Beetle. Not a "must buy" as such, but still recommended.
Have a question, comment, or criticism about this review?
Send me an e-mail
with your thoughts!