Made By:
Chevron
Scale:
N/A
MSRP:
US$6.99
Overview:
Packaging (Design):
8/10
Packaging (Durability):
9/10
Casting (Body):
9/10
Casting (Interior):
9/10
Casting (Chassis):
N/A
Casting (Engine):
N/A
Paint (Exterior):
N/A
Paint (Interior):
N/A
Paint (Trim/Graphics):
9/10
Overall Panel Fit:
10/10
Total Score:
8.9/10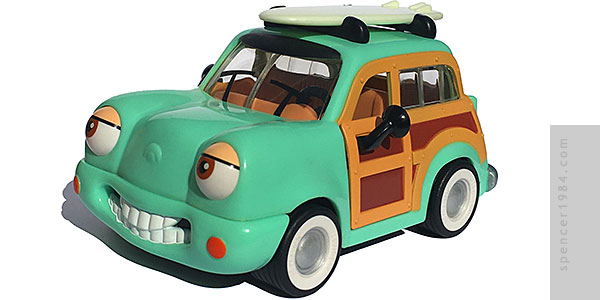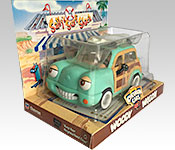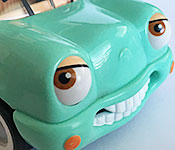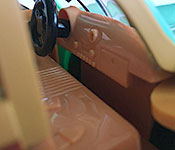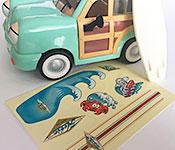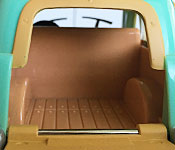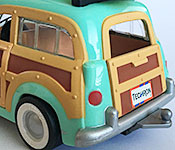 Background
After the previous releases of Pete Pick-Up and Horace 'N Trailer, Chevron revisited the idea in May 1999 with Woody Wagon and C.C. Boat 'N Trailer. As with the previous pair, the toys were meant to be used together and their packaging could even be arranged to create a wider scene (both front and back this time). Woody uses the same hitch as Pete, so he works with both the horse and boat trailers.
Packaging
Woody Wagon is sitting on a base approximately 7½" (190mm) x 4½" (115mm), with a printed sand surface complete with tire and foot prints. This base is approximately ¾" (18mm) thick with a brown edge. The Chevron logo/name and "Keep your Neighborhood Clean ♻" are printed on both ends, while Woody's name and the Chevron Cars logo are on the front edge. Behind him is a printed panel with an image of Sally's Surf Shack. "Safety tested and recommended for children age 3 and over" is printed on a wooden sign in the sand in front of Sally's. The back panel has essentially turned the viewer 180°, with Woody parked near a lifeguard chair near the water's edge. A sign nailed to the side of the chair lists this toy's features. The bottom of the package has a photo of Woody with callouts for his moving eyes, removable surfboard, roof rack, opening doors/tailgate, and reflective mirrors, along with the typical marketing paragraph: "When you're going on a road trip with Woody Wagon, it doesn't really matter where you end up. Getting there is all the fun! So just load the cooler up with snacks, fill the tank and we're ready to roll!" The customer feedback card, "Owner's Manual," order form, and sticker sheet are packed inside the blister under Woody.
Casting/Paint
Woody is cast in a combination of teal and light brown ABS with black mirrors and roof rack bars. His windshield and rear side windows are cast in clear plastic. Reflective silver stickers are used for the mirrors, and a Techron sticker is mounted as the license plate at the bottom of the tailgate. The tires are groove treaded vinyl with hard plastic wheels that form both the silver painted hubcaps and the wide whitewalls. Woody's paint apps are more extensive than any other car so far, with two-tone wood paneling, orange parking lights, a black visor, red taillights, a silver rear bumper, and the usual black mouth with white teeth. The tradeoff for the greater use of paint is a greater number of paint flaws, like a spot of silver behind his left rear wheel or some imperfect placement of the tail lights, but the overall result looks so good that it balances everything out. His eyes are brown with beige eyelids. Woody's interior is a light brown with a detailed front bench seat, vintage dashboard with myriad controls, and a wood planked rear cargo area. The chassis is the usual name and series logo plate.
Features/Accessories
Woody has opening doors, an opening tailgate, and moving eyes. The hinges all work nicely and the panels snap securely into place, and the eyes are activated by pushing down on his front and rolling him forward to make his eyes move from centered to up and right. A white surfboard snaps securely into the roof rack, and is designed so it can be oriented both nose-forward (commercial) or nose-back (packaging). Finally, a sheet of 6 surf-themed stickers are included, including two full-board stickers with Hobie Surf Shop logos.
Accuracy
For the most part this is a very accurate realization of Woody's ad appearance, though some features like the mirrors and roof rack had to be bulked up to meet the reality of being a mass-produced toy. He measures approximately 5½" (140mm) long not counting his trailer hitch, 3¼" (85mm) wide, and 3" (75mm) tall.
Overall
With the unique vintage styling and more extensive paint apps, Woody is one of the best looking Chevron Cars and is highly recommended.
Have a question, comment, or criticism about this review?
Send me an e-mail
with your thoughts!