Made By:
Corgi
Scale:
1/24
MSRP:
US$17.99
Overview:
Packaging (Design):
8/10
Packaging (Durability):
8/10
Casting (Body):
9/10
Casting (Interior):
9/10
Casting (Chassis):
6/10
Casting (Engine):
N/A
Paint (Exterior):
8/10
Paint (Interior):
8/10
Paint (Trim/Graphics):
7/10
Overall Panel Fit:
9/10
Total Score:
8/10

Other Batmobile Models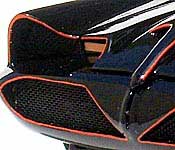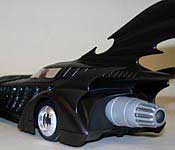 1952: Batman #73
1964: Batman #164
2006: Batman: Man-Bat
1966: Batman
1972: Batman #246
1980: Batman #330
1995: Batman & Robin
1992: Batman Returns
1992: Batman Returns (Review)
2015: Arkham Knight (Review)
1969: Detective Comics #394
1944: Batman #25
1939: Detective Comics #27
1979: Legends of the Superheroes
1995: Batman Forever
1966: Batman (Review)
1968: Detective Comics #377
1987: Batman #408 cover
2017: Justice League (Review)
2005: Batman/Danger Girl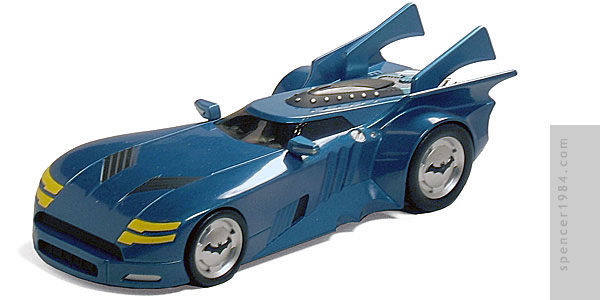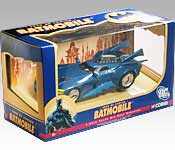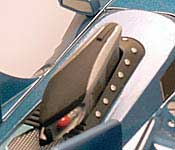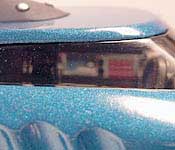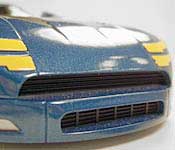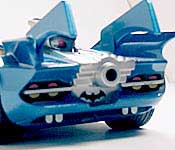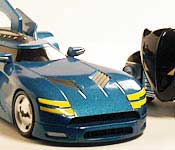 Packaging
the packaging is Corgi's standard blue & yellow window box, with a few minor updates. The Batman photo has been changed to be era-appropriate for the car, and the new DC logo replaces the traditional bullet. The name of the car is centered under the window, and the Corgi logo is on the bottom right corner under the DC logo. The end flap windows remain, but the clear plastic has been moved to the inner tray. The back of the box has a photo of the car with an inset of its action feature, another Batman drawing & name/logo set, and a tri-lingual blurb about the line. Still no cross-sells, strangely enough. Four twisties hold the Batmobile into a plastic tray mounted on the heavy-duty cardboard base.
Casting/Paint
A heavy metal body with a separate metal upper fuselage and plastic detail pieces. As usual for Corgi, both metal and plastic components have been painted to assure a nice, uniform color. There are quite a few grilles scattered across the body - two in the front, two near the front of the hood, two as "gills", and then eight more around the rear engine assembly. All of them are perfectly cast, with delicate crosshatching and sharp contrast. The era-appropriate Batman is on the chassis as always - not really adding anything, but at least it's not obtrusive. The paint isn't bad, but the multiple applications leave more room for error than usual: there is a little slop between the blue & silver areas, and the black doesn't always make it to the edge of the panels. I also have a weird mar between the hood vents, but it's not really obvious and may be unique to my car. The headlights are separate pieces, but are painted yellow rather than being transparent like the windshield (they are actually cast in clear plastic, making this paint application all the more unusual). The single seat cockpit is extremely cramped, but that didn't stop Corgi from doing a knockout job in there. Instruments, gauges, and buttons cover every visible surface as they did in the comic, and there are several paint apps inside to make things stand out. Truly excellent work here.
Features/Accessories
Corgi threw in a totally useless but nonetheless extremely cool action feature here. By pressing down on the inboard fins (just a hair is needed, though they actually flex quite a way), the center section of the roof just behind the passenger bay pops up to reveal two rear-facing non-firing missiles. It doesn't detract from the car at all, and actually looks pretty cool both up and down. Be careful popping it out, though; there's a lot of force in the spring, and the pod itself is made from metal, making for a good knuckle cracker if you don't keep your hands clear while pushing down on the fins.
Accuracy
With only one appearance, Corgi didn't have a lot of room for interpretation. Fortunately, they didn't get wacky, but instead gave us a very well done, clean replica. The annoying safety-ized fins seen in previous Batmobiles aren't as obvious here, nor do they exhibit any of the uneveness of the 1960s Batmobile. Everything here looks pretty clean and straight, which is nice. If I wanted to get nit-picky, there area few details that don't match the comic car exactly like the hood vents, number of side gills, mirror size, or wheel style. Nothing is really "wrong," however, and it all comes together nicely. One particularly cool feature I wanted to point out is the design work that went into the rear fascia. It was never shown in the comic, so Corgi's design team had a little freedom here. They went with a quasi-Corvette style rear, with quad tail lights on either side of a jet exhaust (the exhaust sits just above a bat logo, the first use of a sticker in Corgi's 1/24 line). One other thing of note is the physical size of the car: it's small. Batmobile's are typically larger-than-life megamachines, but this one bucks the trend by being a small, single-seat land rocket. It's accurate to the comic, but you might be surprised at the size of it when you first get it.
Overall
Buy it. Heck, buy several and give them to your friends. This is exactly the type of design work we want to encourage with good sales: unique design, well detailed casting, non-cheesy action feature, and an affordable price. It's no secret that I've been looking forward to this car since it was announced, and Corgi really delivered. I wouldn't mind if Corgi decides to ditch the Batman relief on the chassis, but that particular hallmark is unlikely to go anywhere. The few minor paint issues should in no way discourage you from snagging one of these.
Have a question, comment, or criticism about this review?
Send me an e-mail
with your thoughts!