Made By:
The Danbury Mint
Scale:
1/24
MSRP:
US$147.00
Overview:
Packaging (Design):
6/10
Packaging (Durability):
10/10
Casting (Body):
10/10
Casting (Interior):
10/10
Casting (Chassis):
8/10
Casting (Engine):
9/10
Paint (Exterior):
10/10
Paint (Interior):
10/10
Paint (Trim/Graphics):
10/10
Overall Panel Fit:
9/10
Total Score:
9.2/10

Other Comic & Manga Models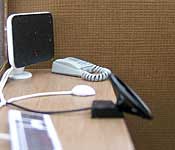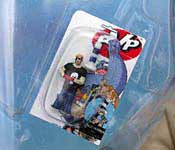 PvP Dexter Jettster
Ctrl-Alt-Del Zeke
DC Bombshells Poison Ivy (Review)
Detective Comics #156 Batmobile
Detective Comics #377 Batmobile
Cyber Formula Experion Z/A-8 (Review)
Detective Comics #800 Batmobile
DC Bombshells Supergirl (Review)
DC Bombshells Harley Quinn (Review)
Cyber Formula SIN Asurada (Review)
Cyber Formula Asurada GSX (Review)
Cyber Formula Super Asurada (Review)
Cyber Formula Stealth Jaguar (Review)
PvZ Ferrari 250
DC Bombshells Batgirl (Review)
Transformers G1 Prowl
Cyber Formula SIN Ogre AN-21 (Review)
Transformers Optimus Prime
PvP Mini Cooper
DC Bombshells Wonder Woman (Review)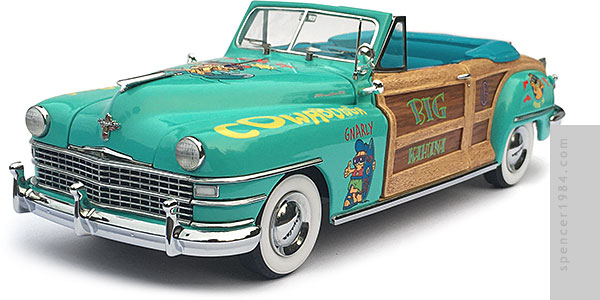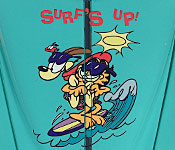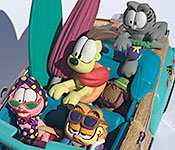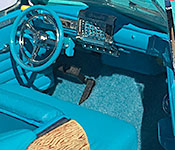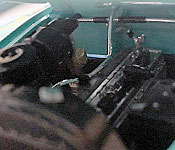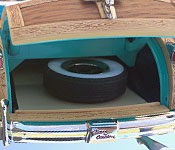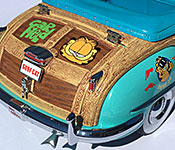 Background
Throughout the 1990s, The Danbury Mint had partnered with Paws, Inc. to produce a series of collectibles including plates, statues, and other decorative items. With the diecast market still riding the economic and collectors' boom of the time, Danbury also released two 1/24 scale "character cars" under the Garfield license. The first of those was the Garfield Parade Car, followed up by a repaint of their '48 Chrysler Town & Country with figures and accessories to make it the "Garfield Beach Car."
Packaging
This is the typical DM packaging, with the outer box having "Garfield Beach Car" written across the top. The model is secured between two styrofoam pieces with tissue paper across the top of the car and soft foam blocks protecting the bumper corners. A Title certificate and unpacking/care instructions are folded and placed on the top tray, and the figures and accessories are placed in a double clear plastic tray at the "open here" end of the box with each figure getting its own pocket and the umbrella/surfboard sharing a pocket with a bit of soft plastic sheet between them.
Casting/Paint
The body is a combination of diecast metal and plastic. Essentially everything painted turquoise is metal: front fenders, hood, door edges, rear fenders, and bumper sills. Plastic is used for the extensive wood paneling, so that it actually has a nice in-scale grain texture to it. Clear plastic is limited to the headlights and glass, as the parking lights, taillights, and spots are too small to make as separate pieces. The pieces all fit together beautifully, with only a slightly oversize gap at the leading edges of the doors where it has to deal with the realities of a working door with layered skins and the proper fender tuck-in. The trim work is equally outstanding, with bright chrome and clean sharp edges. Of particular note is the fine detail they included...not just obvious places like the hood badge or hubcap scripts, but the nigh-microscopic "Town & Country" debossed and painted in the center of the rear bumper. Danbury Mint has also used some photoetched metal pieces, including the windshield wipers and trunk hinges. Just overall great attention to the myriad (and sometimes conflicting) details of this car.
Paint is a nice high-gloss turquoise with several shades of matte brown making up the wood panels. The Garfield-themed printed graphics aren't quite as numerous here as they were on the Parade Car, but there's still plenty of them: on the hood is a large "Surf's Up" seal with a full color picture of Garfield and Odie catching a wave; a yellow "cowabunga" is on top of each front fender, above another picture of Garfield holding a board and giving a thumbs-up; "Big Kahuna" is on each door, with a peace symbol just behind the door; "hang 10" is on each rear fender with another picture of Garfield and three bare foot pints (hang 15?); and one portrait with name is on the top of the trunk lid. "Surf Cat" is on the license plate. Placement and registration are spot-on for everything.
The interior is predominantly blue plastic, with a slightly darker blue flocking for the carpet and chrome accents throughout. The sharp detailing continues here, with tiny but clear gauges, separate door handles and window cranks, even a tiny but legible "Chrysler" script on the dashboard above the radio speaker grille. Two gold motors for the All-Weather Air control system peek out from under the dashboard, another nice detail that could be easily overlooked. The pedals are black, the spotlight handle is painted ivory, and the parking brake handle is red.
Under the hood is Chrysler's "Spitfire" 250.6 L-head straight six. Detailing looks to be up to the standards set elsewhere, from the unique air cleaner atop a gold painted carburetor to the 6V battery with painted caps and clamps. Unfortunately, Danbury Mint captured the relatively low angle of the hood opening, making most of this nice work impossible to see without being small enough to lean over the fender. Chassis detailing is good, with separate parts for the exhaust, suspension, and driveline. Most everything is painted black, with silver used for the exhaust pipe and fuel tank.
Features/Accessories
The hood, trunk, and doors open, and the front wheels can be posed and are attached to the steering wheel. The trunk hinges are particularly well done, with delicate PE externals and more robust diecast pieces inside to do the heavy lifting. Also included are five cold cast resin figures and two accessories: Garfield, Arleen, Odie, Pooky, and Nermal, plus a closed pink umbrella and a green surfboard. Everything fits in the car, with Garfield posed to be at the wheel, Arleen riding shotgun, and Nermal pegging into a tiny hole in the back deck to maintain his surfer pose. Odie, Pooky, the board, and the umbrella can be arranged in the rest of the back seat however you wish. Everything is nicely painted, and these are far more elaborate than the figures in the Parade Car thanks to the added "beach bum" attire" and fixtures like Odie's inner tube and Arleen's picnic basket.
Accuracy
This is not based on an existing design, but is instead a "character car" that uses an existing tooling with a new paint job to evoke a persona. As a 1948 Chrysler Town & Country convertible, this is an outstanding replica. Details are exceptional, scaling is dead-on, and there are a ton of great features big and small.
Overall
This was made when Danbury as at the top of their game: the market was still solid, and some fun asides could be done with all the seriousness and attention to detail of a standard high-end replica. While the extra graphics and overall paint scheme may not appeal to everyone, the quality of the work hre is first rate.
Have a question, comment, or criticism about this review?
Send me an e-mail
with your thoughts!