Made By:
GreenLight Collectibles
Scale:
1/24
MSRP:
US$24.99
Overview:
Packaging (Design):
9/10
Packaging (Durability):
9/10
Casting (Body):
7/10
Casting (Interior):
8/10
Casting (Chassis):
8/10
Casting (Engine):
N/A
Paint (Exterior):
9/10
Paint (Interior):
N/A
Paint (Trim/Graphics):
8/10
Overall Panel Fit:
8/10
Total Score:
8.3/10

Other 1980s Movie Models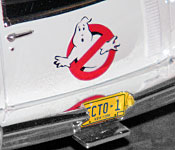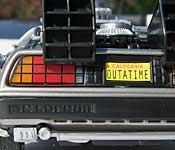 Gone in 60 Seconds 2 Slicer
The Karate Kid Ford Convertible
Back to the Future DeLorean
Tron Light Cycles (Review)
Rain Man Buick Roadmaster
The Terminator Custom Pickup
Ghostbusters Ecto-1
The Philadelphia Experiment Charger
BTTF3 DeLorean (Review)
BTTF2 DeLorean (Review)
Ghostbusters Ecto-1 (Review)
Night of the Comet 1953 Buick (Review)
Smokey & the Bandit 2 Firebird T/A
Star Wars Speeder Bike (Review)
Beverly Hills Cop Nova
Never Too Young to Die Corvette
Stroker Ace Thunderbird Stock Car
Field of Dreams VW (Review)
The Dead Pool R/C Corvette
Tucker: The Man... Tucker (Review)
Other Volkswagen Models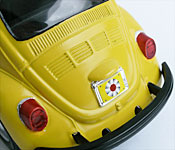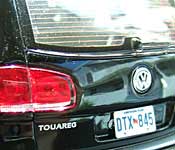 Jada Toys 1959 Beetle (Review)
Urashiman Magna Beetle
Transformers G1 Bumblebee
Lost 1971 Bus (Review)
Little Miss Sunshine 1978 Bus (Review)
Field of Dreams 1973 Type 2 (Review)
'98 VW Golf
Transformers G1 Ladybug
Chevron Cars Rudy Ragtop (Review)
Herbie Rides Again Herbie
The Cars that Ate Paris Beetle
Gremlins Beetle (Review)
The Love Bug Herbie
Jada Toys 1962 Bus (Review)
Gremlins Beetle
Interstellar Pig Cabriolet
Alone in the Dark VW Touareg
Ninja Cheerleaders Beetle Cabriolet
'98 VW Beetle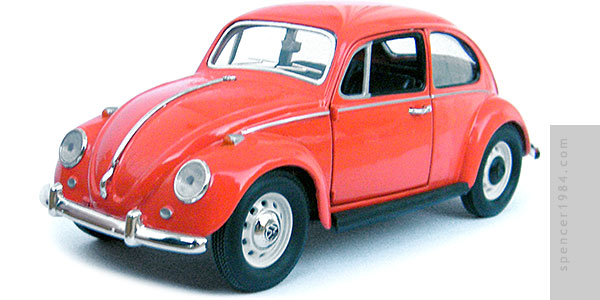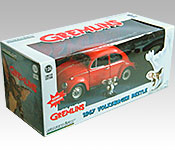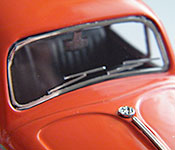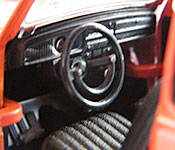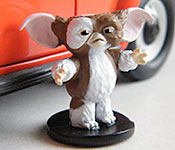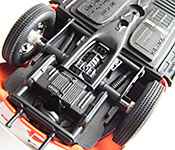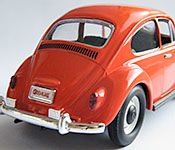 Background
After remaining unchanged since its debut in 1968, the MPAA rating system added a new tier in 1984 thanks largely to Gremlins. Prior to the movie's release, the studio banked heavily on producer Steven Spielberg's name and released trailers that set a cute, family-friendly tone similar to his 1982 blockbuster E.T. the Extra-Terrestrial. When the actual film turned out to have sharp-toothed monsters killing and being killed (including deaths by food processor, microwave oven, and melting when exposed to sunlight), parents of younger children were caught off-guard. While many agreed the film wasn't harsh enough to warrant an "R" rating, the "PG" was clearly insufficient to warn people about the dark humor and gore involved. Coming less than a month after a similar uproar over Indiana Jones and the Temple of Doom, "PG-13" was added—a rating that was first used later that year for the movie Red Dawn.
Packaging
As usual for GreenLight, the Beetle is packed in a simple window box with unique cutouts for the movie title, picture, and starburst. The GreenLight logo, scale, "Adult Collectible," and "Limited Edition" are printed on every surface, and the movie logo is printed on every surface except the bottom. The front panel also has a red starburst with "Gizmo Included!!," "1967 Volkswagen Beetle" and an image of Gizmo with a Gremlin shadow (from the "Don't get him wet..." movie poster). One end flap has a large (different) photo of Gizmo and a stamp saying "Handle with Care" set on the same white background as the front and top panel. The other end flap has a large photo of Stripe on the same cloudy blue background as the back panel. The back also has three stills from the movie: the flasher gremlin, two gremlins playing poker, and the gremlins at the movie theater. The inside of the box is the same cloudy blue, with a large Gremlins movie logo across the back. The Beetle is held in place with a single screw. The doors are held shut with a plastic band, and Gizmo is held near the driver's door via a single plastic-coated twist tie. Although not wildly different from other boxes from GreenLight, it is quite clever in its use of color and imagery to play up the duality of the mogwai/gremlins. I also appreciate the easy access to the car.
Casting/Paint
Generally solid work, with only minor casting marks on the fenders. Since I have yet to encounter a Beetle in plastic or metal that didn't have some difficulty with these curves, GreenLight gets a bit of a pass here. Somewhat more problematic is the seam around the engine cover, which has a small wad of material along the top edge and fades to near invisible near the top right corner. The trunk fares somewhat better, though the seam near the windshield is also shallower than I would have liked. The sides are nice and straight, and all the panels are clean and flow together correctly. The bulk of the body is orange/red, with silver paint for the horn grilles, corner marker lights, side trim, and vent window surrounds. Black paint is used for the rest of the window surrounds and air vents, and dark red is used for the taillights. Chrome plated plastic is used for the bumpers, trunk lid trim and hardware, door handles, and license plate bracket. Clear plastic is used for the headlights and windows, and the front and rear windows have chrome printed trim and wipers. There are no forward side glass, even in the vent windows.
Everything else is cast in black plastic, with a surprising amount of detail. The interior has a separate shift lever, cast-in pedals, and nice engraving on the dash and door panels. Decoration is limited to a sticker for the gauge faces and a single dot of silver paint on the gear shift. The chassis has all the correct ribbing, engine, and suspension detail cast in place. The wheels are chrome plated plastic with white paint on the "steel" parts and soft vinyl tires. The front hubcaps have a wash to bring out the "VW" logo, while the back hubcaps are painted black in an effort to make them look like exposed wheel centers. The wheel/tire combination is arguably one of the best representations of VW's skinnies that I've seen, but the black rear caps don't quite get the job done.
Features/Accessories
Aside from the opening doors, GreenLight also included a figure of Gizmo. He appears to be cast as a single piece, but is very nicely done with textured fur, sharply cast hands, mouth, and ears, and some outstanding paint work. They actually gave him glossy eyes, which contrast nicely to the matte finish on the rest of him.
Accuracy
As I've noted elsewhere, Volkswagen didn't leave the Beetle unchanged for its entire life despite the common perception. So while the car in the movie was indeed a '67, this isn't. VW switched to sealed beam headlights in '67, resulting in a more vertical headlight and heavier bezel - this diecast has the older bulb/reflector style. There are a few other accuracy issues as well: Billy's car had high-backed seats, a custom 3-spoke steering wheel, no front bumperettes, rear bumper bars, and rear snow tires with different rims. None of those details made if here. Scaling of the car is a near-perfect 1/24, though Gizmo is more than twice as big as he should be (he stands nearly 1" (25mm), but the movie props were approximately 10" (254mm) tall - he should be closer to 7/16" (11mm)).
Overall
It's too bad that GreenLight's budget prevented them from making this a truly accurate movie replica, but most of what's wrong is easily ignored or fixed (personally, I plan to do some extra detail work before this goes on my shelf). It's a decent Beetle replica, and the Gremlins theme is a fun touch. Recommended.
Have a question, comment, or criticism about this review?
Send me an e-mail
with your thoughts!