Made By:
Jada Toys
Scale:
1/24
MSRP:
US$24.99
Overview:
Packaging (Design):
8/10
Packaging (Durability):
7/10
Casting (Body):
7/10
Casting (Interior):
8/10
Casting (Chassis):
8/10
Casting (Engine):
8/10
Paint (Exterior):
8/10
Paint (Interior):
N/A
Paint (Trim/Graphics):
8/10
Overall Panel Fit:
7/10
Total Score:
7.7/10

Other Volkswagen Models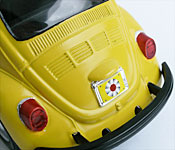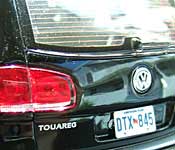 Herbie Rides Again Herbie
'98 VW Golf
Little Miss Sunshine 1978 Bus (Review)
Urashiman Magna Beetle
Ninja Cheerleaders Beetle Cabriolet
Jada Toys 1962 Bus (Review)
The Love Bug Herbie
Lost 1971 Bus (Review)
Chevron Cars Rudy Ragtop (Review)
Gremlins Beetle
Other Jada 20th Anniversary Models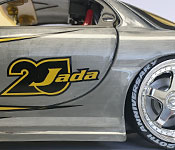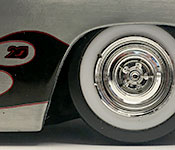 1963 Chevy Corvette Sting Ray (Review)
1951 Mercury (Review)
1939 Chevy Master Deluxe (Review)
1959 Volkswagen Beetle (Review)
1958 Chevy Impala (Review)
2010 Chevy Tahoe (Review)
1993 Mazda RX-7 (Review)
1962 Volkswagen Bus (Review)
1955 Chevy Stepside Tow Truck (Review)
1969 Chevrolet Camaro (Review)
2011 Ford SVT Raptor (Review)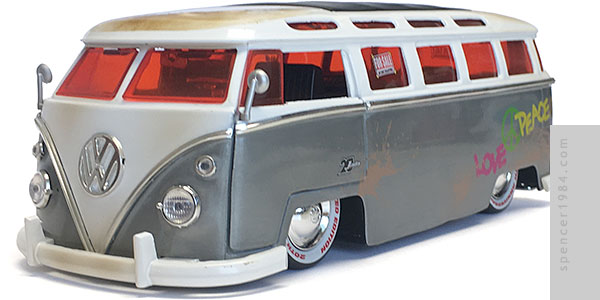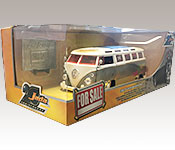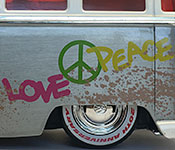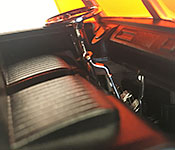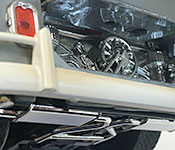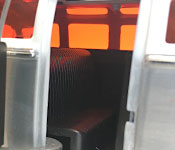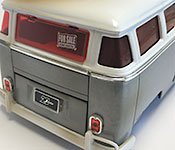 Background
Finding that ultimate project car in a used car lot or an old abandoned barn is what inspired For $ale. Released in 2006, Jada Toys shook up the die-cast world with paint executions and techniques that helped mimic a rusted old car just waiting for some TLC.
Packaging
The Bus continues the theme established for Jada's 20th Anniversary line. The right end of the box is now wallpapered with a close-up of a newspaper classified section with listings for many cars represented by past and current Jada castings (the ad for a '62 VW Bus is directly above the main window and again on the end flap). "For $ale" is in the usual series slot near the bottom left corner of the front window.
Casting/Paint
Time has not been kind to the poor VW, both the vehicle represented here and the diecast itself. It's not terrible, but there is more flash around the top windows than there was in other cars in the Anniversary line and none of the separate panels sit quite right. The panels themselves look good, though, with the usual brushed metal look still looking clean and straight (at least, as clean as they should be on this particular diecast). Adding some detail to the metal body are white plastic bumpers; chrome plastic light bezels, nose badge, and beltline trim; a black plastic roof; clear headlights and parking lights; transparent red windows and taillights; and soft vinyl mirrors with chrome stickers for glass. The windows are open on the three hinged doors, though there are wing windows on the front doors.
Paint is a similar mixed bag. The top half of the van has been painted satin white, and while coverage is good there is a drip at the left rear corner where it bleeds out from under the trim. The mud splatters on the lower body look good enough, but they're not really placed in a way that looks like wheel splashes. "Love ☮ Peace" is printed in magenta, green, and yellow on the left rear flank and looks good. Softer rust fades have been added to several areas, which range from looking very good on the bumpers and rear roof to clearly being a printed element on the front of the roof. "20" logos are printed near the bottom rear corner of each front door, and with a more elaborate chrome and black "20" logo in a chrome frame as the rear license plate. The "For $ale" logo is printed as if they were actual sale signs on the rear and forward left side windows, a nice touch.
The engine is a shallow but recognizable VW air cooled done in solid chrome. A chrome dual exhaust setup is mounted to the chassis. Inside is similar recognizable-if-simplified aesthetic. Three rows of seats with ribbed patterns and a correct VW dashboard are all black plastic, with chrome used for the steering wheel, pedals, levers, and mirror. The chassis is Jada's usual flat work with all of the correct details done in shallow relief. The rear wheel openings are designed for huge tires, so there's quite a gap between the wheel and frame. Not that these are stock width: all four are wide whitewalls over stock chrome hubcaps, with "Limited Edition/20th Anniversary" printed in red on the sidewalls.
Features/Accessories
The front doors, rearward side door, and engine cover all open. The doors are easy enough to get open, but the engine cover can be tricky since its only handle is the flat license plate.
Accuracy
This is another Jada custom that exists solely for the sake of being a custom, but the bare metal look and color tinted windows give it a nice continuity with the other cars in Jada's Anniversary line.
Overall
I suppose if any one of Jada's Anniversary cars would be a little rough around the edges, it's appropriate for it to be the one specifically advertised as needing restoration. I think I would have preferred a more uniform look without the shiny chrome trim and bright wheels and tires, but I get why they wanted this to look more like the rest of the line.
Have a question, comment, or criticism about this review?
Send me an e-mail
with your thoughts!