Made By:
Jada
Scale:
1/24
MSRP:
US$19.95
Overview:
Packaging (Design):
9/10
Packaging (Durability):
9/10
Casting (Body):
8/10
Casting (Interior):
N/A
Casting (Chassis):
8/10
Casting (Engine):
7/10
Paint (Exterior):
10/10
Paint (Interior):
N/A
Paint (Trim/Graphics):
9/10
Overall Panel Fit:
N/A
Total Score:
8.6/10

Other Pixar Models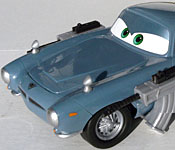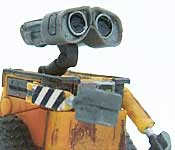 Cars 2 Lightning McQueen (Review)
Cars Doc Hudson (Review)
WALL·E
Cars 3 Jackson Storm (Review)
Cars Mack (Review)
Cars 3 Lightning McQueen (Review)
Cars Lightning McQueen (Review)
Cars 2 Shu Todoroki (Review)
Cars 3 Cruz Ramirez
Cars 2 Raoul ÇaRoule (Review)
Incredibles Incredibile (Review)
Cars 2 Finn McMissile (Review)
Cars 2 Francesco Bernoulli (Review)
Cars Lightning McQueen
Other Cartoon & Anime Models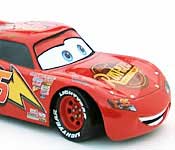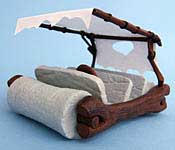 Cars 3 Cruz Ramirez
Spiral Zone Monocycle
Big Hero 6 Baymax (Review)
Roadster Racers Minnie (Review)
Roadster Racers Daisy (Review)
M.A.S.K. Thunderhawk
The Real Ghostbusters Ecto-1
Cars 3 Lightning McQueen (Review)
Cars Mack (Review)
Max Steel Turbo Racer (Review)
Planes 2 Firefighter Dusty (Review)
Batman:TAS Batmobile (Review)
WALL·E
Jetsons Spaceship
Batman:TAS Batmobile (Review)
The Simpsons Family Sedan
Flintstones Family Car
Lupin III Mercedes-Benz SSK (Review)
Paprika Aston Martin DB7
Jimmy Neutron Rocket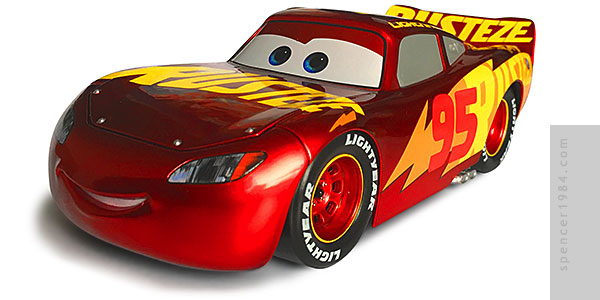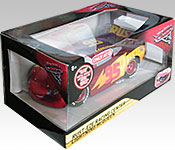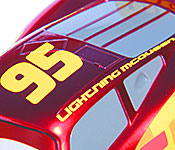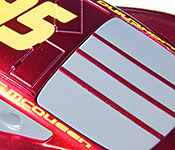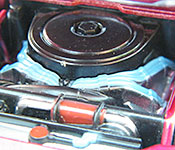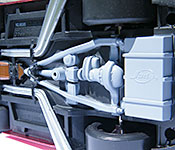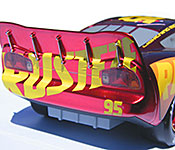 Background
It's been more than a decade since Cars, and Lightning McQueen is no longer the young prodigy he once was. But even with a few more miles on the clock and new competitors hot on his bumper, he's not quite ready to give up on racing yet.
Packaging
Jada's standard Cars package is a relatively simple window box. It's made so that there's a continuous window from the top panel to one end flap, but the window is elaborately framed by the printed cardboard. Another stand-alone window is on the opposite end flap. Every panel has the Cars 3 logo in the top right corner against a dark background. The front panel also has the age restriction, "Die Cast Metal" (in three languages), a photo of Lighting with his hood up, and "Rust-Eze Racing Center Lightning McQueen" in a gold bar across the bottom. A sticker affixed to the window near the top left corner announces this as a Target exclusive. The back panel has co-sells for Lightning McQueen (regular, tire rack, and Rust-Eze Racing Center variants), Dinoco Cruz Ramirez (regular and tire rack variants), Jackson Storm (regular and tire rack variants), and Mack. The various legal and contact info is scattered across this and the bottom panel. Inside, Lightning is held to a simple cardboard base/rear wall with two small screws.
Casting/Paint
Generally nice work once again, but thanks to Lightning's unique shape he suffers from two flaws avoided by everyone else in Jada's Cars series so far: first, he has an ugly set of parting seams along the tops of his rear fenders, in line with the outer edges of his trunk lid. The roof and rear spoiler make cleaning this area difficult, and it doesn't feel as dramatic as it looks, but the candy apple paint highlights any flaws. It also highlights the break between McQueen's front fascia and fenders. Jackson Storm's dark paint helped hide it, but the bright red here just exaggerates the line. On the plus side, those are the only real faults on an otherwise excellent casting. The mouth and eyes have the appropriate rounded organic look, while the roof strips, flaps, and panel breaks are all sharp and straight. As with the old Mattel diecast, the side and rear windows are plastic inserts and are nicely fit to the openings. The wheels are soft vinyl over hard plastic wheels. The chassis is a single piece, and the engine is two part: the air cleaner and "everything else." While this limits the amount of detail of both areas, Jada did a pretty good job adding as much depth and texture as they could. The engine is a recognizable "classic" NASCAR engine, complete with a radiator, distributor, and old-school carburetor under a cowl induction cleaner. The chassis has cast-in frame rails, lower wishbones, engine bottom, exhausts, fuel cell, and a nicely detailed drivetrain (complete with differential pump).
As mentioned, the candyapple red of this release leaves no room for error, and Jada has acquitted themselves nicely on that front. The finish is nice and smooth, with none of the edge ghosting Jada had on their GT-R. The The markings are clean and sharp, with excellent registration despite the complicated surfaces. Even the thin windshield gasket is perfectly applied. Only a few minor nicks keep this from getting a perfect score, and even then it's a near thing. The engine and chassis, however, are not as good. Both suffer from the realities of painting round objects (wires, pipes, etc.) onto flat surfaces. There's also a great deal of bleed where the suspension and drivetrain components meet the chassis floor, while the bottom of the engine is not quite painted all the way up to the edges. The wheels are painted a body-matching candyapple red with yellow pinstripes, silver lugs, and black centers, while the tires have the appropriate "Lightyear" sidewalls.
Features/Accessories
The only accessory is the opening hood, which fits nicely but will not stay up on its own.
Accuracy
Lightning goes through several paint schemes in Cars 3, and this one represents the custom vehicle wrap he receives at the Rust-eze Racing Center. While the lettering does not have the same gold foil effect used in the movie, the size and shape of everything is excellent and the candyapple red is a good approximation of the red chrome finish in the film. McQueen is larger than his Mattel counterpart, but not so big as to be out of scale (more like a "grown up" version of the kid he was).
Overall
I'm really liking what Jada has done with the Cars license so far, and McQueen is another great entry to the line. Definitely worth picking up.
Have a question, comment, or criticism about this review?
Send me an e-mail
with your thoughts!