Made By:
Jada Toys
Scale:
1/24
MSRP:
US$24.99
Overview:
Packaging (Design):
10/10
Packaging (Durability):
8/10
Casting (Body):
9/10
Casting (Interior):
8/10
Casting (Chassis):
8/10
Casting (Engine):
7/10
Paint (Exterior):
9/10
Paint (Interior):
8/10
Paint (Trim/Graphics):
8/10
Overall Panel Fit:
10/10
Total Score:
8.5/10

Other Comic & Manga Models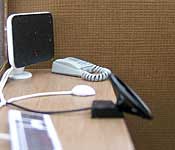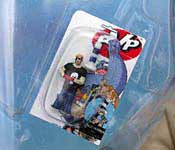 Transformers Optimus Prime
Murciélago Lamborghini Roadster
Avengers Chevy Camaro (Review)
Garfield Beach Car (Review)
Judge Parker Corvette
Teen Titans #9 Batmobile
Evangelion Renault Alpine A310
Detective Comics #400 Batmobile
Batman: Man-Bat Batmobile
G.I. Joe RAM
The Circuit Wolf Lotus Europa
Cyber Formula Asurada GSX (Review)
Lupin III Mercedes-Benz SSK (Review)
Misery Machine
PvP Dexter Jettster
Transformers: Armada Hot Shot
Wangan Midnight Devil Z
The Silver Spectrum Ford Deluxe
Detective Comics #597 Batmobile
Detective Comics #156 Batmobile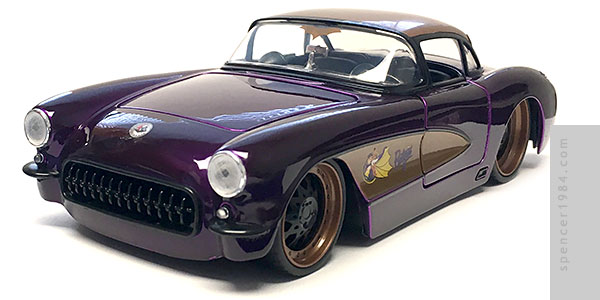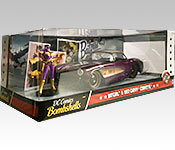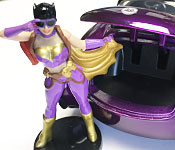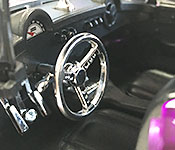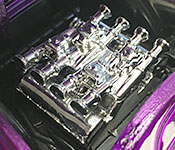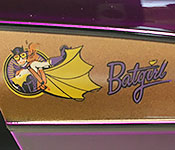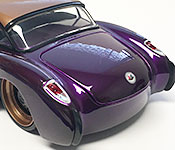 Background
DC Comics Bombshells got its start when reps for DC Collectibles attended the 2011 C2E2 and came across the work of Ant Lucia. Lucia was a pinup artist, and his work sparked the idea of reimagining some of the DC Comics characters as classic pinup art. After some internal pitching and an approval to move forward, DC Collectibles went back to Lucia to come up with the designs for what would be the first Bombshells statues. The statues proved to be a hit, and the Bombshells line has since expanded to include figures, collectibles, a comic series, and now a set of diecast cars.
Packaging
This is nearly identical to the box that was used for Poison Ivy, with the only changes being "★ ★ Batgirl & 1957 Chevy Corvette ★ ★" is now written under the window on the front panel and the internal die cut piece behind the car now has pictures and script for Batgirl. The Corvette is held in place with two screws with plastic bands around the hood and doors keep them closed and the rear of the car in a tray to keep the trunk closed. Batgirl is screwed to the base near the front of the car.
Casting/Paint
Once again, this is a great casting with even break lines, smooth panels, and overall tidy work. The main body is finished in deep purple and gold with a nice high gloss and deep reflections. The trim is a combination of separate and painted-on elements, most of it finished in satin black. The headlight and taillight bezels are the only chrome parts, but rather than sticking out as incorrect they work nicely against the dark high gloss body. Clear plastic is used for the headlights, parking lights, windshield, and rear window, and transparent red is used for the taillights. Corvette emblems are printed above the grille and on the trunk lid, and a nose art style portrait of Batgirl with her name is in each side cove between the wheel and door. Most of these are done very well, though the nose emblem on mine is partially smeared.
Under the hood is a solid chrome V8 with side draft carburetors on a crossover intake manifold. The casting is well done and looks good against the black engine bay, but the parting seams crossing the obviously closed-off intake bells distracts somewhat. The interior is a satin black bucket with bright chrome used for the steering wheel, column, pedals, shift console, and rear view mirror. The trunk is a basic black box. Underneath is a typical Jada chassis with only basic detailing (and an oil pan that in no way shape or form lines up with the top side of the engine). The wheels are black and gold spoked affairs with rubber bands.
Features/Accessories
The hood, doors, and trunk open on nice stiff joints that hold any position easily. A 1/24 Batgirl figure is also included, adjusting her goggles with her right hand while holding her cape/parachute with her left. The sculpting is a mix of metal and plastic, but even using this it struggles with some of the finer details. Most noticeably: her cape is too thick, there are obvious seams along her arms, her shoes are sculpted as heels but painted as wedges, and the straps around her thighs are softly cast. She's not faring a whole lot better in the paint department, with poor edges along the tops of her boots and no apps on the cast straps around her back. Her head and hair sculpt look good, at least, though they could use a little more paint detailing.
Accuracy
This is not based on an existing design, but is instead a "character car" that simply uses an existing tooling with a new paint job to evoke a persona. It does miss the WWII aesthetic by virtue of being a car made after 1950. Also, while I seldom mention scale with these character cars, I do have to mention that this one misses the mark more than most, working out to be about 1/20.
Overall
While I really like the colors and style used here, the more obvious out-of-scaleness, paint issues, and Batgirl's casting flaws make this one of the weakest of Jada's Bombshells. It's really only a must-buy if you plan on completing the set.
Have a question, comment, or criticism about this review?
Send me an e-mail
with your thoughts!