Made By:
Jada Toys
Scale:
1/24
MSRP:
US$24.99
Overview:
Packaging (Design):
10/10
Packaging (Durability):
8/10
Casting (Body):
9/10
Casting (Interior):
8/10
Casting (Chassis):
9/10
Casting (Engine):
8/10
Paint (Exterior):
9/10
Paint (Interior):
N/A
Paint (Trim/Graphics):
10/10
Overall Panel Fit:
10/10
Total Score:
9.0/10

Other Comic & Manga Models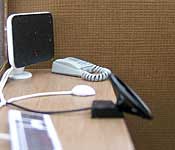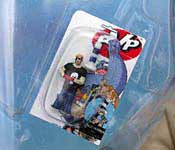 Cyber Formula SIN Asurada (Review)
Beetle Bailey Jeep
Deadpool Taco Truck (Review)
Zessyaka! Subaru 360 Deluxe
G.I. Joe RAM
PvZ Ferrari 250
Jigoro Jigorou Toyota Celica
Cyber Formula Fire Superion (Review)
Dilbert Carbicle
Legends of the Dark Knight #5 Batmobile
Transformers G1 Ratchet
Batman #20 Batmobile
The Silver Spectrum Ford Deluxe
DC Bombshells Poison Ivy (Review)
Misery Machine
Detective Comics #597 Batmobile
Evangelion Renault Alpine A310
Cyber Formula SIN Asurada Aero (Review)
Detective Comics #27 Batmobile
Transformers G1 Prowl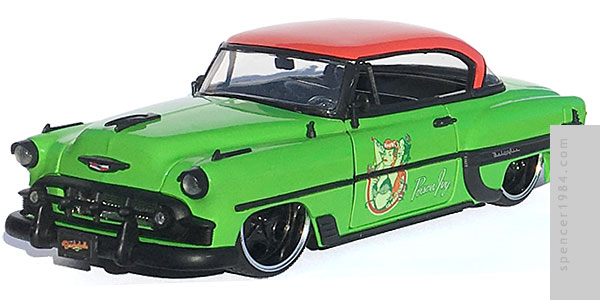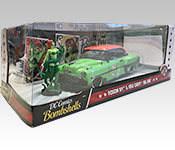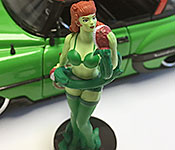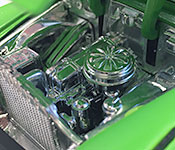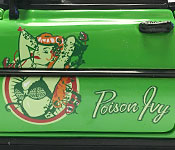 Background
DC Comics Bombshells got its start when reps for DC Collectibles attended the 2011 C2E2 and came across the work of Ant Lucia. Lucia was a pinup artist, and his work sparked the idea of reimagining some of the DC Comics characters as classic pinup art. After some internal pitching and an approval to move forward, DC Collectibles went back to Lucia to come up with the designs for what would be the first Bombshells statues. The statues proved to be a hit, and the Bombshells line has since expanded to include figures, collectibles, a comic series, and now a set of diecast cars.
Packaging
Jada continues to use the standard box we saw for their previous DC and Marvel character cars: a wide box with the top forward corner being made of folded plastic to allow for an unobstructed view of the car and figure. This time the box is a very light silvery gray (almost white) background with vertical rows of pin hex security bolts running down the corners at either end of the large window. A black and red band runs around the bottom, with a rising sun pattern in the red areas. "DC Comics Bombshells" is written in white and yellow script font on a black background at the far left of the red band, and the front panel has "★ ★ Poison Ivy & 1953 Chevy Bel Air ★ ★" in white under the window on the front panel, and a small DC logo on the far right bottom corner. The back panel has photos of all six cars in this series, along with the logos for Metals Die Cast, DC Comics Bombshells, and Hollywood Rides. The legal info and bar code are on the lower back panel and bottom. Inside, the cardboard tray pushes the vintage pinup motif, with a squadron of twin-tailed heavy bombers silhouetted in the background and a stand-alone die cut piece behind the car featuring several images of Ivy and her name written out as if across the nose of one of these warplanes. The Chevy is held in place with two screws, and plastic bands around the hood and doors keep them closed. Ivy herself is screwed to the base near the front of the car.
Casting/Paint
The '53 Bel Air has been a staple of Jada's Bigtime Kustoms for years, but shows no sign of mold fatigue. Panel breaks are straight and tight, the lines are clean, and the surfaces are smooth. I'm especially impressed with the hood fit, since it needs to mate up to the fenders, doors, and windshield frame while having several compound curves. The only things holding it back from a perfect rating are some mold separation lines just inside the rear fenders, near the rear window and just outside the trunk lid. They're small enough to easily overlook, and considering the extra time (read:cost) needed to clean these up at the factory I have no problem letting them slide a bit. The main body is finished in bright grass green and copper red with a nice high gloss and no noticeable flaws. All of the trim is separate plastic pieces fit to the body, ranging from the massive grille to the tiny retraced antenna. These are all finished in satin black, making a nice contrast to the shiny paint elsewhere. Clear plastic is used for the headlights, parking lights, windshield, and rear window, and transparent red is used for the taillights. A set of sharply printed Chevrolet shields are on the nose and tail, silver Bel Air scripts are in the trim panel on each rear fender, and a nose art style portrait of Ivy with her name is on each door. The portraits could have used a little more shading to avoid looking cartoony, but otherwise are done very well with sharp edges and excellent registration.
Under the hood is a solid chrome straight six engine. This is certainly common enough for Jada, but here they've taken it to 11 by chrome plating the firewall, inner fenders, and and radiator bulkhead as well. It's ridiculous, but provides such an interesting contrast to the black trim and saturated body paint that it somehow works. Detailing is very good, with a ridged valve cover, separate air cleaner, nicely defined battery, and both intake and exhaust manifolds. Everything inside is cast in satin black except for the steering wheel and column, which are more bright chrome. Underneath is a surprisingly well done chassis with a separate silver painted exhaust system. The wheels are black and chrome wrapped in Jada's usual ultra low profile tires.
Features/Accessories
The hood and doors open on nice stiff joints that hold any position easily. A 1/24 Poison Ivy figure is also included, being wrapped by and petting her three-headed piranha plant. The sculpting is a mix of metal and plastic, and while they did a good job she's a lot less forgiving than a fully costumed figure. Her face is quite nice with finely printed features, but her slighter build was obviously more difficult to cast and there are some seams where her arms meet her shoulders and parting lines down each arm. Still, it's a pretty good figure considering the price point and a customizer could do some really nice work with this as a base.
Accuracy
This is not based on an existing design, but is instead a "character car" that simply uses an existing tooling with a new paint job to evoke a persona. It does miss the WWII aesthetic by virtue of being a car made after 1950.
Overall
Jada's earlier Marvel cars were good enough to have me step outside my usual "only screen accurate cars" mindset, and that trend continues with the Bombshells. They did a great job pairing up the character and the car, the vehicle's casting and paint are well done, and they did a great job creating such a small figure. Highly recommended.
Have a question, comment, or criticism about this review?
Send me an e-mail
with your thoughts!