Made By:
Jada Toys
Scale:
1/24
MSRP:
US$24.99
Overview:
Packaging (Design):
8/10
Packaging (Durability):
7/10
Casting (Body):
10/10
Casting (Interior):
8/10
Casting (Chassis):
7/10
Casting (Engine):
9/10
Paint (Exterior):
10/10
Paint (Interior):
N/A
Paint (Trim/Graphics):
10/10
Overall Panel Fit:
10/10
Total Score:
8.8/10
https://www.ebay.com/sch/222/i.html?_from=R40&_nkw=1/24++harley+quinn+corvette&mkcid=1&mkrid=711-53200-19255-0&siteid=0&campid=5337688432&customid=&tooltoolid=10001&customid=" target="_blank" style="background-image:none">

Other Comic & Manga Models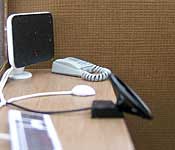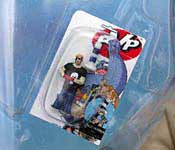 Avengers Chevy Camaro (Review)
It's Walky! 1986 Dodge Ram 50
The Circuit Wolf BMW 3.0 CSL
Cyber Formula SIN Asurada (Review)
The Circuit Wolf Jota
Batman #408 Batmobile
Dilbert Carbicle
Evangelion Renault Alpine A310
Cyber Formula Stealth Jaguar (Review)
Cyber Formula SIN Asurada Aero (Review)
Cyber Formula Asurada GSX (Review)
DC Bombshells Catwoman (Review)
Murciélago Lamborghini Roadster
Garfield Beach Car (Review)
The Silver Spectrum Ford Deluxe
Judge Parker Corvette
Tekkonkinkreet Colt Galant
PvP Dexter Jettster
Misfile XR4Ti
Transformers: Armada Hot Shot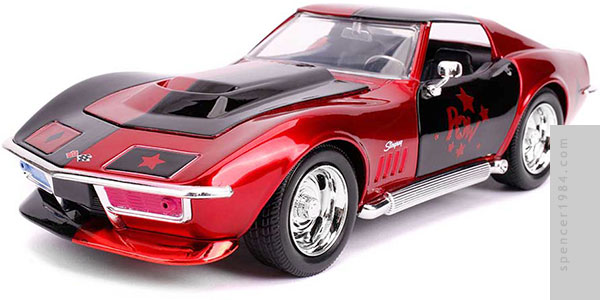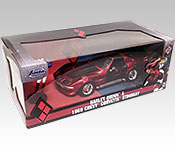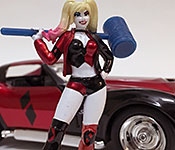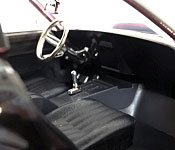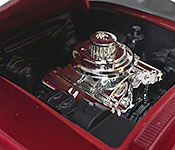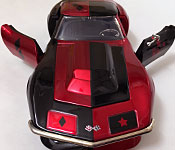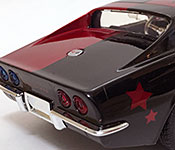 Background
Harley has always been at home behind the wheel, from acting as wheelman for Joker in her earliest appearances in Batman: The Animated Series to affecting the escape from Ivy & Kite Man's wedding in Harley Quinn. Her distinct color palette has also been used as an easily recognizable "character" in toys ranging from model kits to LEGO sets to diecast cars, including this one from Jada that has a classic coke-bottle Corvette wearing Harley's classic black & red.
Packaging
Quinn and her Vette are packaged in Jada's "2020"-style box, with the red stripe near the bottom now accented by a quartet of red and black diamonds and a portrait of Harley in her current comic look. The end flaps repeat the diamond motif, and the back panel has photos of this and Joker's late model Corvette. The car is held in place with two screws, with plastic bands around the hood and doors keep them closed and a plastic tray around the rear. Harley Quinn is screwed to the base near the front of the car.
Casting/Paint
Probably one of the cleanest and nicest castings Jada's done, and they've had some real beauties. The curvy shape of the Corvette and high gloss black/chrome red finish are practically designed to show off any flaws, but there's no sign of so much as a tooling mark. Everything save for the front air dam and license plate bracket is metal, making the sharp work all the more impressive. Chrome plastic is used for the bumpers, grilles, side pipes, rear license plate frame, and mirror. Clear plastic is used for the glass, and transparent red (right) and blue (left) are used for the taillights.
As noted above, the base paint is a high gloss black and red. Break lines are as straight as you could hope for, with no wobble between them even in tricky places like the hood bulge. There is a tiny bit of ghosting in the recessed panel lines outlining the headlight covers, but are so inconsequential as to be ignored. Further decoration is done using stars (left headlight cover, right rear fender) and diamonds (right headlight cover, right roof panel, right door, and left rear fender). A cartoonish "Pow!" is written on the left door, surrounded by more stars. The final "Harley" paint app is a wash applied to the front grilles: red for the left, black for the center, and blue for the right, mirroring the taillight colors. There are also a few traditional Corvette details, including the crossed flags on the nose, "Stingray" badges on each front fender, silver fuel flap with crossed flag logo, and "Corvette" script in red across the rear.
Under the hood is a solid chrome representation of Chevrolet's legendary L88 engine. It's well detailed if a bit shallow, with a separate air cleaner and black plastic used for the surrounding bay and accessories. Black plastic is used for the interior, which like the engine is basic but detailed enough to recognize everything. It's accented with Jada's usual chrome steering wheel/column, pedals, shift lever, and rear view mirror. The chassis is a flattened version of the C2's, with details suggesting the front and rear suspension, interior molding, and spare tire carrier. The differential is molded in chrome, but is far smaller than Jada's usual pumpkin. The wheels are oversized chrome Rallyes with beefy blackwalls at all four corners.
Features/Accessories
The hood and doors open on nice stiff hinges that hold their positions easily and close snugly. A 1/24 Harley Quinn figure is also included, standing with one hand on her hip and the other holding her trademark oversized hammer across her shoulders. Sculpting is generally good, with her left pigtail molded to flop across the handle of the hammer and nice detailing on her hands and outfit, but is let down some by the parting seam across her hair and some paint goofs on her face and chest. The rest of her outfit is very well painted, though the high gloss that looked so good on the car looks a little strange here.
Accuracy
This is not based on an existing design, but is instead a "character car" that simply uses an existing tooling with a new paint job to evoke a persona. One oddity of note, Jada sculpted a pair of longitudinal springs for the rear axle. Corvettes had switched to a transverse spring in 1963, a design element that remained until the mid-engine C8 Corvette of 2020. Scaling is big but not as ridiculous as some others, measuring out to about 1/22.5.
Overall
I noted a while back that Jada managed to get me to break my "no character car" rule by just smashing it out of the park. Over two years later and they're still doing it, picking cars and applying paint schemes that work far better than they have any right to.
Have a question, comment, or criticism about this review?
Send me an e-mail
with your thoughts!