Made By:
Jada Toys
Scale:
7.5"
MSRP:
US$16.99
Overview:
Packaging (Design):
9/10
Packaging (Durability):
8/10
Casting (Body):
7/10
Casting (Interior):
N/A
Casting (Chassis):
N/A
Casting (Engine):
N/A
Paint (Exterior):
8/10
Paint (Interior):
N/A
Paint (Trim/Graphics):
8/10
Overall Panel Fit:
10/10
Total Score:
8.3/10

Other Fast & Furious Models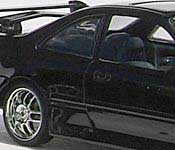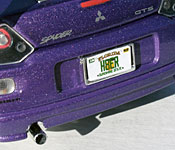 F9 Charger Widebody (Review)
Furious 7 Off-Road '67 Camaro (Review)
Furious 7 '70 Road Runner (Review)
Furious 7 HyperSport (Review)
The Fast & the Furious '70 Charger
Fast 5 '70 Charger
Furious 7 Supra
F8 of the Furious Rally Fighter (Review)
The Fast & the Furious Civics
The Fast & the Furious Chevelle
Furious 7 Off-Road Challenger (Review)
Furious 7 Nissan GT-R (Review)
Fast 5 Nissan GT-R (R35)
F8 of the Furious Ice Charger (Review)
Fast 5 '11 Charger Police (Review)
Hobbs & Shaw Peterbilt (Review)
Furious 7 Maximus Charger (Review)
Furious 7 '72 'Cuda
Furious 7 '70 Charger
Tokyo Drift '70 Road Runner (Review)
Other 2010s Movie Models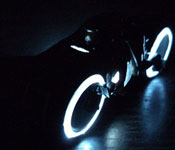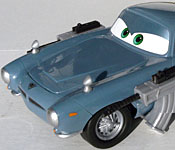 Tron Legacy Clu's Light Cycle
Jurassic World Mercedes-Benz G550
Furious 7 Nissan GT-R (Review)
Hobbs & Shaw Peterbilt (Review)
Dark of the Moon Roadbuster
Furious 6 '69 Charger Daytona
Incredibles 2 Incredibile (Review)
Jack Reacher '70 Chevelle
Planes 2 Firefighter Dusty (Review)
Furious 7 '70 Charger (Review)
Furious 7 Maximus Charger (Review)
LEGO Batman Batmobile
Edge of Tomorrow Sgt Vratraski
Born 2 Race Subaru Impreza WRX STi
Furious 6 '69 Mustang (Review)
Transformers 5 Hot Rod (Review)
Men in Black III Taurus SHO (Review)
Furious 7 '72 'Cuda
Big Hero 6 Baymax (Review)
Deuce of Spades '32 Ford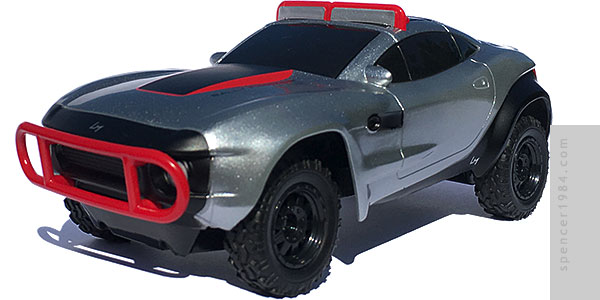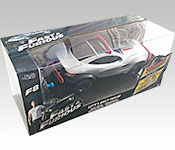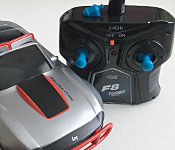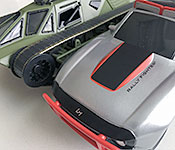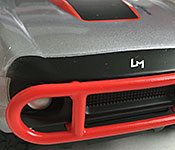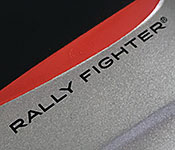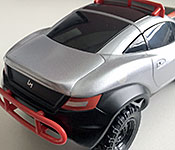 Background
When the team needs to hit the enemy in the frozen wasteland of a former Soviet base, (nearly) everyone opts for a more rugged vehicle than usual. Letty's ride is the Rally Fighter, a high performance machine that remains street legal despite its off-road capabilities.
Packaging
Despite this being a completely different line, Jada kept the packaging almost identical to their diecast vehicles. The only obvious change is the "Turbo Boost" graphic added to the lower right corner of the front panel. The consistency is nice, but it has led to some retailers accidentally mixing Jada's R/C and diecast series on the shelf and so a little extra attention may be needed when you're checking the aisles. The co-sells on the back are different as well, this time for the Ice Charger, Rally Fighter, Charger R/T, Lykan Hypersport, and Toyota Supra that make up the R/C line. The controller is discreetly tucked into the end of the box that does not have the full window, and the car is held to the inner tray with two screws. The controller is held to the tray via two cast-in loops that fit through holes in the cardboard and are captured by a single zip band. A 4-page instruction booklet is folded and tucked under the tray. It covers battery installation, vehicle operation, safety, and troubleshooting in four languages (with illustrations).
Casting/Paint
To improve its performance, the entire vehicle is cast in lightweight but sturdy plastic. The body is made up of the main shell, window insert, bumpers, and roof lights. Separate mirrors would have been nice, but also would have been one of the first things broken off so Jada's choice is understandable. Other than some mold parting seams, the casting is very good with smooth contours and nice clean panel lines. Panel fit is outstanding, especially the flush-fit window panels. These are made of a single piece of opaque black plastic, but are glossy enough to look like deeply tinted glass. The bumpers and lights are equally well placed, though the bumpers are a little thick and a couple of sprue attachment points near the base of the lights pull down the look some. There is no chassis detailing, with the entire surface given over to the battery box, power switch, axles, and steering adjustment. Tires are soft vinyl on hard plastic wheels, and unlike their diecast cars these tires are full sized inside and out.
The base silver paint is well done, having a satin sheen and good coverage with no obvious flaws. The flat black used for the nose, side vents, rockers, and rear fenders/fascia covers nicely but has some rough edges and there is a scuff mark behind the rear bumper. The gloss black roof panel is a near-perfect match for the window insert. Printed graphics include the hood stripes and "Rally Fighter," Local Motors logos on the front, rear, and left rocker, and the tail lights. These are excellent in both sharpness and placement. Chrome stickers are used for the mirror glass.
Features/Accessories
This is a full-function R/C vehicle, with forward and reverse directions. The front suspension is sprung as well as having working steering. A small nitrous bottle-shaped button on the controller activates the "turbo boost" to give the car an extra kick of speed.
Accuracy
Jada did a great job capturing the look and feel of the Rally Fighter, both the base car and the unique details that make it part of the Fast and Furious series. The few details they got wrong, such as the heaviness of the bumpers, pillar-mounted mirrors, and too-narrow front track, were all necessary concessions to making this a working toy that will likely see some bumps in its life. Scaling is right between 1/24 and 1/25.
Overall
That last point there is exactly why I passed on Jada's diecast Rally Fighter and got this instead. The diecast looks great, with opening panels and a fully detailed interior. It even has some engine and chassis detailing, clear lights and windows, and separate details like side vents and mirrors. But it 's also pushing closer to 1/20 scale than 1/24, as Jada is wont to do, which looks ridiculous next to properly scaled vehicles from the same scene in the movie. I can fix the details on this a lot easier than I can shrink a monster truck down to proper proportions, and in the end have a truly accurate Rally Fighter that fits in with the rest of my Fast & Furious collection.
Have a question, comment, or criticism about this review?
Send me an e-mail
with your thoughts!