Made By:
Jada Toys
Scale:
1/24
MSRP:
US$14.99
Overview:
Packaging (Design):
9/10
Packaging (Durability):
8/10
Casting (Body):
8/10
Casting (Interior):
8/10
Casting (Chassis):
8/10
Casting (Engine):
N/A
Paint (Exterior):
8/10
Paint (Interior):
8/10
Paint (Trim/Graphics):
9/10
Overall Panel Fit:
9/10
Total Score:
8.3/10

Other Fast & Furious Models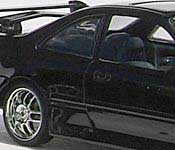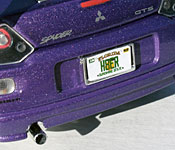 Fast 5 '63 Galaxie
F8 of the Furious Ripsaw (Review)
Furious 7 '70 Charger (Review)
The Fast & the Furious F-150 (Review)
Furious 7 Supra
Fast 5 '70 Charger
Furious 6 Nissan GT-R (Review)
Furious 7 Maximus Charger (Review)
Furious 7 HyperSport (Review)
Tokyo Drift '70 Road Runner (Review)
Fast 5 '11 Charger Police (Review)
Fast & Furious '70 Charger
F8 of the Furious Fleetline (Review)
The Fast & the Furious RX-7
Hobbs & Shaw Peterbilt (Review)
2 Fast, 2 Furious Eclipse Spyder
F8 of the Furious Ice Charger (Review)
Furious 7 '70 Charger
F8 of the Furious Rally Fighter (Review)
F9 Charger Widebody (Review)
Other 2010s Movie Models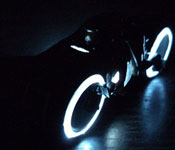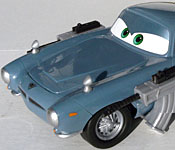 Dark of the Moon Leadfoot
Atomic Blonde Porsche 911
F8 of the Furious Rally Fighter (Review)
LEGO Batman Batmobile
Batman v Superman Batmobile
Tron Legacy Clu's Light Cycle
Deuce of Spades '32 Ford
Piranha 3D Crown Victoria
200 MPH Nissan 370Z
Safe Crown Victoria
Furious 7 '70 Charger (Review)
Men in Black III Ford Galaxie
Fast 5 '70 Charger
Furious 6 '69 Mustang (Review)
F8 of the Furious Chevy Fleetline
Jurassic World Mercedes-Benz G550
Furious 7 '72 'Cuda
Zootopia Police Cruiser (Review)
Furious 6 GT-R Ben Sopra (Review)
Furious 7 '70 Road Runner (Review)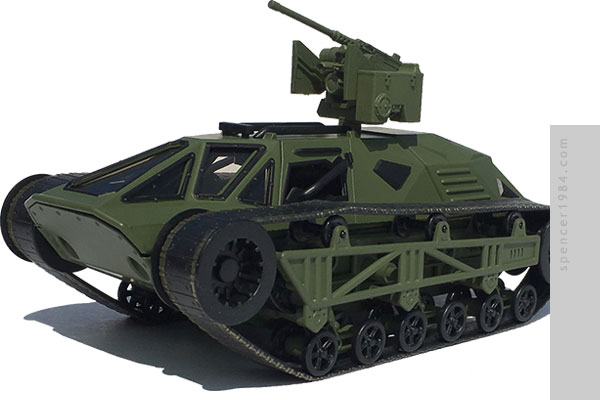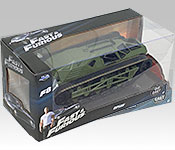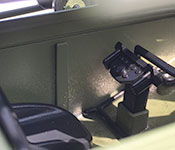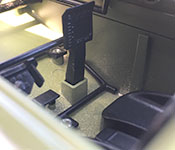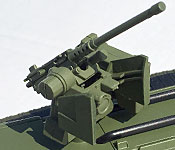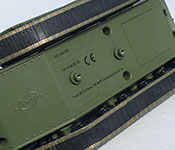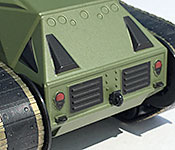 Background
When the team needs to hit the enemy in the frozen wasteland of a former Soviet base, (nearly) everyone opts for a more rugged vehicle than usual. Tej chooses the Ripsaw, a 750hp light tank with a top speed over 60mph and armed with a remotely-operated M2 .50-caliber machine gun.
Packaging
The packaging here is nearly identical to what we saw with the Ice Charger, with the sticker on the front now reading "Ripsaw." There is also a separate small tray above and to the left of the vehicle that holds its gun turret.
Casting/Paint
Yet another change of pace for Jada, while still demonstrating what they are capable of pulling off. The main hull is diecast metal, split between upper and lower halves in a way that nicely hides the parting seam everywhere but the very front of the vehicle. The rest of what you see is plastic, including the side frames, hatches, and turret. All of these are then painted matte OD green, with black paint used for details like the window frames, grab handles, vents, and light housing. The work is simple but good, with generally clean edges and a nice even surface across the entirety of the vehicle. Clear plastic is used for the forward windows, and dark red paint is used on the taillights.
The tracks are rubbery vinyl, cast in black with gold painted edges. Each track rides on 11 black plastic wheels: three return rollers (top), six road wheels (bottom), an idler wheel (front), and a drive sprocket (rear). The tracks suffer a bit from how they were positioned in the box, having several unfortunate lumps and twists. Repositioning them to hide the worst of these helps, but you may wish to try taking them off and dipping them in hot water to let them relax into a smoother shape. The wheels are nicely done, with open spokes on the road wheels and finned (but not open) drive and idler wheels.
It would be easy for them to skimp on the interior, but Jada actually did a pretty nice job here as well. There are two racing seats, a steering yoke, a control panel, foot pedals, and part of a frame cage that are all separate pieces. The floor is textured to look like a non-skid surface and painted the same green as the rest of the Ripsaw.
Because of the nature of the vehicle, it doesn't really have extra engine or chassis detail. I did count the side frames as part of the chassis when scoring it, which would be nearly perfect if not for the visible screw heads. But considering this had to be sold as a mass market item, it's really nicely done. The underside continues the armor plating visible on the front and back, with a large square hatch cast in just aft of the screw mounts.
Features/Accessories
The side hatches both open to allow access to the interior, all of the wheels the tracks ride on actually move (no solid "dummy" casters), and the machine gun can rotate 360° and elevate from just above horizontal to about 45°. It's a one-way snap connection: once it's in, don't expect to remove it or get the Ripsaw back in its box without breaking something.
Accuracy
Once again Jada has run up against the realities of manufacturing, and has picked their battles wisely. The window frames are too heavy, the drive wheels are solid rather than open, and the screws that hold it together are clearly visible. But the machine gun is fantastic, with nice detailing and good movement. The side frames and lower suspension are also very nicely done, really capturing the skeletal look of the 1:1 vehicle. The interior is the most surprising part, though, since I could easily see them simplifying or completely omitting everything but the broadest strokes. The only thing it's obviously incorrect are the missing U.S. Army markings, which should appear on the rear and either side of the main windows. Scaling works out to be a near-perfect 1/24.
Overall
The Ripsaw is such a unique and awesome vehicle, I was really hoping Jada would get it "right." Happily they did, and while there is certainly room for improvement I doubt anyone could do better while keeping the price this low. Very highly recommended.
Have a question, comment, or criticism about this review?
Send me an e-mail
with your thoughts!