Made By:
Jada Toys
Scale:
1/24
MSRP:
US$14.99
Overview:
Packaging (Design):
8/10
Packaging (Durability):
8/10
Casting (Body):
8/10
Casting (Interior):
7/10
Casting (Chassis):
5/10
Casting (Engine):
7/10
Paint (Exterior):
7/10
Paint (Interior):
9/10
Paint (Trim/Graphics):
9/10
Overall Panel Fit:
6/10
Total Score:
7.4/10

Other Fast & Furious Models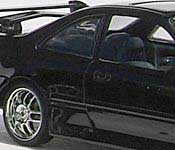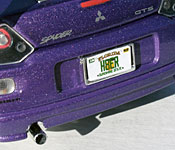 Furious 7 Off-Road Challenger (Review)
F8 of the Furious Ripsaw (Review)
Furious 7 '70 Charger
F8 of the Furious Fleetline
Furious 7 '70 Road Runner (Review)
The Fast & the Furious RX-7
Fast 5 '63 Galaxie
Furious 6 Nissan GT-R Ben Sopra (Review)
Furious 7 Off-Road '70 Charger
Fast 5 '11 Charger Police (Set)
Tokyo Drift '70 Road Runner (Review)
The Fast & the Furious Chevelle
Fast & Furious Chevelle (Review)
F8 of the Furious Rally Fighter (Review)
Fast 5 '11 Charger Police (Review)
Furious 7 HyperSport (Review)
2 Fast, 2 Furious Evo VIII (Review)
Furious 7 Supra
Furious 6 '69 Charger Daytona
Fast 5 Nissan GT-R (R35)
Other 2010s Movie Models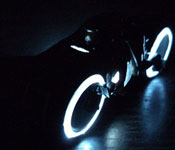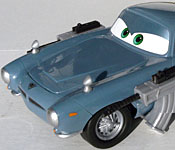 Men in Black III Ford Galaxie
Need for Speed 2015 Mustang GT
200 MPH Nissan 370Z
Furious 6 '69 Mustang (Review)
Zootopia Police Cruiser (Review)
F8 of the Furious Rally Fighter (Review)
Incredibles 2 Incredibile (Review)
Piranha 3D Crown Victoria
Fast 5 Nissan GT-R (R35)
Jurassic World Mercedes-Benz 6x6
LEGO Batman Batmobile
Furious 7 Lykan HyperSport (Review)
Furious 7 Off-Road '67 Camaro (Review)
Jack Reacher '70 Chevelle
Furious 7 '70 Charger (Review)
Need for Speed Mustang GT (Review)
Furious 7 Off-Road '70 Charger
Furious 6 '69 Charger Daytona
F8 of the Furious Ripsaw
The LEGO Movie Cycle
Other Charger Models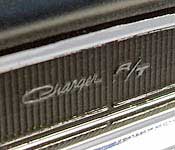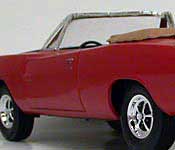 Collier & Co: Hot Pursuit Traveller
Fast & Furious '70 Charger
Dirty Mary, Crazy Larry '69 Charger
"City Slicker" '69 Charger
Furious 7 Off-Road '70 Charger
The Fast & the Furious '70 Charger
Dukes of Hazzard General Lee
Agents of SHIELD Hell Charger
Furious 6 '69 Charger Daytona
'69 Convertible
Blade'68 Charger
Furious 7 '70 Charger
Wheels of Terror Charger
'69 Charger (Review)
Death Proof '69 Charger (Review)

Half-Life 2 Muscle Car
Need for Speed '69 Charger (Review)
Fast 5 '11 Charger Rio Police (Review)
Bullitt Charger
Joe Dirt '69 Charger Daytona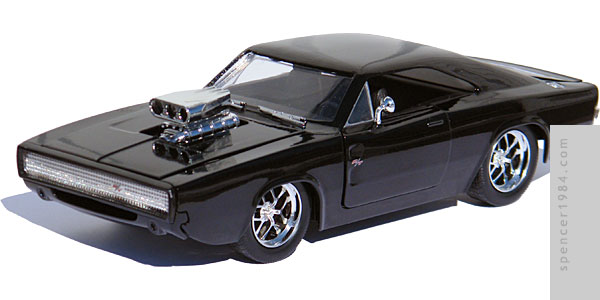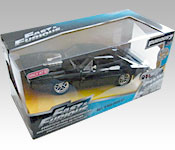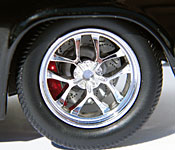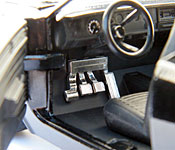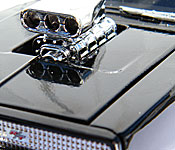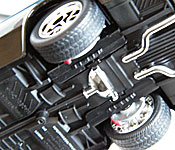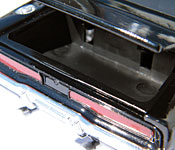 Background
After driving a primer gray version, a customized Daytona, and even a late model Police car, Vin Diesel's Dominic Toretto returns to his classic black supercharged '70 R/T in Furious 7.
Packaging
Jada Toys has gone with an all-new style box for their 1/24 Fast & Furious series, with one of the top front corners formed by the folded clear plastic (similar to what Mattel did for their original Cars series). The window is framed by angled cuts, making the box look more interesting than the typical diecast window box. The front panel has text framing the bottom and right edge of the window: "Fast & Furious Official Movie Merchandise" in three languages in the bottom left corner, "Dom's '70 Charger R/T," a close-up photo of the Charger's engine, a die cast callout, the Jada logo, and finally the movie title in the top right corner. An "Only at ◎" sticker is neatly applied near the top left corner of the window. One end flap is partially made from he folded main window, and has the "official movie..." and close-up engine photo repeated from the front panel. The other end flap has an angled window and the "official movie..." blurb as well. The back panel has all of the marketing info in multiple languages, including photos of the other cars in the series next to a big "Collect them all!" callout: Dom's '70 Charger R/T (wearing different wheels than what are on this car), Brian's Nissan GT-R (R35), Dom's '70 Charger R/T (Off Road), 1969 Charger Daytona, 2008 Dodge Challenger SRT8 (Coming Soon), and 1970 Plymouth Roadrunner. The legal and contact info is split between the back and bottom panels. Inside is an elaborately folded tray, made to keep the box rigid and hold the car at an angle to match the window cutout. Two screws hold the car to the bottom tray, a plastic tray captures the rear end and holds the trunk closed, a plastic band holds the doors closed, and a plastic band and two clear stickers hold the hood closed..
Casting/Paint
This is a repurposed tooling from Jada's "Big Time Muscle" series, and seems to be suffering from mold fatigue. None of the panels quite fit right: the hood sticks up about half its thickness, the left door is too far back (making it gap at the front and sit on top of the rear fender in the back), and the trunk lid sticks up above the deck between the buttresses. It doesn't help that Jada made the front fenders so that they could accept a '68/9 style bumper. and the front modesty panel has extra ears to fill these gaps, giving the front end an unfortunate "patchwork" look. The gloss black paint reduces many of these problems, but creates a few of its own thanks to moderate orange peeling, some minor chipping, and a drip of black paint on the left edge of the rear bumper. The bumper/grille, engine, side view mirror, and rear fascia are chrome plated plastic, with the front bumper and taillight panel painted to match the body. There are numerous small chips exposing the chrome plastic, including one pretty substantial chip on the left edge of the front bumper. The R/T emblems are all printed beautifully, with sharp edges and perfect registration. Ditto for the red tail lights and silver windshield wipers and fuel fill, which are all expertly placed and evenly painted. The windshield and rear window are clear plastic, with no scratches or imperfections. The wing windows are clear plastic with silver painted frames, and are correctly mounted in the doors so they line up nicely against the A pillars. The wheels are chrome plated plastic with vinyl tires, mounted over silver painted brake discs with red calipers.
The engine is a simplified casting (approximately 5-6 pieces, all chrome plated), and by the shape of the valve covers appears to be a Viper V-10. The interior is primarily black plastic, with chrome used for the pedals and shift lever. The casting is clean but basic, with very flat features that give it a somewhat crude appearance. The speedometer and tach are printed nicely. The chassis is Jada's usual flat panel with minimal detailing, but is hurt even further thanks to the addition of two filler panels mounted inboard of the rear tires (this area would normally be taken up by a pair of super wide "steamrollers").
Features/Accessories
The doors & trunk open, and the hood can be removed.
Accuracy
Jada's greatest strength is in their custom work. The more a car is a caricature, the better they do. Even some of their better replicas are reproductions in spirit more than execution. So it comes as no surprise that this really only bears a passing resemblance to the car in Furious 7. Starting from the front: the grille is too flat, the blower hat is the wrong type, the windshield is flat, the sideview mirror is completely wrong, the rockers have been pulled out and flattened, and the interior is essentially a stock '69 Charger with '70 seats. The only parts that they really got right here are the all-new wheels, which appear to be a perfect match to what was used on the movie car. Scaling is in the general vicinity of 1:24 but is a little tall and wide, giving it a stubbier appearance than it should have.
Overall
Jada has been producing unofficial Fast & Furious cars for years now, using their existing toolings with familiar paint jobs to create cars that were similar to what we saw in the movies. "Close enough" was perfectly acceptable at the time, and even expected to a degree. But now that they are producing officially licensed vehicles, they really need to step up their game. Hopefully we'll be seeing that improvement with the all-new cars in the series, like the off-road Charger and Challenger. But unless you're desperate for Fast & Furious merchandise or plan on using it for parts (those wheels are truly outstanding), leave this one on the shelf.
Have a question, comment, or criticism about this review?
Send me an e-mail
with your thoughts!