Made By:
Jada Toys
Scale:
1/24
MSRP:
US$14.99
Overview:
Packaging (Design):
8/10
Packaging (Durability):
8/10
Casting (Body):
9/10
Casting (Interior):
8/10
Casting (Chassis):
7/10
Casting (Engine):
9/10
Paint (Exterior):
7/10
Paint (Interior):
9/10
Paint (Trim/Graphics):
9/10
Overall Panel Fit:
10/10
Total Score:
8.4/10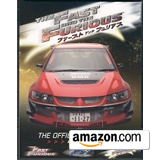 Other Fast & Furious Models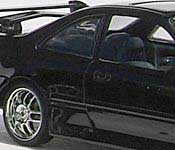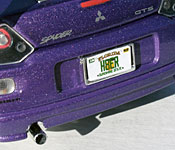 Furious 7 Off-Road '67 Camaro (Review)
F8 of the Furious Ripsaw
Fast 5 '11 Charger Police (Review)
Furious 7 '72 'Cuda
Furious 7 Nissan GT-R (Review)
Furious 6 Nissan GT-R Ben Sopra (Review)
2 Fast, 2 Furious Eclipse Spyder
Furious 7 '70 Road Runner (Review)
Fast 5 '70 Charger
Furious 7 Toyota Supra
Furious 7 Off-Road '70 Charger
Furious 7 Lykan HyperSport (Review)
Furious 7 '70 Charger (Review)
The Fast & the Furious Chevelle
Fast & Furious Chevelle (Review)
Furious 6 '69 Mustang (Review)
Fast 5 '11 Charger Police (Set)
Furious 7 Maximus Charger (Review)
Fast 5 Nissan GT-R (R35)
Fast & Furious '70 Charger
Other 2010s Movie Models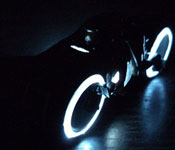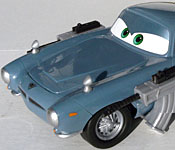 F8 of the Furious Ripsaw
Deuce of Spades '32 Ford
Transformers 4 Optimus Prime
Furious 7 Maximus Charger (Review)
F8 of the Furious Plymouth GTX
Furious 7 '70 Road Runner (Review)
Furious 7 Off-Road '67 Camaro (Review)
Tron Legacy Sam's Light Cycle
Atomic Blonde Porsche 911
Fast 5 '11 Charger Rio Police
Transformers 5 Crosshairs (Review)
Furious 7 '70 Charger
Furious 6 '69 Mustang (Review)
Star Wars Rey's Speeder (Review)
The LEGO Movie Cycle
Furious 7 '72 'Cuda
Furious 6 Nissan GT-R Ben Sopra (Review)
Furious 7 Nissan GT-R (Review)
Furious 6 '69 Charger Daytona
Planes Dusty Crophopper (Review)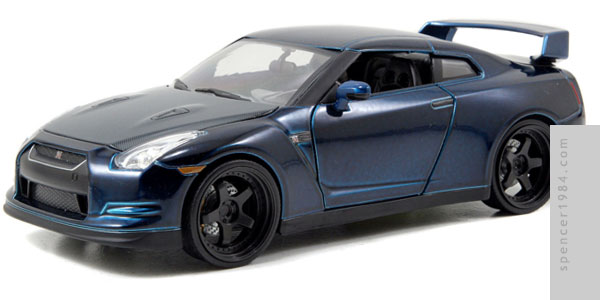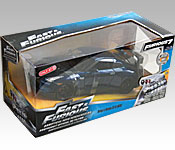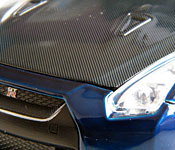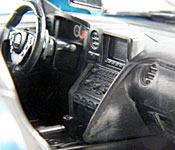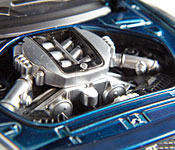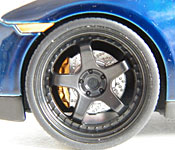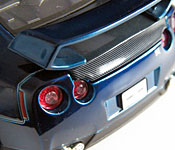 Background
Paul Walker's Brian O'Conner started his relationship with Skylines in Turbo-Charged Prelude, and in every movie since then he has appeared with at least one example of Nissan's top-end performance car. In Furious Seven, this includes a dark blue GT-R with some additional "tuner" upgrades.
Packaging
Jada Toys has gone with an all-new style box for their 1/24 Fast & Furious series, with one of the top front corners formed by the folded clear plastic (similar to what Mattel did for their original Cars series). The window is framed by angled cuts, making the box look more interesting than the typical diecast window box. The front panel has text framing the bottom and right edge of the window: "Fast & Furious Official Movie Merchandise" in three languages in the bottom left corner, "Brian's Nissan GT-R (R35)," a close-up photo of the '70 Charger engine, a die cast callout, the Jada logo, and finally the movie title in the top right corner. An "Only at ◎" sticker is neatly applied near the top left corner of the window. One end flap is partially made from he folded main window, and has the "official movie..." and close-up engine photo repeated from the front panel. The other end flap has an angled window and the "official movie..." blurb as well. The back panel has all of the marketing info in multiple languages, including photos of the other cars in the series next to a big "Collect them all!" callout: Dom's '70 Charger R/T, Brian's Nissan GT-R (R35), Dom's '70 Charger R/T (Off Road), 1969 Charger Daytona, 2008 Dodge Challenger SRT8 (Coming Soon), and 1970 Plymouth Roadrunner. The legal and contact info is split between the back and bottom panels. Inside is an elaborately folded tray, made to keep the box rigid and hold the car at an angle to match the window cutout. Two screws hold the car to the bottom tray, a plastic tray captures the rear end and holds the trunk closed, and plastic bands hold the doors and hood closed.
Casting/Paint
This is another repurposed casting, but looks to still be in excellent shape. The panels are clean and straight, everything lines up nicely and seats properly, and the hinges all work as they should. The bulk of the body is metal, with a hard plastic rear wing and softer plastic sideview mirrors. These are all painted the same dark blue, which looks fantastic except for some thin spots along the panel breaks. Also, the door jambs did not get the same final clear coat as the rest of the body, so while they are the correct color they lack the depth and gloss seen elsewhere. Flat black is used for the grille insert, skirting, side vents, door handles, and A pillars (including the triangular filler panels at the leading edges of the side windows). Most of these are done very well, with just a tiny bit of misalignment on the side vents. Orange is used for the front side markers, and red is used for the rear side markers. Silver and red GT-R badges are printed on the grill, front fenders, and rear fascia. These are all printed perfectly, with sharp edges and good registration. The hood and trunk lid have a carbon fiber patter printed on them, which is also very neatly done. The headlights, taillights, and window glass are all done in transparent clear plastic. The lights are mounted over chrome buckets, and the taillights have transparent red paint applied to the outer rings. The windows have painted flat black frames. The quad tailpipes are chrome plated plastic. The rear license plate is the movie logo printed on a sticker applied to a US-sized plate frame, and the sideview mirror glass is made from chrome stickers.
The GT-R's engine is fantastic. It has some great depth, with excellent detailing on the cam cover, intake, and twin turbochargers. Even details like the hood release, strut mounts, and overflow bottle are nicely detailed. The paint apps have been simplified, but even so there is enough variation and some good details—like the printed Nissan logo on the intake manifold—to keep things interesting. The interior is also outstanding, with excellent detailing on the dashboard, textured and painted pedals, and all of the appropriate levers in place on the steering column and center console. The steering wheel is black and silver with a printed GT-R emblem, and the gauge cluster is sharply printed and perfectly located under the dash shroud. The chassis is Jada's usual flat panel, which is actually appropriate this time as the GT-R's aerodynamics include a near complete bellypan. The wheels are matte black 5-spokes with low profile tires over silver brake rotors with gold calipers.
Features/Accessories
The doors, hood, & trunk open, with excellent alignment and smooth operating hinges.
Accuracy
Overall, this is a very nice representation of the GT-R. The lines are generally correct, the overall proportions look good, and the smaller details that make up Nissan's high performance machine. Comparing this to the (currently limited) images of Brian's car in Furious 7, it appears that Jada did a pretty good job capturing the modifications that make this GT-R unique. These include the CF hood & trunk, the 5-spoke wheels, and the custom rear wing. The wheels look a little big (scaling to approx. 25" diameter), which lifts the car a scale inch or two above where it should be. It's actually a bit big everywhere, working out to about 1:23 scale.
Overall
After the near-failure that was Dom's '70 Charger, it's nice to see such a solid entry from Jada. It's not perfect—Jada seems to be having more paint issues with these cars than they've had in previous series, and they still struggle with true scaling—but overall this is a good replica and a worthy addition to your Fast & Furious collection. Recommended.
Have a question, comment, or criticism about this review?
Send me an e-mail
with your thoughts!