Made By:
Jada Toys
Scale:
1/24
MSRP:
US$24.99
Overview:
Packaging (Design):
8/10
Packaging (Durability):
8/10
Casting (Body):
10/10
Casting (Interior):
9/10
Casting (Chassis):
8/10
Casting (Engine):
8/10
Paint (Exterior):
10/10
Paint (Interior):
N/A
Paint (Trim/Graphics):
10/10
Overall Panel Fit:
10/10
Total Score:
9.0/10

Other Camaro Models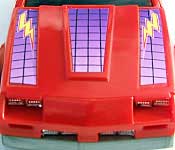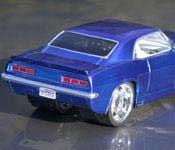 Avengers Grimm Camaro ZL1
'69 Camaro Pace Car (Review)
'69 Camaro
KITT
'67 Camaro (Review)
Troy PD SCCA Camaro
Bewitched '69 Camaro (Review)
Charlie's Angels '69 Camaro
'85 Camaro (Review)
Avengers 2016 Chevy Camaro (Review)
'16 Camaro (Review)
M.A.S.K. Thunderhawk
Transformers Bumblebee
"Heavy Chevy" Camaro (Review)
Blood Drive '67 Camaro
'71 Camaro (Review)
The Last Stand ZL1
'06 Camaro Concept (Review)
"Stylo" Camaro
Revenge of the Fallen Bumblebee
Other Comic & Manga Models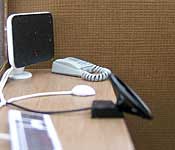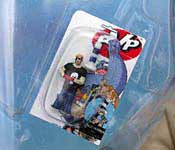 Transformers: Armada Hot Shot
Garfield Beach Car (Review)
Misery Machine
The Circuit Wolf BMW 3.0 CSL
Detective Comics #400 Batmobile
Zessyaka! Subaru 360 Deluxe
The Circuit Wolf Jota
It's Walky! 1986 Dodge Ram 50
Cyber Formula Asurada GSX (Review)
DC Bombshells Poison Ivy (Review)
Transformers Optimus Prime
PvP Mini Cooper
Batman #20 Batmobile
Judge Parker Corvette
Detective Comics #27 Batmobile
DC Bombshells Catwoman (Review)
Over Rev! Toyota MR2
Cyber Formula Asurada AKF-11 (Review)
Ctrl-Alt-Del Zeke
Shakotan Boogie Yanky Mate! Z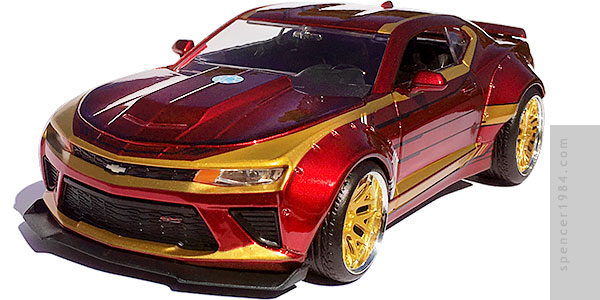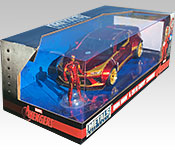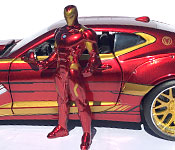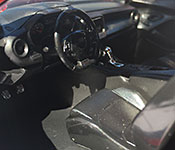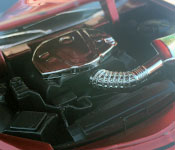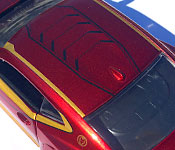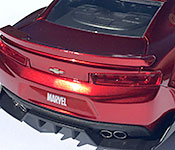 NOTE: This is a modified reissue of an existing model, and this review will focus on the changes made between the cars. You can see the original review for more details.
Background
Tony Stark is a man of wealth and taste. He likes cars that are obscenely fast and ludicrously expensive, like the Audi R8 and the Saleen S7. But when he dons his Iron Man suit, cars get blown up. Specifically, his cars. And other people's cars. Also military equipment, aliens, and his enemies, but especially cars.
Packaging
This is essentially the same packaging we saw for the Batmobiles, a wide box with the top forward corner being made of folded plastic to allow for an unobstructed view of the car and figure. The background of the box is the same dark gray textured to look like brushed metal, but now with a black and red band around the bottom of the front panel and both end flaps. The Marvel and Avengers logos are in the lower right corner under a portrait of Iron Man, and "Iron Man & 2016 Chevy Camaro" is written in the red part of the band under the window. The back panel has co-sells for Black Panther's Lykan HyperSport and Spider-Man's 2017 Ford GT. Inside, the Camaro is held to a folded cardboard tray via two screws with plastic bands around the hood and doors to keep them closed. Iron Man is in a separate plastic tray mounted near the front of the Camaro.
Casting/Paint
Casting-wise, the only difference between this and the Big Time Muscle version is that the rear spoiler is now a stock looking piece instead of the tall wing. I liked the work Jada did then, and I like it just as much now: sharp details, good panel fit, and clean work all around.
More obvious is the new paint scheme, a dark candy red with black and gold stripes. Jada has been trying to use this type of paint for a while, generally with more misses than hits. But this is simply outstanding work, with a deep red and metallic gold that looks far better in hand than the retouched photo on the back of the box. The registration is not 100% perfect—there may be a little more gold or red on one side or the other—but it's so close and the end result is so striking that it deserves the perfect score anyway. Beyond the primary Iron Man colors, the rest of the paint apps are just as good. A slightly darker gold is used for the Iron Man logos on the C pillars, while a lighter factory-correct gold is used for the front and rear Chevrolet emblems. A blue and white arc reactor is printed near the center rear of the hood bulge, The Marvel logo is printed in the rear license plate cutout, and a small "SS" badge is printed on the lower center grille.
Features/Accessories
The hood and doors open. The trunk opened on the original release, but has been permanently fixed here. A 1/24 Iron Man figure is also included, and is painted in the same colors as the car with equally good results.
Accuracy
This is not based on an existing design, but is instead a "character car" that simply uses an existing tooling with a new paint job to evoke a persona.
Overall
I generally skip character cars, preferring vehicles that actually appeared in the stories. But Jada not only managed to pull off a design that looks fantastic, they made something that actually feels like it could be part of the Marvel universe. The bold colors and over-the-top car mods feel very much like something Tony Stark would have as part of his self-promotion campaign. Highly recommended.
Have a question, comment, or criticism about this review?
Send me an e-mail
with your thoughts!