Made By:
Jada Toys
Scale:
1/24
MSRP:
US$24.99
Overview:
Packaging (Design):
9/10
Packaging (Durability):
8/10
Casting (Body):
9/10
Casting (Interior):
8/10
Casting (Chassis):
7/10
Casting (Engine):
7/10
Paint (Exterior):
8/10
Paint (Interior):
N/A
Paint (Trim/Graphics):
8/10
Overall Panel Fit:
9/10
Total Score:
8.1/10

Other Modern TV Models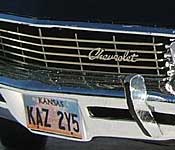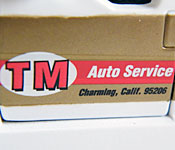 Blood Drive Camaro
Agents of SHIELD Lola
Stranger Things Chevy Blazer (Review)
Supernatural Impala (Review)
Stranger Things Chevy Van
Rick and Morty Space Cruiser
Sons of Anarchy Wrecker (Review)
CSI: Miami Hummer
The Walking Dead RV
iZombie Police Car
Supernatural Impala
Agents of SHIELD Hell Charger
Top Gear Stig
The Walking Dead M35A3
Supernatural Chevelle
2½ Men Mercedes
Robot Chicken Turbo Teen
The Walking Dead Chopper
Monster Garage Wedding Chapel
Other Camaro Models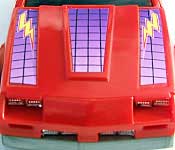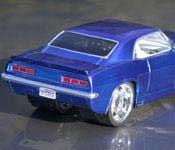 Troy PD SCCA Camaro
M.A.S.K. Thunderhawk
'85 Camaro (Review)
Furious 7 Off-Road '67 Camaro (Review)
'69 Camaro
"Stylo" Camaro
"Heavy Chevy" Camaro (Review)
Bewitched '69 Camaro (Review)
Revenge of the Fallen Bumblebee
'71 Camaro (Review)
'06 Camaro Concept (Review)
Avengers Grimm Camaro ZL1
'67 Camaro (Review)
Blood Drive '67 Camaro
Charlie's Angels '69 Camaro
'69 Camaro Pace Car (Review)
'16 Camaro (Review)
KITT
Avengers 2016 Chevy Camaro (Review)
Transformers Bumblebee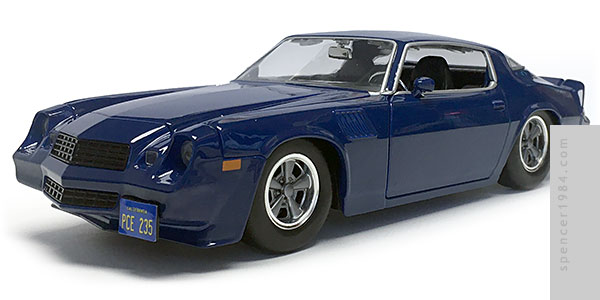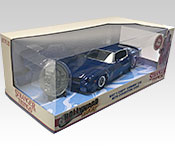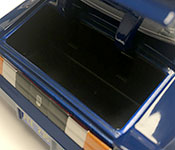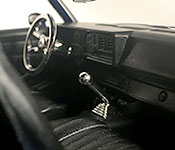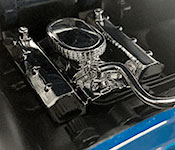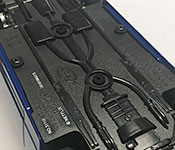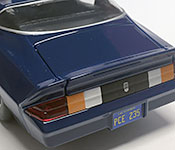 Background
Part of Stranger Things' appeal is how it incorporates nostalgia into its story. Some of that is overt, with callouts to Ghostbusters, Dungeons & Dragons, etc., but some of it is more subtle - like the town's police chief executing his official duties in a two-tone Chevy Camaro.
Packaging
The box here is nearly identical to the one we saw for Hopper's Blazer. The only differences are that the text under the main window has been changed to "Billy's Chevy Camaro Z28 with Collectible Coin," and the photo and legend on the back has been updated appropriately. Also, thanks to the Camaro's lower stance, it's a lot less frustrating to undo the two screws holding it in place. Plastic bands hold the doors and hood closed, and the coin takes the place of Hopper's badge in the box.
Casting/Paint
While this is a new (or at least highly modified) tooling, it feels very much like an old school Jada car. The entire body appears to be diecast, with only a few small details cast in plastic. These include black for the grilles and license plate bracket, clear for the lights and windows, and transparent red for the taillight panel. The sideview mirrors eschew the usual vinyl for rigid plastic painted to match the body, and the inserts are chrome plated. Paint is generally good, with a nice consistent finish even around seams and character lines. There is a slight orange peel to the broad flat surfaces of the hood and roof, along with a few flecks in the left door and rear fender, but they're relatively small and easy to overlook from most angles. The window trim is painted silver, the front corner markers and rear directionals are orange, the reverse lights are silver, and the tail panel is black with a neatly printed Camaro badge in its center. The license plates are stickers with the correct California/PCE-235 yellow on blue markings.
The interior is cast in black plastic with chrome parts for the steering wheel/column, shift lever, rear-view mirror, and pedals. There's some nice engraving all around, including the comfort controls & radio on the dash, ribbed patterns on the seats, and fully detailed door panels with grab handles, latches, and window cranks. The gauges are done with stickers, and have sharp printing and are placed perfectly.
Under the hood is a (mostly) recognizable small block Chevy V8. The valve covers, intake manifold, and air cleaner are all done in chrome, and while that's standard fare for Jada it actually feels appropriate for this car. They're clearly not stock components, and this being set in the era of Moroso dress-up kits, it stands to reason that Billy would have a few bolt-on chrome accessories under the hood. These chrome parts are attached to a black tray that has vestiges of a belt assembly, SBC exhaust headers, and what appears to be dual electric fans.
The chassis is a little better than usual: from broad strokes like the transmission, exhaust, and rear leaf springs to small details like the anti-sway bar, oil filter, and collector pipes, Jada has a pretty reasonable 2nd-gen Camaro chassis here. They even did nice work with the filler panels by the rear wheels (a slammed look has forced the rear wheels up so far that they rub against the inner fenders, preventing them from spinning freely.
Accuracy
After the Blazer's "close enough," it's astonishing how much Jada got right here. Billy's Camaro is a bit of a Frankenstein, having the Z/28 front fenders and spoiler but the SC/RS/Berlinetta hood and chrome trim. Jada hit all of these points, missing only the paint apps to give the headlight bezels and door handles their chrome trim. We finally have a set of screen-accurate license plates, and while they're not quite the right size (nor do they match), it's such a huge step in the right direction that I'll take it. Aside from the ride height, the only thing that is really off here is the too-flat lower sides, but that's such a common problem for scale replicas that I barely even count it as a problem any more. Scaling is the usual "slightly too big," coming in around 1/22.5.
Overall
When I first saw Hopper's Blazer, I wanted it immediately...then the longer I looked at it, the more I saw weird little things that dragged it down. Billy's Camaro is the complete opposite. I actually passed on it the first time I saw it, disliking the slammed look and frustrated about seeing it before the Blazer (but distribution is a topic for another day). I'm glad I gave it a shot, as the more i see the more I like. Whoever was in charge of this project really put in the time to get it right, and most of the liberties taken (and even a few of the flaws) become part of its character rather than detriments. Recommended.
Have a question, comment, or criticism about this review?
Send me an e-mail
with your thoughts!