Made By:
Mega Construx
Scale:
N/A
MSRP:
$4.99/figure
Overview:
Packaging (Design):
10/10
Packaging (Durability):
8/10
Casting (Body):
9/10
Casting (Interior):
N/A
Casting (Chassis):
N/A
Casting (Engine):
N/A
Paint (Exterior):
9/10
Paint (Interior):
N/A
Paint (Trim/Graphics):
10/10
Overall Panel Fit:
9/10
Total Score:
9.5/10

Other Video Game Models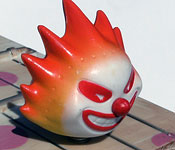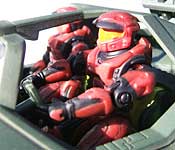 Need for Speed Mustang GT (Review)
Twisted Metal Sweet Tooth (Review)
Real Drift Corvette Z06
Portal 2 Defective Sentry
Need for Speed '69 Charger (Review)
HALO 2 Warthog (Review)
Metallo
Fortnite Figures
Ghostbusters: The Video Game Ecto-1B
Half-Life 2 Muscle Car
Borderlands 3 Claptrap (Review)
LEGO Batman Batmobile
Mega Man 66 Action Vol. 2 (Review)
Arkham Knight Batmobile (Review)
MarioKart DS Royale (Review)
Need for Speed Murciélago (Review)
LEGO Dimensions Ecto-1
SpyHunter 2 Saleen S7
Star Fox 64 Arwing (Review)
MarioKart DS B-Dasher (Review)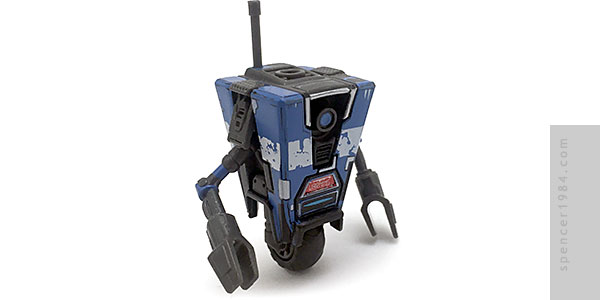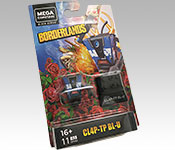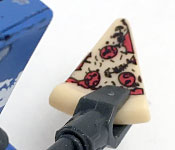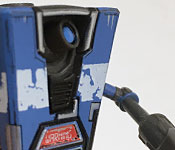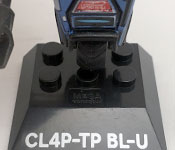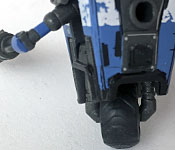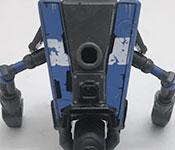 NOTE: This is a repaint of an existing model, and this review will focus on the changes made between the figures. You can see the original review for more details.
Background
RT-FC and his friend, ICU-P are on a mission to deliver an important message to Toby Van Adobe. Afterwards, they make their way south and stand next to the bridge to Solitude Junction.
Packaging
CL4P-TP BL-U uses the same type of packaging as Claptrap, including the nifty pull tab to make it easy to open. Said tab is now to the left of a slice of pizza rather than a communicator, and the card art is an all-new piece featuring the blue robot wielding the slice among the Borderlands roses.
Casting/Paint
Unsurprisingly, the casting here is identical to the yellow version. What isn't the same, though, is the decoration. Rather than a straight color swap, Mega actually put together a whole new design with different wear marks, different panel lines, even the "WARNING" light on teh front of the unit has been redone. It was an extra step they didn't have to do, but the result is well worth it when looking a the two of them side by side.
Features/Accessories
As before, the antenna and shoulder flaps are packed separately and need to be installed. Getting the shoulder f laps into place was much easier this time, so either this is a different type of plastic or the parts were retooled just enough to correct the tolerences. Either way it's appreciated. This release has also replaced the ECHO communicator with a slice of pizza, decorated with pepperoni and fish skeletons just like the oil, pepperoni, & cheese pizza from Claptrap's New Robot Revolution. It's made from soft vinyl and the crust is a standard 3mm diameter so it can be held by LEGO minifigs as well.
Accuracy
I've never seen a BL-U variant of the CL4P-TP outside of Mega's figure here. However, it does bear a striking resemblance to RT-FC from Borderlands: The Pre-Sequel. Given that "RTFC" is often used by programmers as a frustrated expletive, Mega may have simply wanted to play it safe knowing this was going to be in toy aisles (much like McFarlane did by omitting certain stickers from Darryl's bike).
Overall
I've never shied away from repaints, especially with army builders like Claptrap here. But with the all-new deco and different accessory? Getting this was a no-brainer after seeing how good the first one was.
Have a question, comment, or criticism about this review?
Send me an e-mail
with your thoughts!