Made By:
Mega House
Scale:
1/24
MSRP:
¥11,000
Overview:
Packaging (Design):
9/10
Packaging (Durability):
10/10
Casting (Body):
9/10
Casting (Interior):
9/10
Casting (Chassis):
9/10
Casting (Engine):
N/A
Paint (Exterior):
9/10
Paint (Interior):
N/A
Paint (Trim/G Aeroraphics):
9/10
Overall Panel Fit:
9/10
Total Score:
9.1/10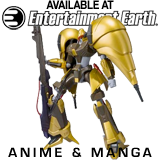 Other Comic & Manga Models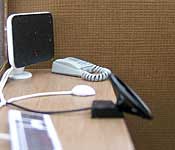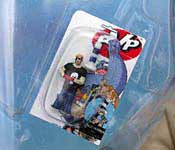 Misfile XR4Ti
Detective Comics #400 Batmobile
Detective Comics #377 Batmobile
Transformers Optimus Prime
Judge Parker Corvette
Detective Comics #27 Batmobile
Cyber Formula Asurada AKF-11 (Review)
Lupin III Mercedes-Benz SSK (Review)
Batman #164 Batmobile
Cyber Formula SIN Asurada Aero (Review)
G1 Prowl
Batman #408 Batmobile
PvP Mini Cooper
Detective Comics #800 Batmobile
Cyber Formula Fire Superion (Review)
Cyber Formula Super Asurada (Review)
Detective Comics #597 Batmobile
The Circuit Wolf BMW 3.0 CSL
Cyber Formula Asurada GSX (Review)
Ctrl-Alt-Del Zeke
Other Cartoon & Anime Models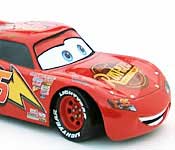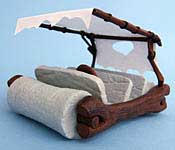 Lupin III Mercedes-Benz SSK (Review)
Chop Socky Chooks Cars (Review)
Cyber Formula SIN Asurada (Review)
My Neighbor Totoro Catbus (Review)
Roadster Racers Minnie (Review)
Cyber Formula Knight Savior (Review)
Vifam Twinklehead
Planes 2 Firefighter Dusty (Review)
Cyber Formula Fire Superion (Review)
Cars Mack (Review)
Cyber Formula Asurada AKF-11 (Review)
M.A.S.K. Piranha
M.A.S.K. Thunderhawk
Who Framed Roger... Benny (Review)
Battle Force 5 Saber (Review)
Rick and Morty Space Cruiser
M.A.S.K. Manta
Speed Buggy Speedy
Cars Lightning McQueen
Cyber Formula Experion Z/A-8 (Review)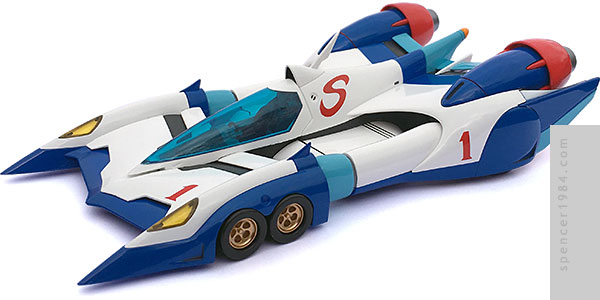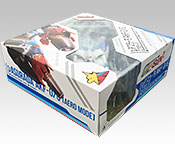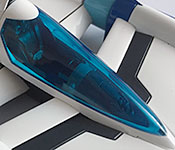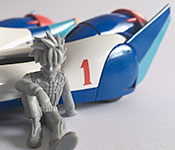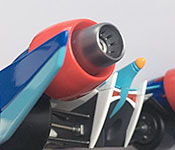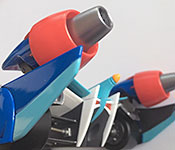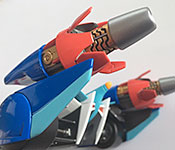 Background
After the events of Future GPX Cyber Formula, Hayato Kazami has successfully defended his champion title in the 2021 Cyber Formula World Grand Prix XVI. Kazami's racing team announces a partnership with GIO Motors Inc., thus becoming Sugo GIO Grand Prix with Kazami driving the updated Asurada. When extra speed is required, the new Asurada is capable of reconfiguring itself from the Technical Circuit mode to either Aero Boost or Spiral Boost modes.
Packaging
Befitting the fact that this is simply a reconfiguration of the previous Asurada, the box is nearly identical: still 10¾" (27cm) square and 4" (10cm) deep, a similar irregular window cut diagonally across the top of the box to show off the car, etc. The colors and arrangement is identical, save for having one less technical drawing thanks to the large space required to show off the image of the Spiral Boost mode engines. The inside of the box has a similar section of track and grassy field, but this time it's a straightaway (though they chose to put the track at right angles to the box, meaning that the car is canted with one back corner and one front corner in the grass).
Casting/Paint
The casting and paint continue Mega House's run of high quality cars, and in fact may literally contain parts recycled from the previous Asurada. The cockpit, wheels, chassis, and many of the upper fuselage components look identical, and would be a smart way of keeping continuity between releases. I have to assume that the only reason why this is not a set of alternate parts in that release à la the Ogre is that nothing between the upper and lower sections remained the same. the front wind is flatter and wider, the cockpit surround is not the fender tops, the waist is now wider and flatter, and the rear is now skirted and recolored, with different airfoils coming out the back. These are all very well done, with the expected sharp casting and fine paint work. The colors are the same as the Technical Circuit mode, with no sign of slop, chips, or bleed. It's one of Mega House's cleanest paint jobs, which is a very high bar. The lights are transparent yellow and the canopy is transparent blue. The chassis is dark metallic gray, and the wheels are bright gold with black hard plastic wheels. The cockpit is detailed with a separate steering wheel and seat belts, with good sharp casting.
Features/Accessories
The only thing that changes on this car is the rear end: the engines can be swapped out to show the short tail versions, long tail versions, or fully open (Spiral Boost mode) versions. A pair of standoffs can be inserted to raise them off the rear deck. Additionally, the winglets behind the rear wheels can be replaced to point straight back or tipped up. Finally, a 1/24 scale vinyl figure of Hayato Kazami is included. This one is posed much like Bleed Kaga, taking a rest between races.
Accuracy
As a continuation of the Asurada AKF-0/G, it looks like a more elaborate parts swap and nothing more (which is a good thing). Scaling remains consistent with their other Future GPX Cyber Formula releases.
Overall
While the execution is very nearly flawless, this is possibly one of Mega House's weakest offerings thanks to the subject. It's essentially a modified reissue, and while I completely understand the reason for doing it this way it's still not as visually interesting as some other designs. The appeal may go up if you missed out on the previous Asurada, since this is a good representation of the Hero's main ride.
Have a question, comment, or criticism about this review?
Send me an e-mail
with your thoughts!