Made By:
MotorMax
Scale:
1/24
MSRP:
US$11.99
Overview:
Packaging (Design):
10/10
Packaging (Durability):
8/10
Casting (Body):
9/10
Casting (Interior):
9/10
Casting (Chassis):
7/10
Casting (Engine):
8/10
Paint (Exterior):
9/10
Paint (Interior):
10/10
Paint (Trim/Graphics):
7/10
Overall Panel Fit:
8/10
Total Score:
8.5/10

Other Factory Stock Models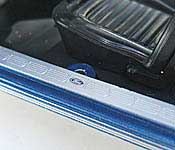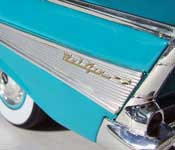 Chevrolet Suburban (Review)
'69 Chevelle (Review)
Ford Crown Vic
Judge Parker Corvette
DeLorean DMC12 (Review)
'84 Monte Carlo SS
'70 Challenger (Review)
3000 Miles to Graceland Cadillac
Diamonds are Forever '71 Mustang
Rush Hour Corvette
Bruce Almighty Saleen S7
Pontiac Solstice (Review)
Ford Escape
'84 Monte Carlo SS Redux
AMC Gremlin (Review)
Terminator 2 Harley-Davidson
'49 Mercury Convertible (Review)
Saleen S7 (Review)
Thunderbolt & Lightfoot Firebird
Gunsmith Cats Shelby GT500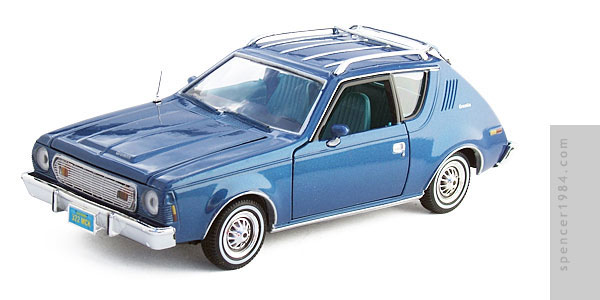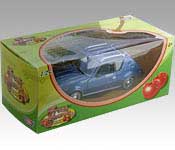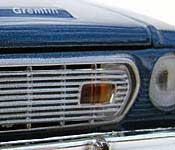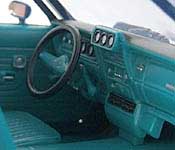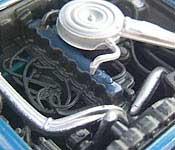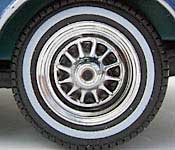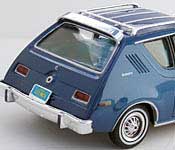 Packaging
The "Fresh Cherries" line is packed in a retro-flavored green and yellow window box with relatively few callouts. The FC logo appears once on all six sides, and the MotorMax logo appears on the end flaps, top, bottom, and back. The scale and age restriction (8+) are on the front of the box on either side of the window, and the legal info is all on the bottom of the box. Other than that, all effort is devoted to making a clean, cool looking design. The window is cut in the shape of a cherry, and a cherry graphic is on the bottom right corner of the front of the box. Watermarked images of the Gremlin and Pinto repeat across the yellow parts of the box, while the green parts are solid. The car is held to a tray by two screws, and the tray features the model-specific information and a watermarked photo of the diecast.
Casting/Paint
Both casting and paint seem very clean for the most part. Some greater care could have been taken while removing the chrome parts from their parts trees - there are chips at both ends of the spoiler - but overall everything fits together tightly and looks good. The metallic blue on the body is nice & consistent with no noticeable flaws, and has a nice gloss to it. Trim is a bit of a mixed bag: the wheel arches, bumperettes, and drip rail seems to wander a bit, but the window trim, taillight bezels, and grille are perfect. The grille is a very nice piece, as MotorMax is using the painted clear plastic to provide a see-through grille without the expense of a photoetched piece. The effect works better here than usual, because the Gremlin has relatively small openings and a deeply cast bar relief. Together, they work to hide the reflection glare found on most painted clear plastic grilles. The inside is just as nice, with textured seats, and a well-detailed and painted dashboard. Things get even more impressive under the hood. A clever use of multiple layers creates the effect of a fully wired & plumbed straight-six engine. The paint doesn't quite live up to the same high standard, but it looks good nonetheless.
Features/Accessories
The doors and hood open, and the front wheels can be posed and are tied to the steering wheel. The hinges all move smoothly and close tightly, though the driver's door has a tendency to pop back open a hair. In a nice move by MotorMax, the window frames move with the doors and actually look correct - something that most manufacturers in this price class have traditionally ignored.
Accuracy
The Gremlin is a relatively easy car to make recognizable: just make a hatchback with those triangular C-pillar, and most people will know what it's supposed to be. Fortunately, MotorMax didn't cheap out here. The proportions all look spot-on, and the body is very well detailed. The bumpers look like they should have slightly longer tips, but that's a minor issue. Some people have commented that the wheels look too small, but they measure out to a perfect 14" diameter in 1/24 scale. The rest of the car's scaling looks just as good, measuring out to 1/24 scale all around.
Overall
MotorMax deserves credit not only for taking a stab at making a diecast Gremlin, but for doing it well and selling it at a price most collectors can afford. It's definitely not a subject that will suit everyone's taste, but if you want something a little different on your shelf, need a base for an unusual custom project, or just enjoyed the oddity of the 1:1 car, this is a great little replica. Highly recommended.
Have a question, comment, or criticism about this review?
Send me an e-mail
with your thoughts!