Made By:
Motorsports Authentics
Scale:
1/24
MSRP:
$60
Overview:
Packaging (Design):
9/10
Packaging (Durability):
10/10
Casting (Body):
8/10
Casting (Interior):
8/10
Casting (Chassis):
8/10
Casting (Engine):
8/10
Paint (Exterior):
10/10
Paint (Interior):
8/10
Paint (Trim/Graphics):
9/10
Overall Panel Fit:
8/10
Total Score:
8.6/10

Other Racing Vehicle Models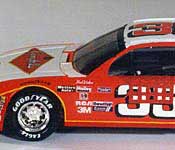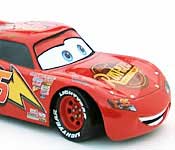 Born 2 Race Subaru Impreza WRX STi
Cars Lightning McQueen
'13 GoDaddy #10 Chevy SS (Review)
'15 Rev Racing #4 Camry
Cyber Formula Asurada GSX (Review)
Ford GT (Review)
Spinout Shelby Cobra (Review)
Cyber Formula Fire Superion (Review)
Cyber Formula Stealth Jaguar (Review)
Transformers Jazz
Blonde Comet Open Wheel Racer
Driven Target CART Racer
'05 Indy Pace Car (Review)
The Circuit Wolf Lotus Europa
Cyber Formula Asurada AKF-11 (Review)
'04 Justice League Parade Car (Review)
Red Line 7000 Ford Galaxie
The Love Bug Herbie
Cyber Formula SIN Asurada (Review)
Cyber Formula Experion Z/A-8 (Review)
Other 2000s Movie Models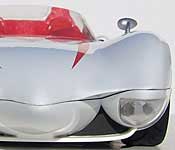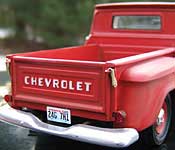 Cars Mack (Review)
Ninja Cheerleaders VW Beetle Cabriolet
2012 Lincoln Town Car
The Transporter BMW 735i
Speed Racer Mach 5 (Review)
Dukes of Hazzard General Lee
Sex Drive 1969 GTO
Driven Target CART Racer
Minority Report Lexus
Charlie's Angels 1969 Camaro
Ghost Rider Stunt Bike (Review)
Fast & Furious '70 Charger
Avatar AT-99 Scorpion
Death Proof 1969 Charger (Review)
The Matrix Reloaded Escalade EXT
Collier & Co: Hot Pursuit Traveller
Terminator 3 Lexus
Transmorphers: Fall of Man Police Car
Watchmen Owl Ship (Review)
P2 Oldsmobile Cutlass Supreme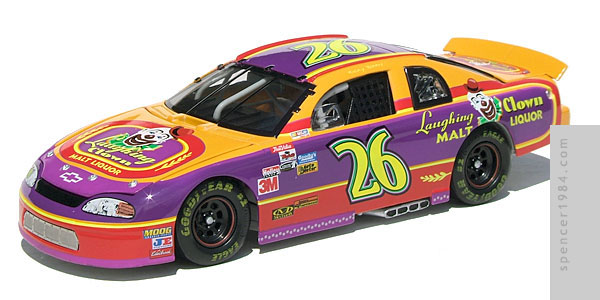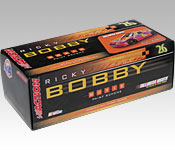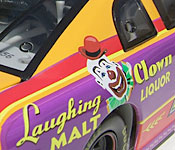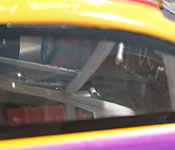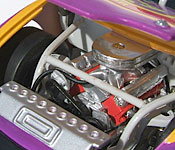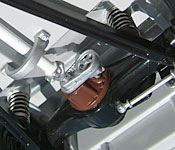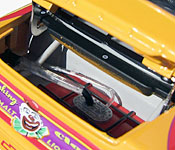 Background
Talladega Nights: The Ballad of Ricky Bobby was the second film in Will Ferrell's Mediocre American Man Trilogy (after Anchorman: The Legend of Ron Burgundy). When Ricky Bobby (Ferrell) gets his first chance behind the wheel of a true NASCAR racer, it is as the mid-race replacement for his team's driver. That first car was this 1996 #26 "Laughing Clown Malt Liquor" Chevrolet Monte Carlo. He quickly switches to the more famous "Wonder Bread" car, but its brief time on-screen was enough for Motorsports Authentics to issue the car under their Action Collectibles banner.
Packaging
Action Collectibles uses shoebox packaging similar to Team Caliber with a lift-off shell and a two part foam tray. The box is very dramatic, with the Action logo, "Ricky Bobby," "Movie Paint Scheme," car number, and movie title on the front, back, and top panels. The front and back panels also include the "Officially Licensed NASCAR" logo and Action Collectibles tagline. The box top has a retouched photo of the model, "Ricky Bobby" signature, and "1:24-Scale Stock Car Limited Edition Adult Collectible." The graphics are color-keyed to match the car inside, which is a very nice touch. One end panel has the two-digit year the replica was issued (06), Action "A" logo and website, barcode, and a silver sticker that includes the driver name, car number, sponsor, car type, edition size (2508), and part number. The other end panel is much simpler, with only the Action and Action "A" logos and copyright information. The bottom of the box has a standard boilerplate that covers all of the cars offered by Motorsports Authentics/Action. Because this vehicle depicts a (fictional) adult beverage, this also includes a notice that it is not to be sold to anyone under 21 years of age.
Casting/Paint
To recreate the fifth-generation Monte Carlo used in the movie, Motorsports Authentics used one of their older toolings. So it lacks some of the details we see on later replicas (for example, this does not have working roof flaps or sprung suspension), but generally holds up very well thanks to the clean assembly and outstanding paint applications. The body and chassis pan are diecast metal, with plastic used for the roll cage, engine, suspension, and trunk details. The engine is painted silver with orange heads, chrome valve covers, and a chrome air cleaner. Extra details include upper and lower radiator hoses, starter, multi-piece exhaust headers, and the belt assembly with separate alternator, power steering pump, and oil pump. There is a wired distributor cap just barely visible against the firewall, with the wires tucked up under the headers. This is a good example of MA making the most of the older tooling: it isn't quite as refined as a newer car, but they did good work with what they had. The chassis isn't quite as clean thanks to some rough work on the exhaust pipes and some heavy parts used on the front suspension and rear shocks. But the metal springs and some extra details like the rear oil pump, multi-color driveshaft, and transmission linkage help push this score back up. A fuel cell, fill line, and vent line are in the trunk—the only real "miss" on the whole model thanks to some poorly aligned parts. The interior is very well done, with a detailed roll cage and good paint work on the gauges, vent hoses, fire extinguisher, and seat. A soft vinyl window net and separate suspension adjustment shafts further add to its appearance. The only downside is the serial number printed across the rear dash - great for collectors who want it easy to read and hard to forge, but not so good for those of us who want a more accurate replica.
Nice as all this is, the real standout work here is the paint. The colors are bright and clean, without a hint of overspray, dust, or other imperfections. Gloss is just enough to make the car look new, without drowning in a gallon of clearcoat. The window frames are equally well done, as are the wheels (which have painted center caps, lug nuts, red pinstripes, and tire lettering). The only things holding it back from a perfect score are the windshield tabs, which show orange near some edges, and a color shift in the purple along the leading edge of the hood.
Features/Accessories
The hood and trunk open, and use thin metal hinges to reduce visual intrusion. They open and close easily, and hold whatever angle you set them to. The front wheels also turn, but are not tied to the steering wheel.
Accuracy
No surprises here - Action Performance first secured their exclusive license with Dale Earnhardt back in 1992, so by the time Motorsports Authentics had acquired them these cars were down to a science. Proportions are good, paint is good, scaling is good, and the details are correct.
Overall
Motorsports Authentics did a great job proving that you don't have to have the newest gizmos to make a beautiful replica. While the technology has improved since this casting was first created, the quality evident in both assembly and painting let this fit in with newer cars perfectly. And while it's not the most famous car from Talladega Nights, it's very much worth getting. Highly recommended.
Have a question, comment, or criticism about this review?
Send me an e-mail
with your thoughts!