Site Features
Getting Started in the Hobby
Model Categories
Made By:
Welly (sold as FuRyu)
Scale:
1/24
MSRP:
US$15.00
Overview:
Packaging (Design):
8/10
Packaging (Durability):
7/10
Casting (Body):
8/10
Casting (Interior):
8/10
Casting (Chassis):
7/10
Casting (Engine):
8/10
Paint (Exterior):
8/10
Paint (Interior):
8/10
Paint (Trim/Graphics):
7/10
Overall Panel Fit:
8/10
Total Score:
7.8/10

Other 1980s Movie Models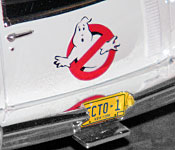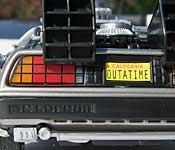 Transformers Hot Rod (Review)
The Philadelphia Experiment Charger
Gremlins VW Beetle
Transformers Optimus Prime
Gotcha! Citroën 2CV
Stroker Ace Thunderbird Stock Car
Gone in 60 Seconds 2 Slicer
Batman Batmobile
Blues Brothers Bluesmobile (Review)
Star Wars Speeder Bike (Review)
Who Framed Roger... Benny (Review)
The Terminator Custom Pickup
Tucker: The Man... Tucker (Review)
Cobra Mercury
Indiana Jones and the Last Crusade Bike
Sharky's Machine Dodge Diplomat
Ghostbusters Ecto-1 (Review)
BTTF DeLorean (Review)
Smokey & the Bandit 2 Firebird T/A
Night of the Comet 1953 Buick (Review)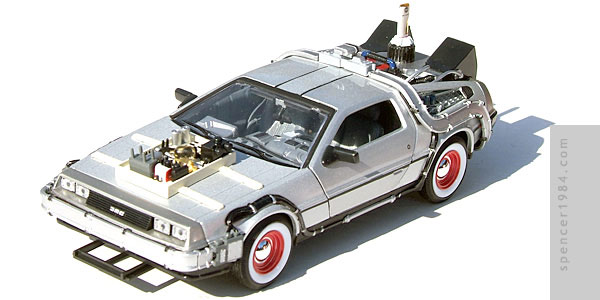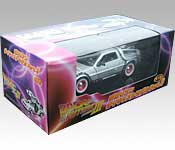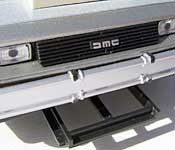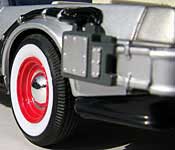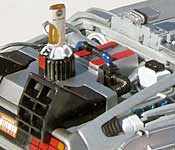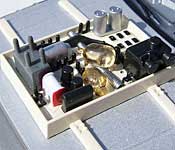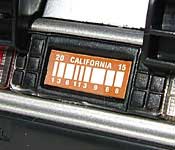 NOTE: This is a modified reissue of an existing model, and this review will focus on the changes made between the cars. You can see the original review for more details.
Packaging
The same box style as the previous movie DeLoreans, now with a new "electric swirl" background, new photos, and updated titles. As before, Mr. Fusion is packed separately in a plastic baggie taped to the underside of the inner tray.
Casting/Paint
This is visually the most radical departure from the previous cars, thanks to three major changes. First, the 1950s time circuit is strapped to the hood. Second, an extra frame has been added under the front bumper from the scene where the DeLorean was being pulled by the horse team. Finally, it's now riding on a set of wide whitewalls with red wheels and baby moon caps. The time circuit has been simplified, but retains enough of the major details to look pretty good. Even better, it (along with Mr. Fusion and the new wheels) show none of the slop I saw on the BTTF2 car. Plus, the license plate has finally been upgraded to the 2015 bar code.
Features/Accessories
Nothing new here, although the Mr. Fusion did not fit as well here as it did in the BTTF2 car. I ended up having to put a drop of glue on it to prevent it from flopping over.
Accuracy
Mr. Fusion is still wrong, but the better paint doesn't draw attention to it any more. The tires are slightly smaller and the car is riding a bit lower than it was in BTTF3, but nothing that really ruins the overall look.
Overall
After a disappointing "Part 2" car, it's nice to see that the series was able to end on a high note. It's still not a masterpiece, but it's generally well done and provides a nice change from the other DeLoreans. Definitely recommended.
Have a question, comment, or criticism about this review?
Send me an e-mail
with your thoughts!