Site Features
Getting Started in the Hobby
Model Categories
Friday, November 26. 2010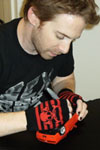 Has it really been over a month since NYCC? The delay getting this car posted was thanks to my work finishing off its
companion piece
. I had actually started work on the Firebird first, with the eventual intention of building the Mustang later.
Then I found out that Robot Chicken creators Seth Green & Matt Senreich were going to be at the Con, so the Firebird was put on hold so that I could get the Mustang finished.
Time at the work bench has been somewhat short since then, and I was only recently able to get the Firebird finished and posted. But not that that's out of the way, I have posted the writeup for the
new version
.

Comments
Display comments as (
Linear
| Threaded)
No comments