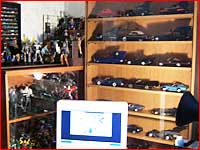 Tip for January 2010:
Inexpensive Display Cases
Whether you're a collector or builder, one thing that is always in demand is a dust-free place for your model. Commercial display cases are great, but can be expensive. You can make your own case for a lot less, though. Bookcases and DVD/CD cases can be found at yard sales and discount stores, and clear plastic (available as poster frames or in sheets at many hardware stores) can be purchased new for under $10. With just a little work, you can have your own high-quality case for just a few dollars.