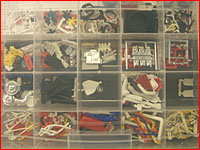 Tip for February 2010:
Keep Parts Organized
If you've been building for a while, you likely have a box or two full of spare parts left over from previous models. A great way to keep your parts organized is to purchase a craft organizer or tackle box. They can be purchased for very little money, and the time you save trying to locate a starter or a fuel pump in a box full of "miscellaneous" will be well worth the effort.