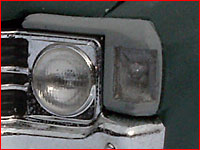 Tip for August 2013:
How to Make Broken Lights
Broken lenses can add extra detail to your beater, junkyard diorama, or "work in progress." They're also easy to make: simply drill trhough the center of a cast-in light, and use a hobby knife to enlarge the hole to teh edges of the lens. Then glue a strip of plastic to the inside of the body to create the socket. Paint this silver, add a small bead, piece of plastic, or dot of glue to the center of the socket for a bulb, and you're done!