Site Features
Getting Started in the Hobby
Model Categories
Monday, February 27. 2006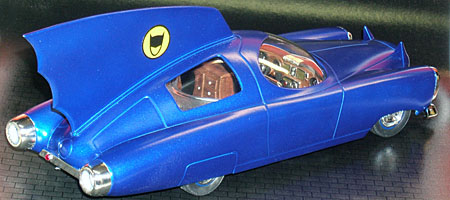 The '52
is essentially done at this point, just a final polishing and it can join the others.
In non-Batmobile news, I've got a new project on the bench: a '69 GTO convertible, based on a resin kit by R&R Vacuum Craft. The kit is a good starting point, but it needs some work to become what I want. The biggest thing that needs to be redone is the chassis & running gear: it looks like it was cast from a promo, so details are limited. I'll be combining parts from Monogram's '69 and AMT's '69 Chevelle to get fully detailed piece.
The hood and nose also needed to be reworked to make them fit correctly, and the windshield needed major cleanup. The body details are nice & crisp, so I was a little suprised at how rough the hood fit was...not so surprised with the windshield frame, as most convertibles need work here. I also have the engine assembled & painted, ready for detailing.
Comments
Display comments as (
Linear
| Threaded)
No comments