What Have You Built Today?
It's a question that everyone deserves to be able to answer. Regardless of you age, race, gender, or income level, we as a species want to build things. Some get to do that as part of their job, but more frequently the things we create in our daily lives are intangible. We make spreadsheets, we make plans, we make posts, we make money. But unless you have your own Scrooge McDuck-style Money Bin, none of those are things you can really hold, revisit, or show someone else. You get no reward for the effort you've put in to creating something.
That's where hobbies come in. Hobbies give you a chance to create something for its own sake, to express yourself and your interests the way we've been hard-wired to do for millennia. And one of the most flexible hobbies out there is model building. It's a hobby that can be enjoyed by kids, adults, rich people, poor people, men, and women, with subjects ranging from military history to pop culture to modern transportation to toy customization. There really is something for everyone.
Although this site focuses on 1/24 scale pop culture items, we have examples demonstrating a wide range of modeling techniques, including:

Also on this site are 1/24 vehicle reviews, notes for parents, a safety guide, tips for new modelers, a page for other people's work, some things to download & purchase, an advertisement gallery, and the Tip of the Month archive. No matter what your current skill level is, you'll likely find something of interest here.
Behind the Scenes
This site was first launched on May 8, 1998, during the pre-Windows98, pre-Google days of Web 1.0. Like many sites of the time, its focus was loose - there was only the vague idea about connecting with other people who shared the hobby of model building. But that focus narrowed soon enough, and the site became fully dedicated to promoting scale models and modeling in all incarnations. This focus was prompted by two things. First, despite the number of scale modeling sites out there, very few seemed to consider building and collecting to be equally valid. Second, as we all move towards a more digital environment, we wanted to create a reminder that there was a hobby in the physical world that could be enjoyed by kids and adults alike.
While the entirety of this site would not exist without the work of hundreds of people—fellow builders and collectors, manufacturers, bloggers, new agencies, and more—the bulk of the content in these pages is the work of two people:
---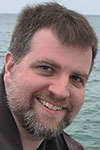 Bill grew up during the silver age of "car movies" and "car shows," when Bandit's Firebird, the General Lee, KITT, and the A-Team's GMC van were the coolest things around. That time was also the pinnacle of TV tie-ins, featuring the most famous half-hour toy commercial ever: Transformers. That combination of factors left an impression that grew into a life-long hobby.
When the internet came into popularity in the mid-1990s, it added a whole new dimension to the hobby. There were sites that allowed builders to purchase models and toys from all over the world. Message boards and mailing lists (later replaced by forums and social media) provided the opportunity to talk directly with fellow builders, manufacturers, collectors, artists, and more. Vast new sources of inspiration and information suddenly appeared. This site was created to be part of that network, and has been growing now for almost 20 years.
---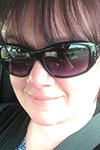 Mary's formative years were spent watching TV shows like The A-Team and Knight Rider, so she recognizes the value of a good four-wheeled costar (to this day, you will more likely find her in the audience of Fast & Furious 6 than Before Midnight). She also understands the need for creative outlets for both kids and adults, and the role scale modeling can play fulfilling that need.
Although she has built a couple of models over the years, her true skills lie in the written word. As such, she works primarily as this site's editor and information source. She also often functions as a public liaison at shows, conventions, and other events. While most of this work keeps her behind the scenes, you can read a few pieces written by her in the archives.