Site Features
Getting Started in the Hobby
Model Categories
Original Kit:
Rain-X SCCA Camaro
Made By:
Revell (kit #7358)
Scale:
1/25
Other Police Models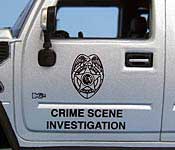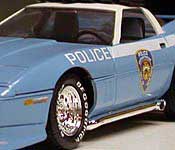 Short Time Dodge Diplomat
CHP Diablo
Transmorphers: Fall of Man Police Car
Jaws Blazer
Men in Black III Taurus SHO (Review)
Blue S.W.A.T. Striker EX (Review)
NYPD Corvette
CSI: Miami Hummer
Highway Patrol Buick
Sharky's Machine Diplomat
Other Camaro Models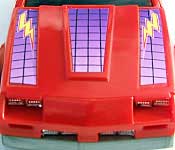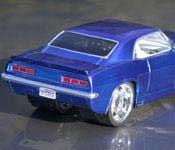 M.A.S.K. Thunderhawk
KITT
Charlie's Angels 1969 Camaro
Furious 7 Off-Road '67 Camaro (Review)
Bewitched '69 Camaro (Review)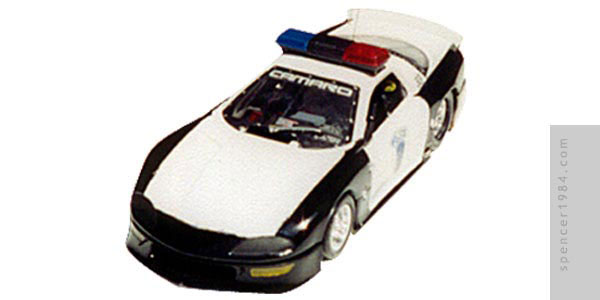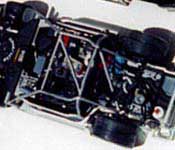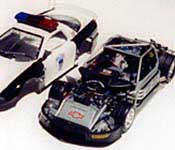 This is actually a kit that I did several years ago, when I first started really getting into model building. It was my interpretation of the "ultimate" high-speed pursuit vehicle, taken from Scott Sharp's 1993 SCCA Chevy Camaro.
Being that this was an early model for me, there is a lot of stuff on it that was done with more enthusiasm than knowledge (i.e., Troy's police department has dark blue cruisers with a gold and white stripe down the side). Still, there are quite a few things that I like about it. Much of the detail inside and out was scratchbuilt, and I learned a lot about making and detailing parts during it's construction. Some of the features on the car are a forced-air intake, reinforced crash cage, twin forward machine guns in the air dam, and on-board computer/radar/communications unit, and a "Dunkin Donuts" box with one chocolate glazed remaining.
I like this model, in spite of some of the things that I did to it (how many decals could I fit on it?). Or maybe I like it because of those things. If you are new to modelling, I highly recommend that you keep your early attempts, no matter how they turn out (I wish I still had my first attempt at a '32 Ford Vicki together). It's a good way to judge how far you've come, plus it's great nostalgia to look back and wonder, "how much glue did I use?!"
Have a question, comment, or criticism about this model?
Send me an e-mail
with your thoughts!