Site Features
Getting Started in the Hobby
Model Categories
Original Kit:
2007 Ford Crown Victoria Police Interceptor
Made By:
Motor Max
Scale:
1/24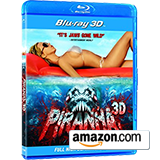 Other 2010s Movie Models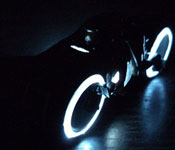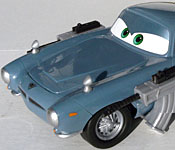 Men in Black III Taurus SHO (Review)
F8 of the Furious Chevy Fleetline
Transformers 5 Crosshairs (Review)
F8 of the Furious Rally Fighter (Review)
Born 2 Race Subaru Impreza WRX STi
Other Police Models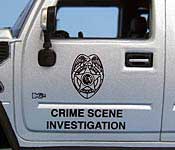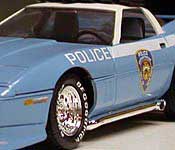 Piranha 3D Crown Victoria
Transformers Saleen S281
The Fifth Element NYPD Car (Review)
Highway Patrol Buick
Resident Evil Raccoon City Police Car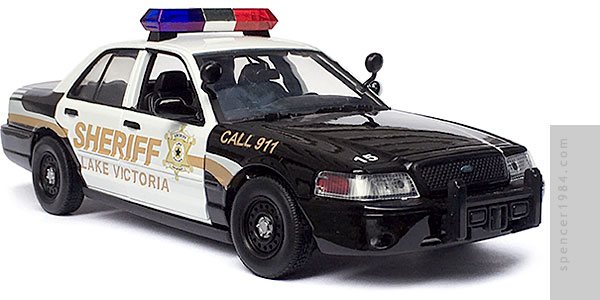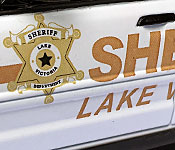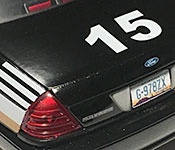 When I made my Deadpool taxi, I commented that I was expecting it to be a simple upgrade and was surprised at how badly it was done. That surprise came from cars that were already in my stash like this one, which—while not "show quality"—generally had clean paint and nice assembly work. This particular car had the "LAPD" paint scheme: black body with white doors and roof. It was essentially the same scheme that the makers of Piranha 3D used for their Lake Victoria Sheriff car, and so was a good starting point for me.
There were a couple of small details that needed to be addressed. First, the door handles and sideview mirrors on the diecast were left white, while they were black on the movie car. Also, Motor Max never paints their window frames, which ended up being the most delicate part of this entire custom. The light bar was colored with red and blue Sharpie markers and finished with a strip of aluminum tape.
The Lake Victoria markings were recreated in Illustrator from screenshots of the movie. The one scene this car appeared in wasn't high enough quality on its own, but fortunately the police boats used elsewhere in the movie used the same graphics and made getting the smaller details possible. Finally, the rear license plate was based on a combination of the partial number that we saw on screen and actual Arizona police plates.