Site Features
Getting Started in the Hobby
Model Categories
Original Kit:
Supercar
Made By:
Product Enterprise
Scale:
1/24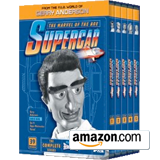 Other Classic TV Models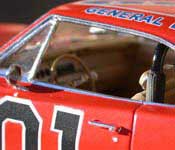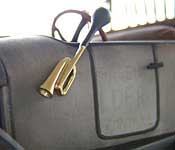 A-Team Van
Highway Patrol Buick
Supercar
Batman Batmobile (Review)
Scooby Doo Mystery Machine
V.I.P. Jaguar
Birds of Prey Hummer
Flintstones Family Car
Man from U.N.C.L.E. Piranha
Mannix Oldsmobile Toronado
The Avengers Lotus Elan
Married...With Children Dodge
Automan Countach
Riptide 1960 Corvette
Dark Shadows Vampire Van
Other Aircraft Models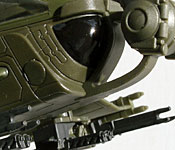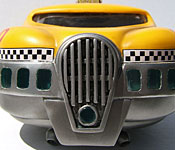 Planes Bravo & Echo (Review)
Planes Dusty Crophopper (Review)
Star Wars X-Wing
Shadows of the Empire Virago
Planes El Chupacabra (Review)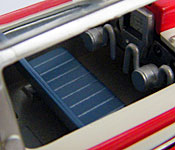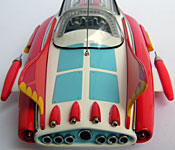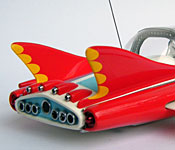 Cool Fact
Although Four Feather Falls used the technique first, the term "Supermarionation" was not officially used by Gerry Anderson until the closing titles of the last 13 episodes of Supercar.
As noted elsewhere, I prefer to not have figures in my models. The Supercar presented a bit of a challenge, though, as there was no way to disassemble the car without breaking things. I decided to sacrifice the figure, cutting Mike Mercury off at the neck. This gave me plenty of room to pop the seat loose and carefully feed it out the side window.
Once the seat was out, it was clear that there would be no way to clean and reuse it. It had a large raised area and hole to mount the figure, and trying to fix it was going to be far more difficult than rebuilding the whole thing from scratch. The pads were made from 0.125" V-Groove styrene, with plain sheet styrene used for the seat top and back. A pair of legs were made to match the original seat, and the whole thing was painted Oxford Blue and installed.
The rest of Supercar is unmodified, but needed a fair amount of cleanup and repair. Its previous owner was a smoker, and so the entire car was covered with a thin yellow film. This came off with some careful use of Novus' polishes. I then replaced a missing side gill with a new one I made from sheet styrene, made a new antenna from guitar wire and craft beads, and touched up a few minor paint chips.